DeFiChain Unveils Fresh dTokens Corresponding to Unilever, US Oil Fund, & More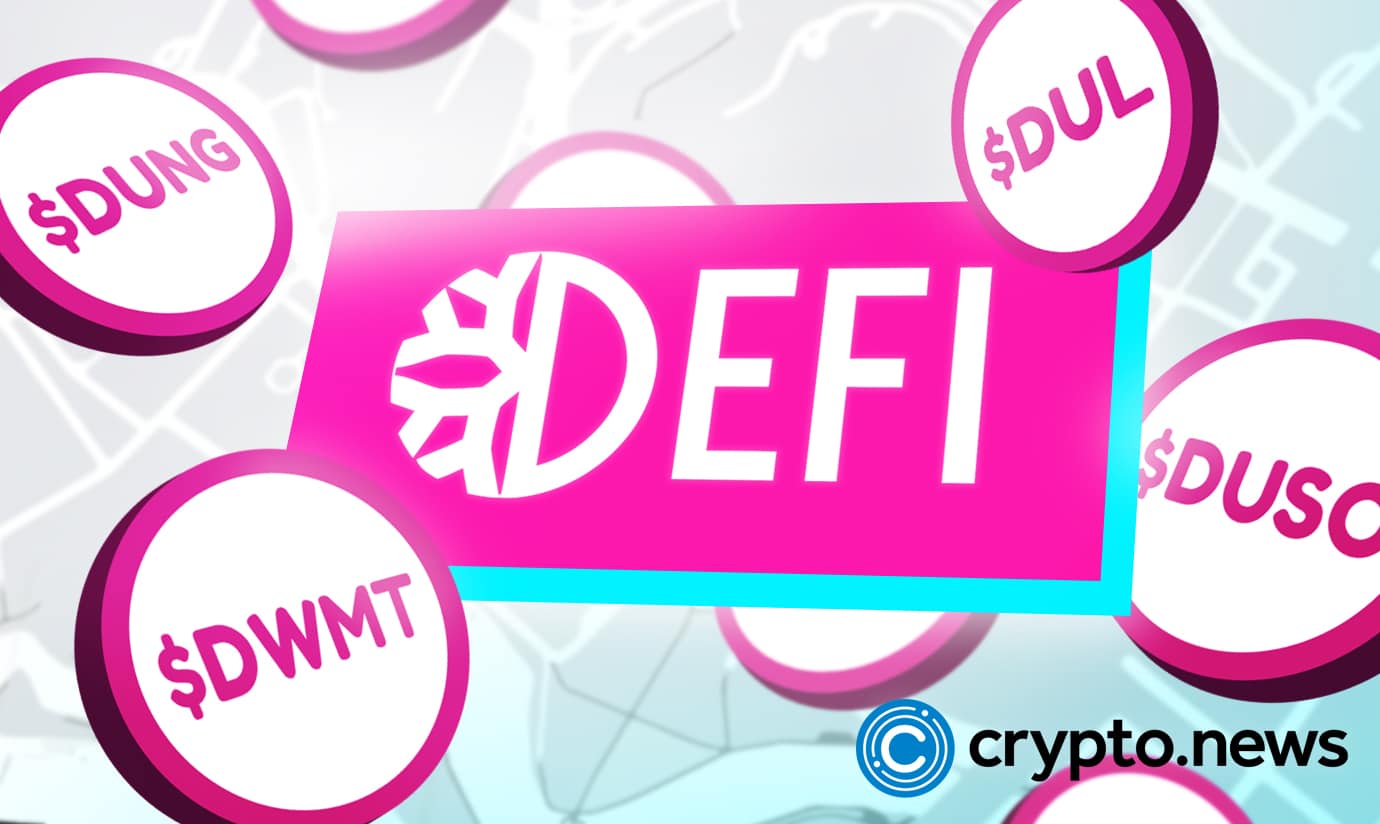 DeFiChain (DFI) has announced the addition of four new dTokens to its ever-expanding list of decentralized finance instruments. The new dTokens offer holders exposure to the stocks and ETFs of Walmart ($dWMT), Unilever ($dUL), US Oil Fund ($dUSO), and US Gas Fund ($dUNG).
DeFiChain (DFI) Adds Four More dTokens
DeFiChain, the world's leading blockchain on the Bitcoin (BTC) network dedicated to crushing the barriers to entry into the decentralized finance ecosystem for the masses, has announced the launch of four more dTokens to its growing list of offerings.
Per a statement shared with crypto.news, the new dTokens: $dWMT (Walmart), $dUL (Unilever), $dUSO (US Oil Fund), and $dUNG (US Gas Fund), will offer holders price exposure to the stocks and ETFs of these leading companies without geographical restrictions, effectively serving as a real alternative to regular traditional financial brokers.
Already, DeFiChain offers dTokens corresponding to the S&P 500, as well as a vast array of stocks and ETFs, including Tesla, Apple, Alibaba, GameStop, Nasdaq 100, Nvidia, Amazon, MicroStrategy, Microsoft, Netflix, Meta, and several others.
DeFiChain users can mint and trade the existing instruments as well as the newly added dTokens to get price exposure to the stocks and ETFs of the underlying companies without having to leave the DeFi ecosystem.
DeFiChain Offering Unparalleled Cost-Efficiency and Security
For those who are unaware, DeFiChain is a decentralized proof-of-stake (PoS) network created as a hard fork of the Bitcoin blockchain to enable advanced DeFi applications.
DeFiChain offers liquidity mining, staking, decentralized assets (dTokens), and decentralized loans, effectively bringing all things DeFi to the Bitcoin ecosystem.
Unlike most Ethereum-based decentralized finance protocols where even the smallest operations may cost users a considerable amount of gas fees, all activities on DeFiChain attract negligible transaction fees and on top of that, the platform takes advantage of the "hack-proof" security of the Bitcoin network.
Benjamin Rauch, VP of Marketing at DeFiChain Accelerator said:
"New listings on DeFiChain are driven by the community. Since commodities are a hot topic right now, the community decided to list two commodity-related tokens, which shows the real power of decentralization. On DeFiChain everybody can participate in building the financial tools of tomorrow!"
The team says each dToken can either be held as an investment, traded on the DeFiChain DEX, or used for liquidity mining purposes.
dTokens can be minted on DeFiChain by depositing BTC, DFI, dUSD, USDT, or USDC as collateral in the DeFiChain Vault.
Importantly, the team has made it clear that, unlike stocks, dTokens are not 'securities' issued by a company or large firm, meaning they only give holders price exposure to the underlying financial instrument but not ownership, voting rights, dividends, and other benefits stockholders enjoy.
The team says dTokens track and reflect a number of variable factors and use oracles to capture the price of the corresponding instruments rather than tracking and reflecting the actual stock price.
DeFiChain is a fully decentralized blockchain network with on-chain governance. Since its mainnet went live in May 2020, the platform has witnessed an enthusiastic involvement from the community in various aspects of the blockchain, from masternodes, projects, tools, governance, and economic ideas, to code governance and more. The DeFiChain code is open source and has been widely peer-reviewed by several experts.
At the time of writing, DeFiChain's native DFI token is trading at around $0.70.