EarthFund, Dr. Lucy Tweed Launch Carbon Removal Cause DAO to Tackle Climate Change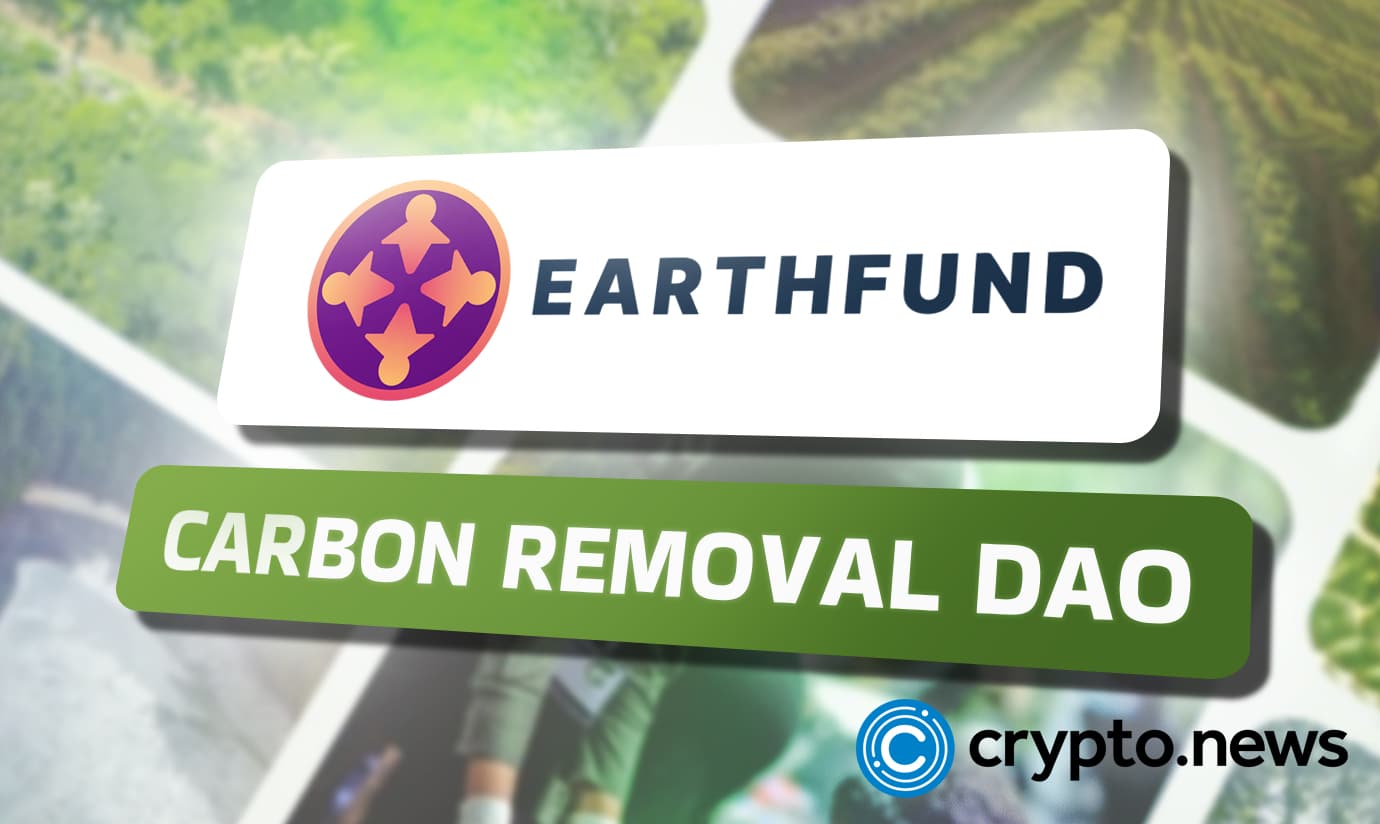 EarthFund and Dr. Lucy Tweed have joined forces to launch a new decentralized autonomous organization (DAO) dubbed Carbon Removal Cause, on July 20, 2022, to help tackle the issue of climate change globally. The Carbon Removal Cause DAO is dedicated to finding and funding community-led CO2 removal projects that are beneficial to their host communities.
Fighting Climate Change the Right Way
EarthFund, a crypto-native crowdfunding platform that claims to be focused on nurturing projects and ideas that can make the world a better place, has partnered with Dr. Lucy Tweed, a Ph.D. holder from Columbia University who is now starting a new role as an associate climate researcher at Cambridge University, to roll out the Carbon Removal DAO.
Per a press release shared with crypto.news, the objective of the Carbon Removal Cause DAO is to encourage real, meaningful action on fighting climate change by funding nature-based initiatives on the ground that help eliminate carbon from the atmosphere, while also supporting local communities at the same time.
"While green technology and industrial approaches to carbon change are long-term solutions, they're years away from being ready to scale. Nature-based solutions are available to us now and can support natural systems and enhance their uptake of CO2 by protecting and restoring carbon-rich ecosystems (forests, peatlands, salt marshes, mangroves, and seagrass beds)," declared the team.
The team argues that though a good number of large firms and corporate bodies have announced the launch of their nature-based carbon removal projects in recent times, most of these initiatives are just mere publicity stunts and do not support the local communities.
"Large corporate players rush in, drive land grabs and restrict local communities' access to critical resources all the while promoting tree-planting projects that are poorly suited to the local ecology and disregard local people," added the team.
Shifting the Paradigm
Led by Dr. Lucy Tweed, who bagged a Ph.D. from Columbia University for her research work on carbon removal, and is now starting a new role as an associate climate researcher at Cambridge University, the Carbon Removal Caus DAO aims to "support communities around the world to reclaim sovereignty of their land by funding nature-based carbon removal projects that put local livelihoods and environmental justice front and center."
Via the EarthFund Carbon Removal DAO, a global community can come together to find meaningful projects, accept crypto donations, and vote on which carbon-removing projects around the world get the funding they need to make a difference, the team says.
Commenting on the initiative, Dr. Lucy Tweed said:
"Individual action is crucially important. Recycling, flying less, voting for progressive candidates, and eating less meat… are all great. But to accelerate climate action we need to come together to create scalable models for broader systemic change. This is no secret. The problem is that there hasn't been a tool for collective, meaningful, and coordinated global action until now. The Carbon Removal cause is an accessible and inclusive community where people can come together as a collective to support sustainable community-led carbon removal projects and bring about real change."
EarthFund says it will airdrop the CarbonCommons tokens to members of its community on July 27, 2022. The CarbonCommons token will not be listed on exchanges but holders will be able to swap it for EarthFund's native 1Eearth token on its platform.
With the CarbonCommons token, anyone will be able to vote on carbon removal projects and proposals, get rewarded for their involvement, and join Dr. Lucy Tweed and other climate change activists, scientists, and advocates in an exclusive Discord channel.
EarthFund's 1Earth token can be purchased directly from earthfund.io or traded on KuCoin, Uniswap, and Gate.io exchanges. 1Earth enables token holders to get rewarded for their participation in self-governed, cause-focused communities by voting on which projects to support and fund.