Elrond Bags E-Money License with Twispay Acquisition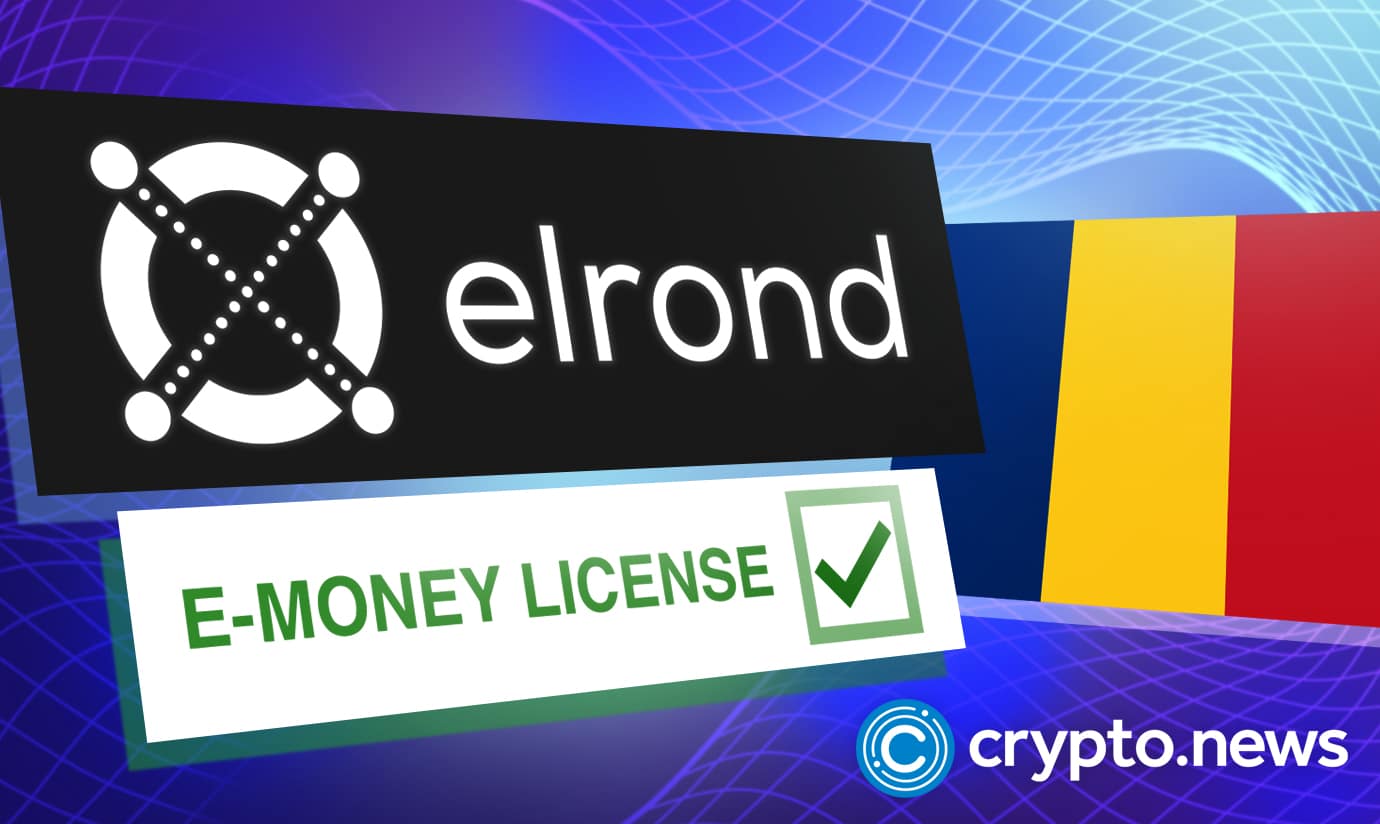 Blockchain-powered network Elrond has bought Romanian payments portal Twispay for an undisclosed amount. The move is part of a strategic expansion across European markets per details shared with crypto.news. Elrond also acquired an electronic money license from Romania's apex bank as part of the acquisition deal. 
National Bank of Romania Approves Digital Money License
Scalability-focused blockchain Elrond network acquired Twispay, a payments service provider in Romania operated by Capital Financial Services S.A. Although specific financial details regarding the deal remain unavailable as of the time of writing this report, Elrond Chief Operating  Officer Beniamin Mincu described the move as a landmark decision. 
According to the network's team of developers, the Elrond blockchain boasts optimized transaction execution speed. The decentralized system supposedly deploys an Adaptive State Sharding mechanism combined with an industry-standard proof-of-stake (PoS) algorithm to deliver secure scalability and process over 10,000 transactions per second. 
crypto.news previously reported that Elrond initially decided to acquire Twispay back in October 2021. Following months of interaction with the National Bank of Romania, the blockchain network received the green light to finalize the acquisition. 
CEO Mincu highlighted that the move is strategic as Twispay is licensed to issue e-money and other digital payment services. With the deal in place, Elrond has also received approval from Romania's central bank to offer the same facilities and operate an Electronic Money Institution (EMI).
Electronic money is currently regulated and recognized by European central banks as a digital substitute for fiat currency. E-money is also designed to facilitate transactions and function as a payment method, much like traditional bank-issued currencies.
Commenting on the announcement, Mincu said that Elrond hopes to improve on the proven utility of e-money by optimizing the existing payment infrastructure with blockchain technology. Mincu also added that:
"This landmark decision from the Romanian Central Bank opens the door for EU citizens, and soon for everyone everywhere, to significantly benefit from value flowing with near-instant settlement times, at 100x fewer costs, with full transparency, and higher reliability."
Elrond Positioned to Drive European Blockchain Adoption
Indeed, the latest move from Elrond aligns with the network's plan to onboard billions of users into the digital economy by bridging the gap between traditional financial systems and cryptocurrencies. Prior to the Twispay announcement, Elrond also acquired the Portugal-based digital asset payments startup Utrust.
Also, Elrond reportedly deploys an energy-efficient blockchain network and maintains carbon-negative operations by offsetting more CO2 emissions than it creates. This complements legislature from European Union (EU) regulators geared towards tackling energy concerns and climate impact supposedly caused by proof-of-work (PoW) blockchains. 
Furthermore, the layer one solution could be in a prime position to provide a framework aimed at driving widespread blockchain adoption in the continent. Recently proposed policies regarding the digital assets market suggest that licensed EMI's will be allowed to issue stablecoins for public use across EU member states and trading platforms. 
Elrond CEO Mincu opined that such regulations could incentivize the introduction of more web3-based solutions like decentralized finance (DeFi), non-fungible tokens (NFTs), and possibly crypto enabled debit cards for individual investors.