Enjin and 29 Blockchain Game Companies Appeal to Valve Corporation to Reverse their Ban on NFTs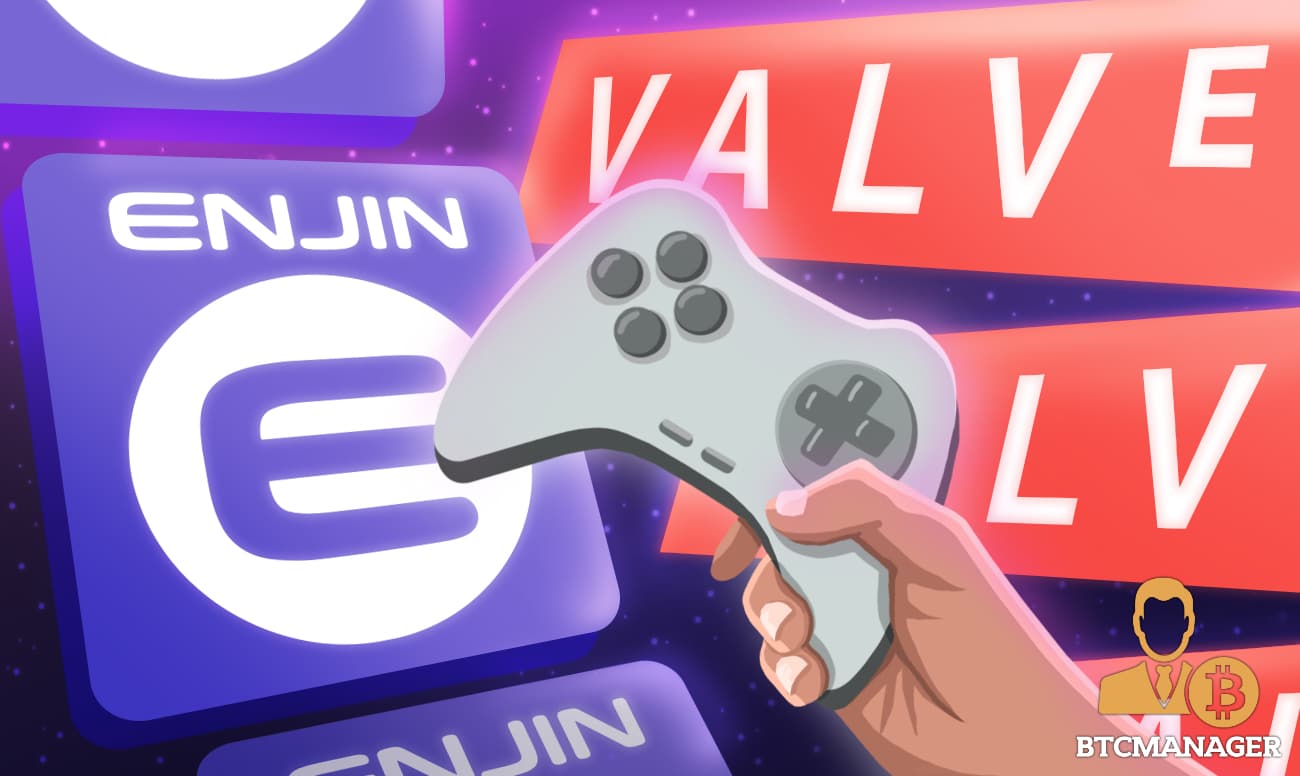 All web3 NFTs and blockchain-driven games on Valve Corporation's distribution service, Steam, have been banned. 
As per a notice on October 15, the platform said it had begun notifying creators of their move, kicking out blockchain games from its service.
Specifically, the corporation seemed to have updated its terms and conditions, stating that blockchain games that permit the exchange of cryptocurrencies and NFTs are not allowed to deploy on its infrastructure.
The shift began with long-time Enjin adopter, Age of Rust, created by SpacePirate Games.
Community: A few minutes ago, we were notified that @Steam will be kicking *all blockchain games* off the platform, including Age of Rust, because NFTs have value. Behind the scenes, we've had good communication and have been upfront with Steam. #blockchaingames #NFT
1/4 pic.twitter.com/W4pR3Xl63q

— Age of Rust (@AgeofRust) October 14, 2021
It is a big blow for NFTs and blockchain games which analysts assert is the future of gaming. Together with Epic, Steam by the Valve Corporation is one of the largest platforms allowing people to purchase games digitally. 
Therefore, their decision to moderate its platform, filtering out certain games based on efficient technologies, might cause a reverberation across the industry. 
Blockchain games are increasingly finding traction, supported by platforms like Enjin, which are keen on devolving control to gamers and creators through its ENJ token. By using NFTs, gamers can be compensated with real-world value for their time and resources, using valuable in-game items, and more. 
These hard-earned assets can be swapped for cash, rewarding, and incentivizing participation. Every year, it should be mentioned, gamers spend a fortune—running into billions—on gear and other gaming-related expenditures.
29 Blockchain Companies Publish Open Letter to Valve
Aware of the implications, Enjin, Fight for the Future, The Blockchain Game Alliance, and more than 25 blockchain game companies have published an open letter, asking Valve Cooperation to reverse the ban on blockchain games on Steam. 
They explain that these games, running on the blockchain and relying on NFTs, can significantly improve user experience while, most importantly, creating economic opportunities for millions of gamers and developers who make it possible. 
Cryptocurrencies or tokens in gaming allow for the swift exchange of value. Moreover, they are the basis for better interaction and collaboration. 
Critically, through these digital assets, unique in their form and running on transparent chains, there is the creation of tangible assets from a digital world, a feat that's now being realized and previously thought impossible. 
Additionally, using blockchain and NFT technology, gaming is being upgraded in an inevitable modernization. Giving a chance to new technologies, Enjin and other partners joined in this push, with the belief that they highlight Valve Corporation's ideals. 
They note that Steam grew to be a dominant force in the industry by experimenting and giving space for innovation. 
According to Chris LoVerme, the CEO of SpacePirate Games, decentralization and cryptocurrencies shouldn't be viewed as a threat to the status quo. He emphasized that the future of gaming lies in decentralization and acknowledging the critical role of players who experience the creativity of developers. Using unique, valuable NFTs on the blockchain as a form of reward for their efforts, therefore, is the future of gaming:
"Decentralization with cryptocurrency is often misunderstood and viewed as a threat to the status quo. In the case of players owning NFT gaming assets, closed platforms see it as competition."
Adding,
"The future of gaming is decentralized player-owned assets, where gamers are valued for their time and efforts spent in-game. Whether that's an NFT or another asset class, change is happening."
In their view, NFTs and blockchain gaming present a new frontier that would massively benefit platforms receptive to its broad spectrum of benefits. Since NFT reliant games and other blockchain-based technologies have demonstrated their value, the appellants are convinced they should have a slot within the Steam ecosystem.
AMA on Reddit: Call for Blockchain Developers to Sign the Letter
The team took their appeals to Reddit. 
In an AMA, Enjin CZO Witek Radomski, Chris LoVerme, and an activist representing the Fight for the Future, called on all blockchain game developers to voice their support by signing the letter.
Even so, a section of respondents on the blockchain-receptive social media platform thought playing blockchain games was harder, citing the high entry cost. However, Witek responded that the future of online gaming is NFTs, saying the sphere will evolve to include interactive mechanisms such as crafting, spending, trading, or risking your assets in gameplays. Furthermore, to eliminate the high entry cost for developers and games, he mentions Efinity on Polkadot.
Despite the immediate challenge arising from the ban, the open letter by Enjin and other concerned companies may jolt Valve Corporation to re-assess and even re-consider supporting blockchain games. This may entail creating a way for blockchain games and NFTs to boost their revenues by charging fees on crypto sales. 
Thus far, there has been no response from Valve Corporation on the open letter. However, Enjin and the appealing team are confident. Chris revealed that Fight for the Future had begun engaging Epic, whose founder, Tim Sweeney, said they had no intention of imposing technical or creative limitations on its clients.
Sign the Letter: Tell Valve to Reverse Its Ban on Web3 Games