Enjin (ENJ) Launches Enjin SDK on Open-Source Game Engine Godot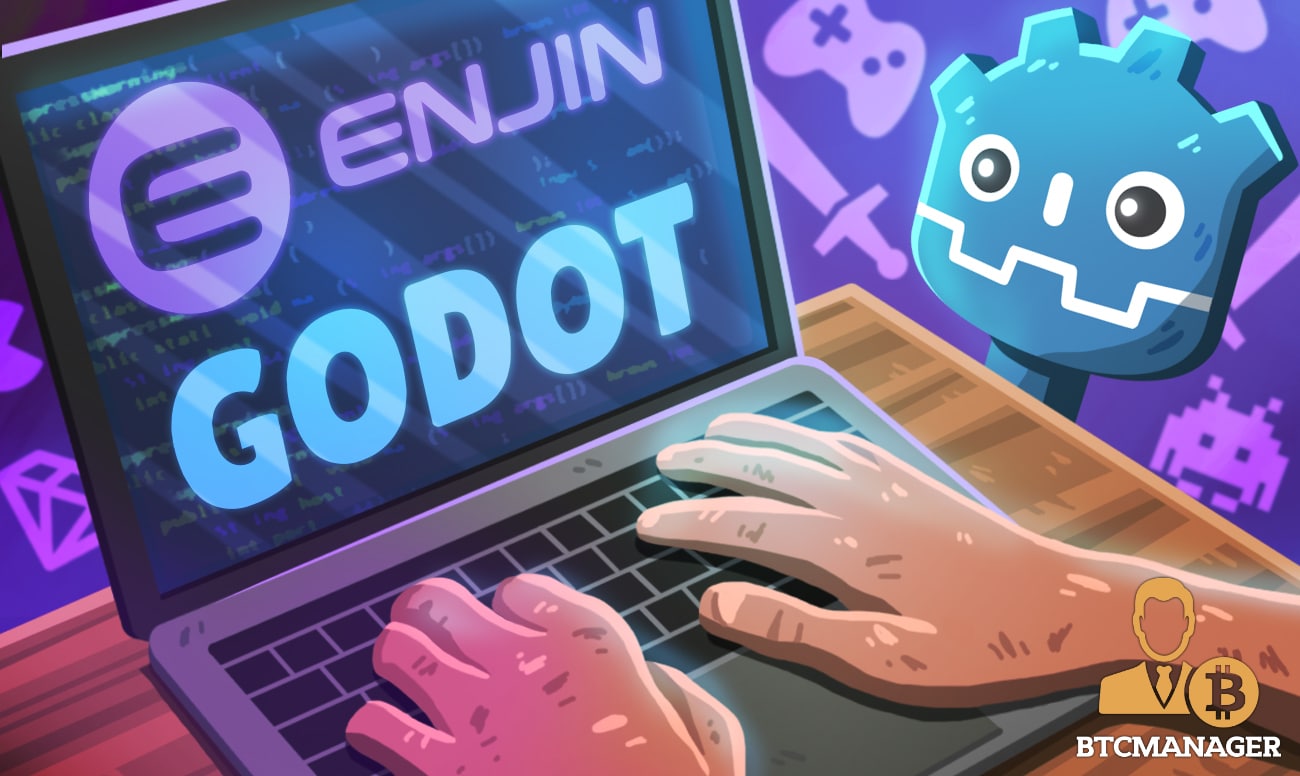 Leading blockchain ecosystem developer Enjin (ENJ), in partnership with open-source game engine Godot, has announced the launch of the Enjin SDC for Godot. The launch of the open-source Enjin SDK – now available on the Godot Asset Library – allows all developers, irrespective of their work experience, to develop and implement next-generation blockchain assets into their games. Developers will be able to manage advanced economic gameplay mechanics with no requirement of prior blockchain coding experience.
Enjin SDK Marks Debut on Godot Asset Library
Godot, popularly known as "the Linux of game development" is a multi-platform 2D and 3D game engine that aims to provide a free, open-source alternative to rival proprietary platforms. With an aim to reinvent the video game industry, Godot has collaborated with thousands of community contributors during its journey toward the launch of the highly-awaited 4.0 update.
The open-source gaming platform has also been working with Enjin to introduce distributed ledger technology (DLT) to its community. The introduction of blockchain technology will help the platform come up with innovative and robust prospects for game design, developer collaboration, and sustainable economies.
Commenting on the development, Ariel Manzur, Co-Founder, Godot Engine, said:
"The Enjin SDK has transformative potential for the games market. Godot developers are inventive and progressive. I believe they will embrace this technology given the unique opportunities it presents for persistent game design and safe, fair virtual economies."
Notably, this partnership follows the recent Ethereum (ETH) mainnet launch of the Enjin Platform which brought a whole host of cutting-edge development tools and services to the platform to enable developers to integrate Ethereum-based blockchain assets into their games via any of the world's most popular coding languages.
The ERC-1155 Token Standard Advantage
Leveraging the benefits of the ERC-1155 Ethereum token standard, Enjin facilitates developers to integrate both fungible and non-fungible tokens (NFTs) in a single smart contract. Notably, the ERC-1155 token standard was created by Enjin CTO, Witek Radomski, and co-authored by several top Ethereum developers. The token was officially adopted as an official token standard by the Ethereum community last year due to its overall better efficiency and flexibility. The ERC-1155 token standard is widely accepted as a vital advancement to the popular ERC-20 and ERC-721 token standards.
At present, the Enjin ecosystem comprises of more than 3,000 projects that have adopted the ERC-1155 token standard. It's worth pointing out that the technology behind the Godot SDK, in fact, powers Microsoft's blockchain-based recognition program Azure Heroes and the first blockchain gaming "multiverse," an interconnected gaming reality with more than 40 projects. For the uninitiated, "multiverse" allows players to level-up their items and characters across all participating games.
Enjin Coin Fuelling the Enjin Ecosystem
The Enjin Platform's native digital token Enjin Coin (ENJ) drives all developments within the Enjin ecosystem. Primarily used as a minting resource to back the value of blockchain assets, the ENJ coin is locked into all digital assets minted with the Enjin Platform. This serves as a certificate of authenticity and guarantee of the value of the minted asset. To date, more than 12.5 million ENJ – 1.25% of the total supply – has been locked into 52 million ERC-1155 assets and permanently removed from circulation.
Recently, the Enjin team confirmed that its Q2 2020 roadmap will include the public release of EnjinCraft, a Minecraft plugin that enables server owners to implement DLT economies, DLT SDK for Java, and Enjin Beam. For the uninitiated, Enjin Beam is a product of the Enjin ecosystem that facilitates the distribution of blockchain assets via QR code.
Enjin's development platform aims to provide developers with tools and services so as to enable them to develop games with advanced design, smart growth, sustainable economies and diversified and new revenue streams. Developers in the Godot ecosystem interested in exploring these opportunities and be a part of the ever-expanding Enjin community can access the Enjin SDK now on the Godot Asset Library.
About Enjin
In 2009, Enjin launched the Enjin Network, a gaming community platform that boasts over 20 million users. In 2017 following a successful ICO that raised $18.9 million, Enjin began building a suite of blockchain products that enable anyone to easily create, manage, trade, store, explore, distribute, and integrate blockchain assets.
Comprised of the Enjin Platform, Explorer, Wallet, Beam, and other tools and services, Enjin's tools enable game developers and studios to utilize tokenized digital assets as part of their acquisition, retention, engagement, and monetization strategies. The Enjin ecosystem is fueled by Enjin Coin (ENJ), an Ethereum-based cryptocurrency used to directly back the value of Enjin-powered blockchain assets. For more information, visit https://enjin.io.
About Godot Engine
Godot Engine is a feature-packed, cross-platform game engine to create 2D and 3D games from a unified interface. It provides a comprehensive set of common tools, so users can focus on making games without having to reinvent the wheel. Games can be exported in one click to a number of platforms, including the major desktop platforms (Linux, macOS, Windows) as well as mobile (Android, iOS) and web-based (HTML5) platforms.
Godot is a completely free and open-source under the permissive MIT license. No strings attached, no royalties, nothing. Users' games are theirs, down to the last line of engine code. Godot's development is fully independent and community-driven, empowering users to help shape their engine to match their expectations. It is supported by the Software Freedom Conservancy not-for-profit. For more information, visit https://godotengine.org/.