Enjin (ENJ) and Virtual Worlds Join Forces to Mint Photorealistic Digital Replicas of the Egyptian Pyramids as NFTs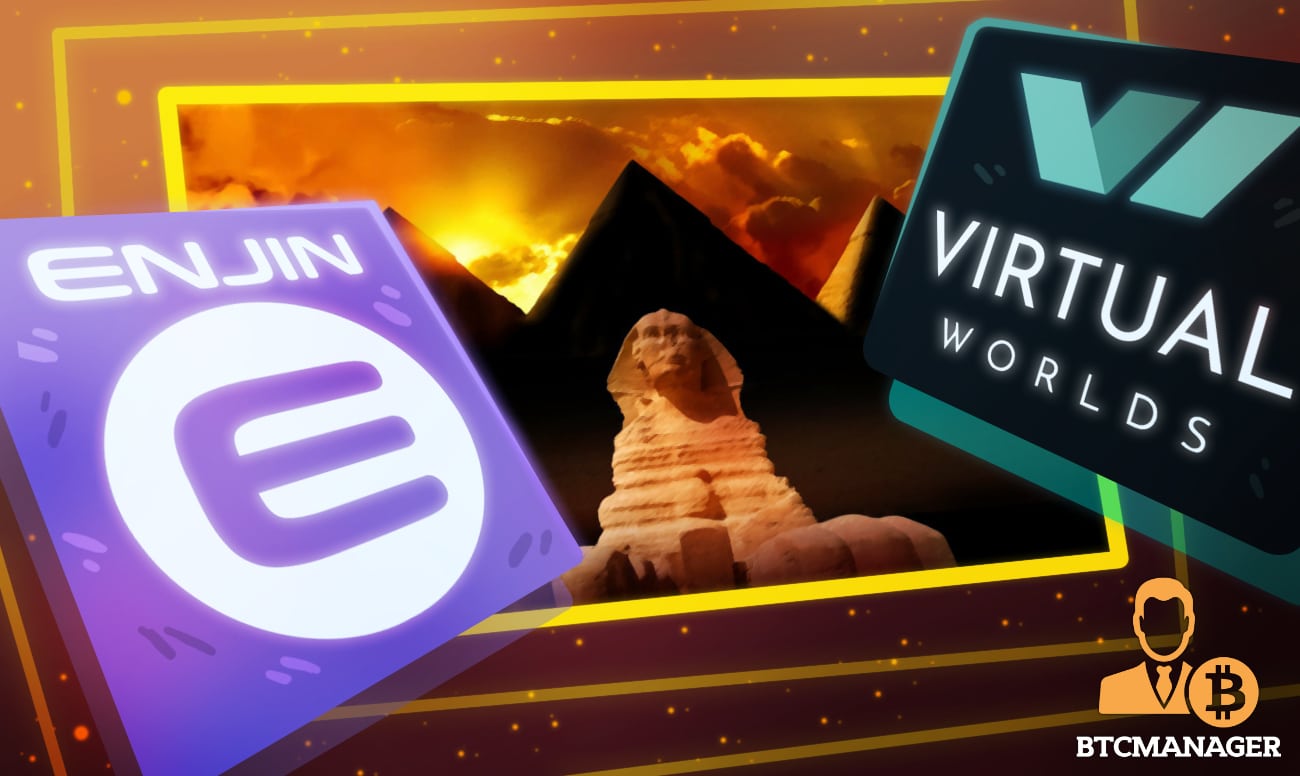 Leading platform for building non-fungible token (NFT)-based virtual worlds, Enjin (ENJ) today announced a partnership with Virtual Worlds to mint photorealistic digital replicas of the Egyptian Pyramids as NFTs.
Egyptian Pyramids as NFTs
Enjin, an all-in-one platform for developing scalable and interoperable blockchain ecosystems which is also enabling entities to adopt NFTs in their product stack has inked an alliance with Virtual Worlds – a firm with more than 20 years of experience in developing realistic 3D environments.
According to the announcement, the partnership will see Virtual Worlds produce a limited-edition set of NFTs representing famous Egyptian monuments such as the Pyramids of Giza and the Great Sphinx of Egypt. The collaboration between Enjin and Virtual Worlds will enable NFT collectors to hold these wonders of the world in their hands and keep them on shelves within their virtual homes inside Virtual Worlds' platform.
Notably, Enjin's partnership with Virtual Worlds marks the first instance when NFTs will be used to digitize historical landmarks to enable new ways of interacting with realistic renditions of complex monuments across the world. It's worth highlighting that Virtual Worlds leverages Unreal Engine – along with 60k-definition photogrammetry scans to develop the most accurate digital twins that modern technology could possibly offer.
Creating New Gamification Opportunities with NFTs
The partnership's first phase will witness the creation of treasure hunts where players would be able to claim NFT artifacts in the rich 3D environments which will immediately be sent to their wallets via Enjin's smart contracts. With Virtual Worlds' 3D environments, artifacts such as sarcophagi, chariots, scepters, and statues that have already been modeled will also be minted as NFTs. Similarly, other monuments such as Machu Picchu will also have their own unique sets of NFTs.
Commenting on the development, Elliott Mizroch, CEO, Virtual Worlds, noted:
"At Virtual Worlds, we're bringing the world's most important artifacts and monuments to a new digital ecosystem, preserving them for future generations and making them accessible to the world in ways they've never been before. With Enjin behind us, our past global heritage can be shared and live on in our digital future."
The alliance also aims to organize virtual events such as concerts and art shows within these virtual environments with tickets sold as NFTs to develop a novel way of consuming virtual content. In the same vein, Virtual Worlds plans to use these environments to develop AAA-type game set in their flagship ultra-realistic environments that would include racing or player-vs-player games to connect gamers with ancient history and significant cultural landmarks.
Notably, cross-chain NFTs won during the Virtual Worlds' experiences can then be traded seamlessly in decentralized marketplaces on Enjin's JumpNet blockchain as well as Ethereum, Polkadot, and Efinity. These NFTs will also be integrated into VR and AR apps, and 3D games in the Enjin ecosystem to enable holders to bring their NFTs into parallel digital worlds.
"Virtual Worlds is bridging the best of 3D graphics and user experience through NFTs," said Maxim Blagov, CEO of Enjin. "This is one more demonstration of how NFTs can be used to engage players, create new virtual worlds and economies, and connect all digital ecosystems into a single multiverse. This is also an amazing opportunity to connect the digital with the real world through 1-to-1 replicas."