Price Analysis: ETH-USD Attempting Bullish Kumo Breakout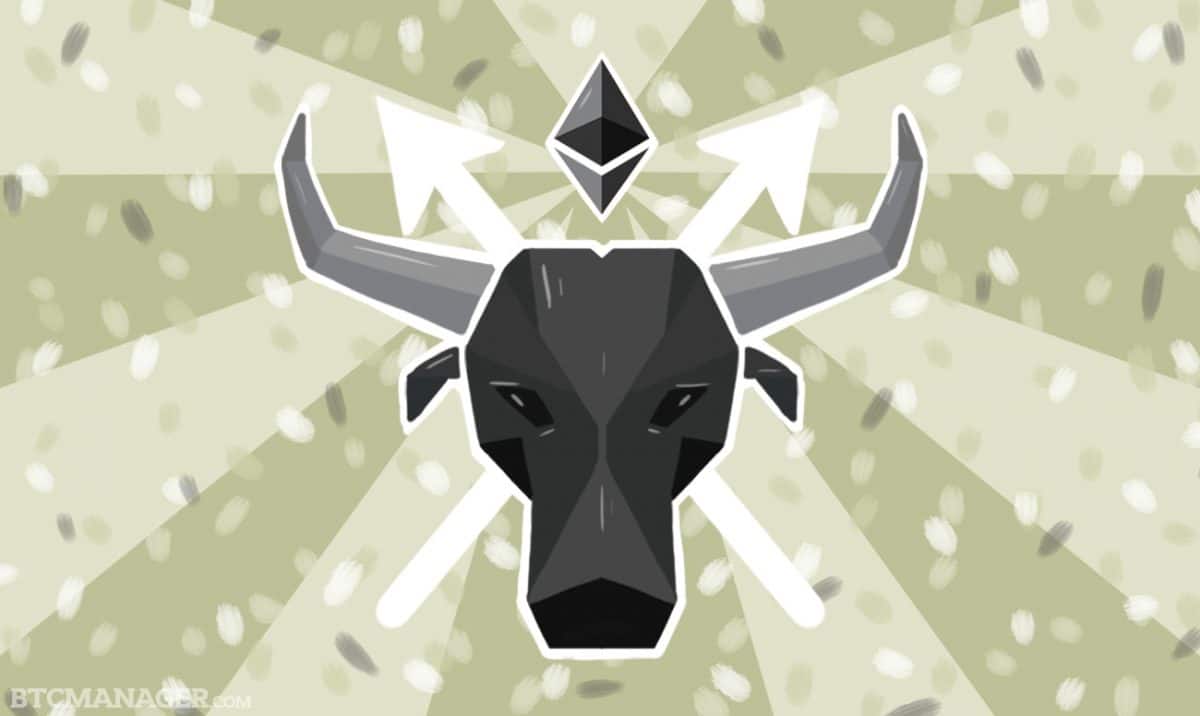 ETH-USD is up almost 7% today on the Kraken exchange with the market attempting a Kumo (Ichimoku cloud) breakout to the upside as illustrated by the chart below. After the market tested psychological support at $10.00 and $8.00, ETH-USD has appreciated with increasing buying interest. The price action has broken above the Ichimoku cloud or 'Kumo' and is attempting to move higher toward fractal resistance at $13.75.
The chart indicates two bullish signals; firstly, the Ichimoku cloud has changed color from red to green, signalling that an upward trend may only just be beginning. The probability of a strong upward trend emerging will increase further if the lagging line moves above the Ichimoku cloud. It is currently trending upwards and within the cloud region. Bullish momentum is also indicated by the relative position of the conversion (blue) line to the base (dark-red) line; the conversion line has been trending upwards above the base line indicating bullish momentum is in play. This is also confirmed by fractal analysis as the market has broken above the most recent sell fractal at $11.95 and should act a support going forward.
Buyers should lock in their profits and switch to selling ETH-USD if there is a 4-hour session close below the conversion line, which is currently at $11.72, since the chart below shows the 4-hour price action. The conversion line should provide minor support and if the market fails to break below this level then we should see renewed upward momentum. The next targets for buyers are fractal resistances at $13.44, $13.75 and $14.85.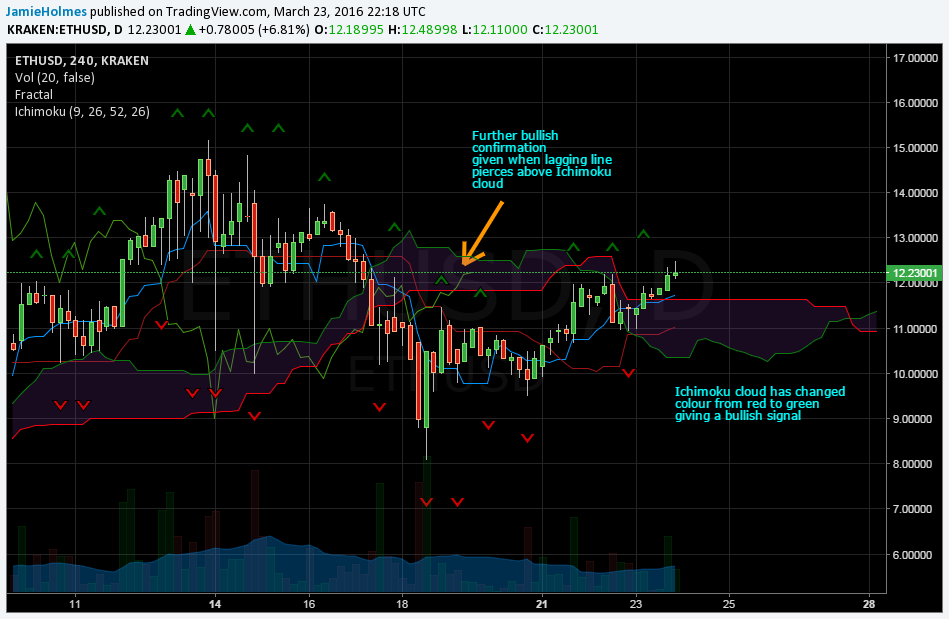 The short-term outlook is illustrated by the chart below showing the hourly price action. The most recent fractal resistance and support levels are indicated on the chart by the two yellow rays. An hourly close above $12.36 is required for bullish momentum to dominate, whereas an hourly close below $11.65 will see selling pressure dominate. An early indication of a downward move by the market will also be given if there is an hourly close below the conversion line, which is currently offering minor support at $12.12. A close below this level will see a test of the support area provided by the Ichimoku cloud around $11.00-$11.50.
However, the Ichimoku cloud still looks to be trending upward. suggesting the market is not yet exhausted to the upside and sellers should only look for entries into short positions once the Ichimoku cloud starts to change color from green to red. If the Ichimoku cloud remains green, then long positions will be favored and market participants should look for buying opportunities, since bullish momentum is indicated by the conversion line trending above the base line; however it is starting to flatline and bearish momentum could extend if it starts to trend downward.