ETH-USD Dives on Continuing Division in Ethereum Community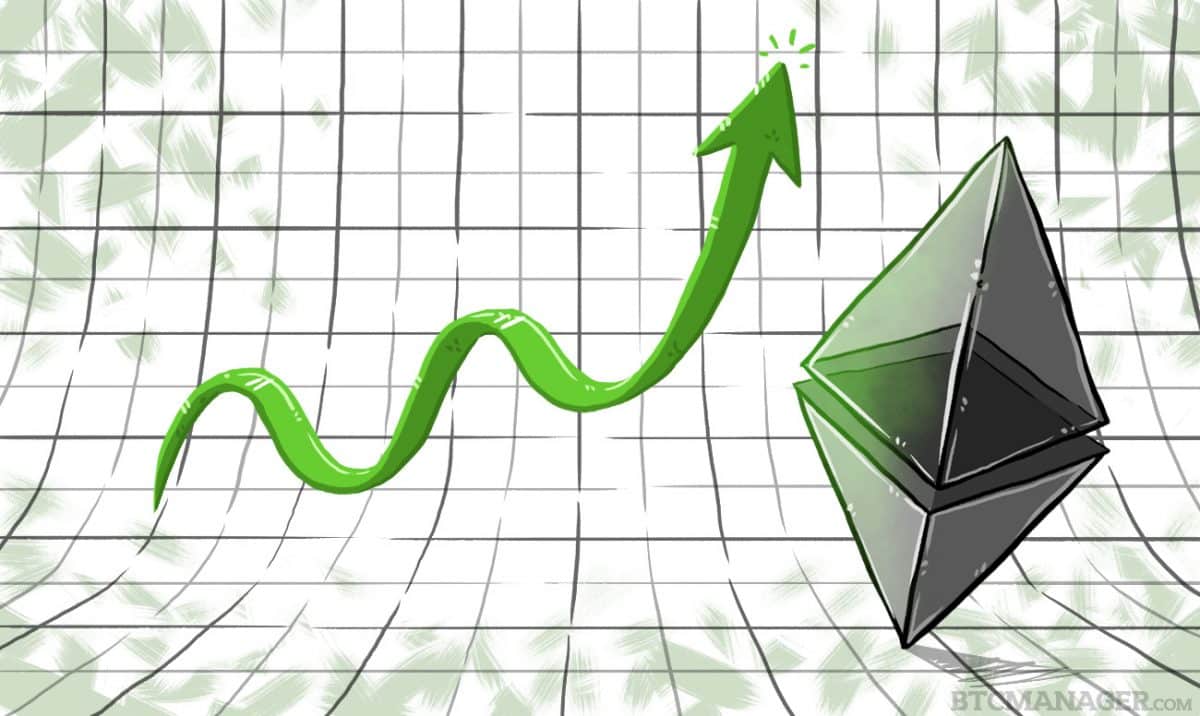 ETH-USD is down 1.8% on today's open, trading at $12.61 at the time of writing as cryptocurrency exchanges start to voice their support for Ethereum Classic (ETC). Exchanges now control customer's ETC holdings, which are proportional to the customer's ETH holdings due to the hard-fork. Users are demanding that their ETC should be made available to them and in the last 24 hours, support for Ethereum Classic has been announced by Stampery, following major exchanges such as Poloniex, Kraken and Yunbi whereas major exchange BTC-e has come out against ETC, calling it a 'scam'.
Uphold, a cloud-based financial service, stated yesterday that they have no plans on implementing ETC but will be working to deliver ETC amounts to their members. During the first few days of the fork, one of their hot wallets was subject to a replay attack aimed at misappropriating ETC funds, resulting in a temporary loss of ETC worth $25,000. This has since been resolved and their funds are now in cold storage. Something similar happened to BTC-e, perhaps due to being unprepared for the full ramifications of the hard-fork. Coinbase is also dealing with a leak in their ETC balances as they look to solve an issue with their ETH purchases and withdrawals. Peter Todd suggested on Twitter this could drive Coinbase to insolvency.
So @coinbase is _still_ leaking ETC. If I had any funds there I'd get them out ASAP – this could lead to insolvency.
The vulnerability of the ecosystem following on from the hard-fork will continue to drive markets. Today has seen more selling interest in ETC than in ETH as illustrated below by the 1-hour price action on the Poloniex exchange. The chart below shows that ETC-ETH run into the resistance zone provided by the Ichimoku cloud and looks to head south. Bearish momentum is in play as the base (red) line is trending above the conversion (blue) line.
Moreover, the market has tested the most recent fractal support at 0.12402 and an hourly close below this level will see an intensification of downward momentum. A break of 0.12402 will likely see the market look to test support at 0.09000, shown below. The Awesome Oscillator at the bottom of the chart indicates that downward momentum is dominating at the moment as the oscillator has moved from above to below zero.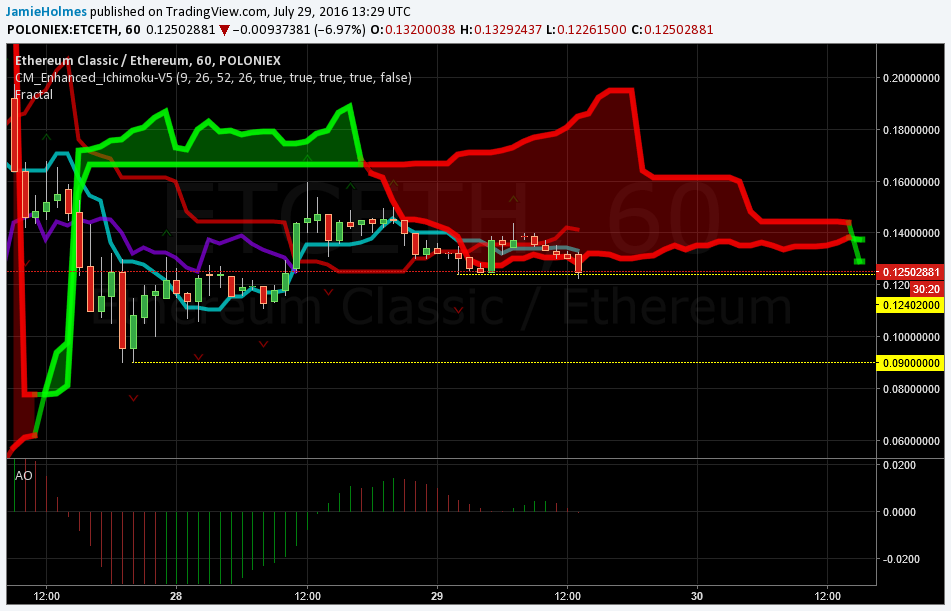 The chart below displays the 4-hour price action for ETH-USD on the Kraken exchange. After posting a fresh low at $11.50, the market bounced higher and tested resistance provided by the Ichimoku cloud around $13.00-$13.50. The market now trades within the range between $12.50 and $13.00 as illustrated below with the yellow rays. A break of either of these fractal levels should see the market maintain a direction. For example, a break below $12.50112 should see downward momentum pick up whereas a break above $13.00 should see ETH-USD start to trend above the Ichimoku cloud.
The Awesome Oscillator is showing increasing buying interest but further bullish confirmation will be given when the oscillator moves above zero. The chart below also highlights a time period over the weekend when we should be on the lookout for a bullish move in ETH-USD. During this time period, highlighted below, we see that the Ichimoku cloud is very thin suggesting only weak resistance is found in this zone. Therefore, we should anticipate a break above the cloud during this time period and place buy orders just above the Ichimoku cloud.