ETH-USD Eyeing Push to $22.72; Support Now Found at $19.30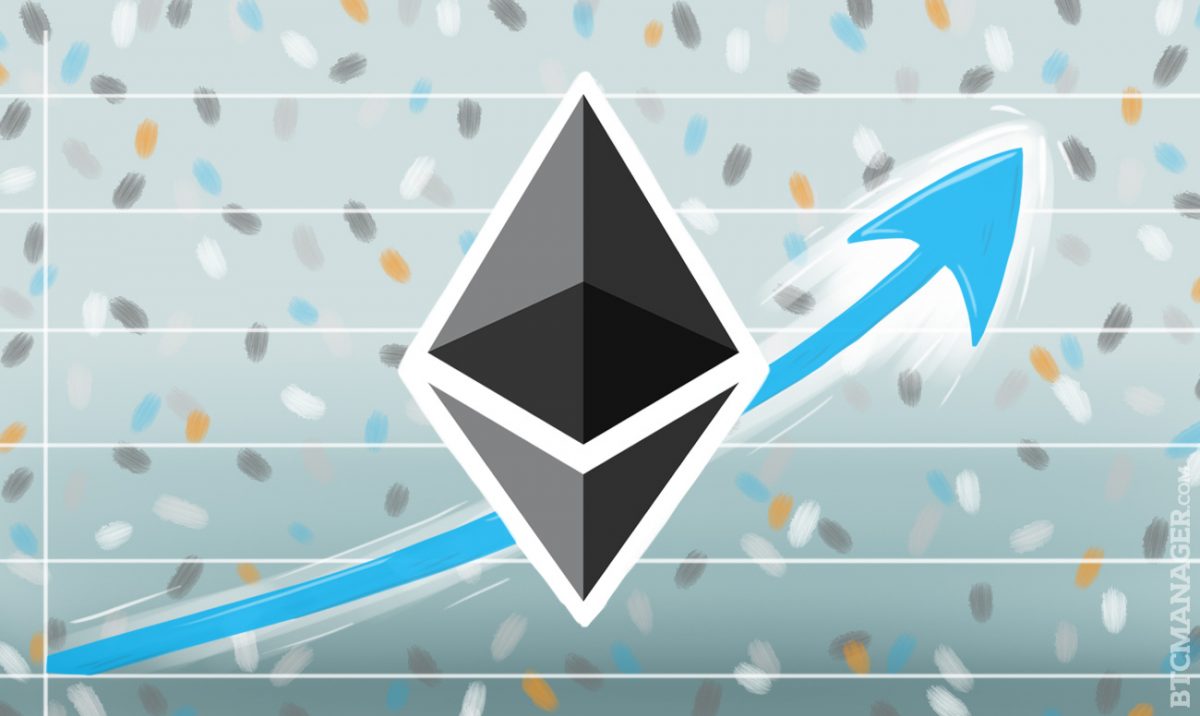 ETH-USD has continued to push towards psychological resistance at $20, posting a fresh all-time high at $19.889 so far today on the Kraken exchange. The price is currently trading at $19.76, up 7.10 percent on the opening price. The market attempted to push below $18 yesterday but buyers remained in control towards the close on Wednesday. Today the buyers are clearly in control again as the market is now trading above fractal resistance at $19.30. This level will now act as support going forward and could potentially act as a good entry into buy positions for ETH-USD over the long term.
The chart below illustrates the long-term outlook with the 4-hour price action. Earlier in the day, the market managed to establish a 4-hour session close above the fractal resistance at $19.30, indicating that bullish momentum should dominate going forward. Therefore, we are now looking for the market to break the $20 handle and buyers will look to target $22.72. Continued bullish momentum could even see the market extend as high as $28.24 over the coming weeks.
The chart indicates a critical level where we should consider entering into ETH-USD short positions: if the market breaks and closes below the low at $19.3021. This is known as 'trading inside the fractal' and will be further confirmed with a close below the fractal support at $19.30. However, to have a higher probability of a successful short trade on ETH-USD, we could wait for the market to close below the conversion (blue) line, which is currently offering minor support at $18.7445, and this should see a test of the $17 psychological level.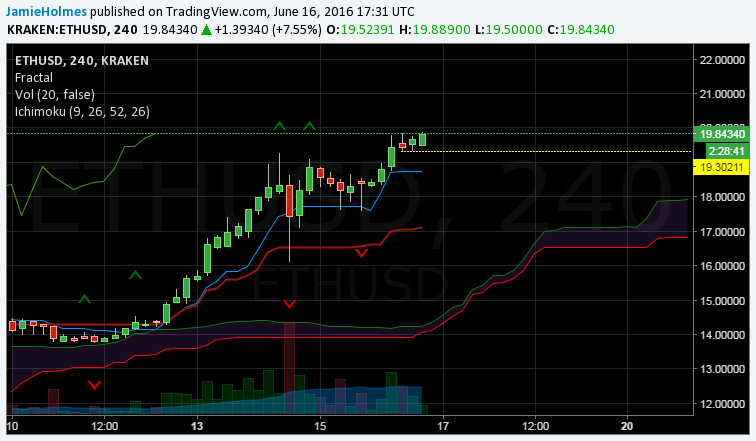 The short-term outlook is shown below with the hourly price action; the Ichimoku cloud has stopped trending upward and is now moving sideways, suggesting we will see some ranging in ETH-USD's price action; the channel at the moment is between fractal support and resistance at $19.30211 and $19.87 respectively. This is indicated on the chart below by the yellow rays. Therefore, a breakout above $19.87 and an hourly close above this level should see the market continue to trend upward over the medium-term. Buyers will look to target $20.84 and $22.41.
However, an hourly close below $19.30211 should see bearish momentum dominate and look to target the support at $18.89. A further move below this would see sellers attempt to target fractal supports at $18.30 and $17.60. Further bearish confirmation will be given if the conversion line moves below the base (dark-red) line, but as the conversion line is currently higher, bullish momentum is currently in play and buy positions should be favored over the short term.