ETH-USD Finds Support at $8.50 After Posting an All-Time High at $11.99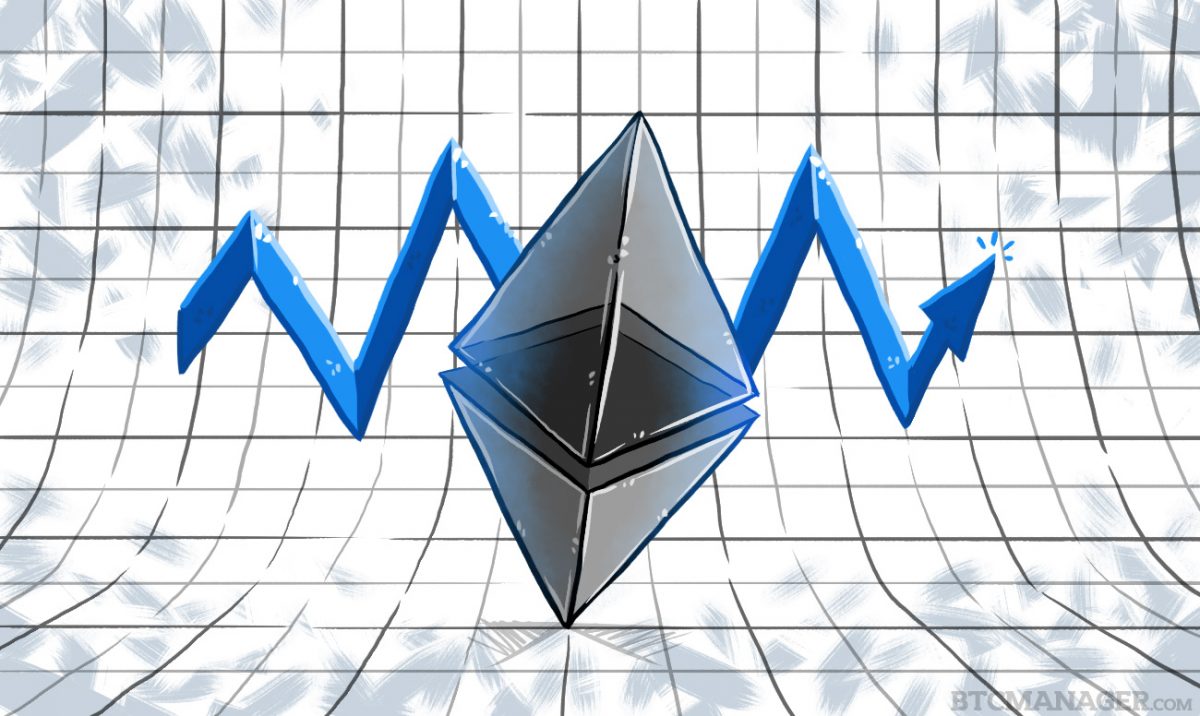 Since the beginning of March, ETH-USD volatility on the Kraken exchange has jumped with the market hovering around $6.0000 and ascended steadily to the $10 psychological handle after breaking the key fractal resistance around $6.5000. Then the market briefly ranged before taking another leg up to post an all-time high of $11.99; selling pressure dominated for a while with the market finding support at $8.50. The upward movement has continued today with the price currently trying to break above $10 again at the time of writing.
ETH-USD is up 5.07% so far on today's open at $9.97 and the chart below illustrates the medium-term outlook with the 4-hour price action. The price action closed below the conversion (blue) line before posting the recent low at $8.49 but the market now seems to be looking to move back above the conversion line, currently offering minor resistance at $9.895. A close of the current candlestick above this level will provide a bullish signal.
Immediate resistance is provided by the base (dark-red) line, now sitting at $10.2449; further bullish confirmation will be given if there is a 4-hour session close above this level. This will indicate a shift in momentum favoring buyers and will indicate a higher probability the market will take ETH-USD higher. Buyers will look to target fractal resistances at $11.30, $11.844 and the recent high of $11.99.
On the other hand, if buyers fail to break above the base line and it holds as resistance then sellers will look to target fractal support at $8.49; a break of this level will see $8.27 and $7.04 providing support. However the Ichimoku cloud has not changed colour from green to red, so it suggests that selling opportunities are a bit premature at the moment. Since the price is above the cloud and the cloud is still green, it is best to look for low points of entry to enter into the longer-term uptrend.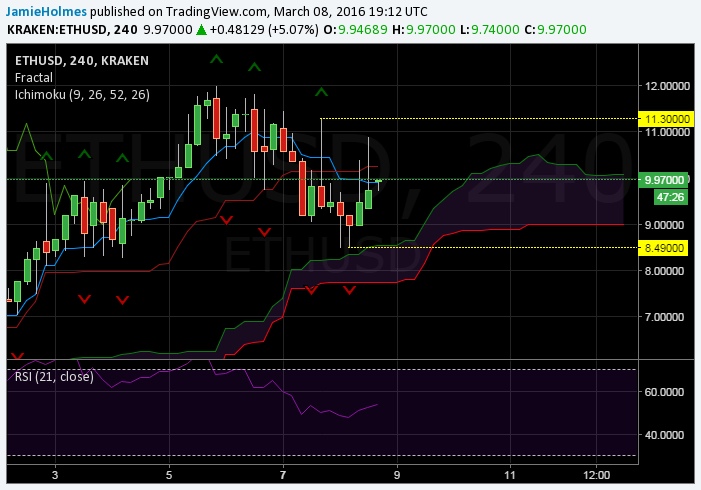 The longer-term uptrend is illustrated by the daily chart for ETH-USD below. The market has tested support provided by the conversion line at $8.9999 but is currently trading a lot higher, suggesting strong buying influence. A break of the support at the conversion line will see the base line provide support next at around $7.66. A daily close above $8.999 will be considered bullish.  A leg-up to establish new highs above $12.00 looks to be the most likely course of events. Also, we could see some sideways trading in the days ahead as the Ichimoku cloud is not trending and has started to move sideways.