Ethernity Chain to Drop Exclusively Authenticated NFTs for Footballing Legend Lionel Messi
Ethernity Chain, a blockchain-based non-fungible tokens (NFT) platform for minting exclusively authenticated NFTs, is announcing "The MessiVerse," in partnership with ISL, a press release on Aug 5 reveals.
Paying Homage to a Legend using Ethernity Chain's NFTs
These are the first-ever authenticated NFTs from the six-time Ballon d'Or winner and the 2020 Copa America champion, Lionel Messi. 
According to the NFT minting platform, these collectibles are as big as the football superstar himself. They will be available from Aug 20, 5 PM EDT. 
Four collections will be available under "The MessiVerse," ingeniously drawn to be "subtle yet impactful."
The four pieces, including a drop, outline Messi's achievements, moments, true love, and future accomplishment—most of whose focus will be on the footballer. 

The artist behind all these NFTs is Bosslogic, an Australian digital artist. He is one of Australia's most popular and influential artists with previous notable stints working with Marvel End Game and Disney. 
A chance to work with Ethernity in minting Lionel Messi's precious moments–whom he says is a GOAT and an icon–is a dream come true.
The Four Messi NFTs: Licensed and Authenticated
The "Man from the Future" is meant to capture fan's imaginations. BossLogic portrays Messi in A.I-Bionic form, a footballer of tomorrow. The widespread use of AI will see the footballer feature in the cyber leagues that will be the inevitable part of the future. 
The portrayal of "Worth the Weight" looks at Messi's fabled past. BossLogic communicates to Messi's fans that he holds the "footballing world" on his shoulders just like the Greek god Atlas holds the heaven and sky. 
In "The King Piece," BossLogic celebrates Messi's accolades as a six-time Ballon d'Or winner.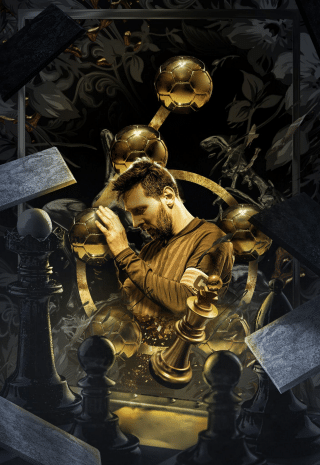 The last piece by Impossible Brief completing the MessiVerse collection will be revealed upon the launch of the Ethernity collection. This piece will be licensed and authenticated by Copa America and Messi. 
It specifically pays homage to Argentina's win over Brazil in the Copa America final. After so many missed opportunities, the win was a fitting cap for the legendary Messi.
Ethernity continues to blaze the trail when it comes to fostering NFT adoption.
In similar news, BTCManager reported in April this year how Ethernity Chain had dropped a collection of NFTs honoring the Brazillian football legend, Pele.