Exclusive: Interview with Johan Unger, Ancient Alien at Meme.com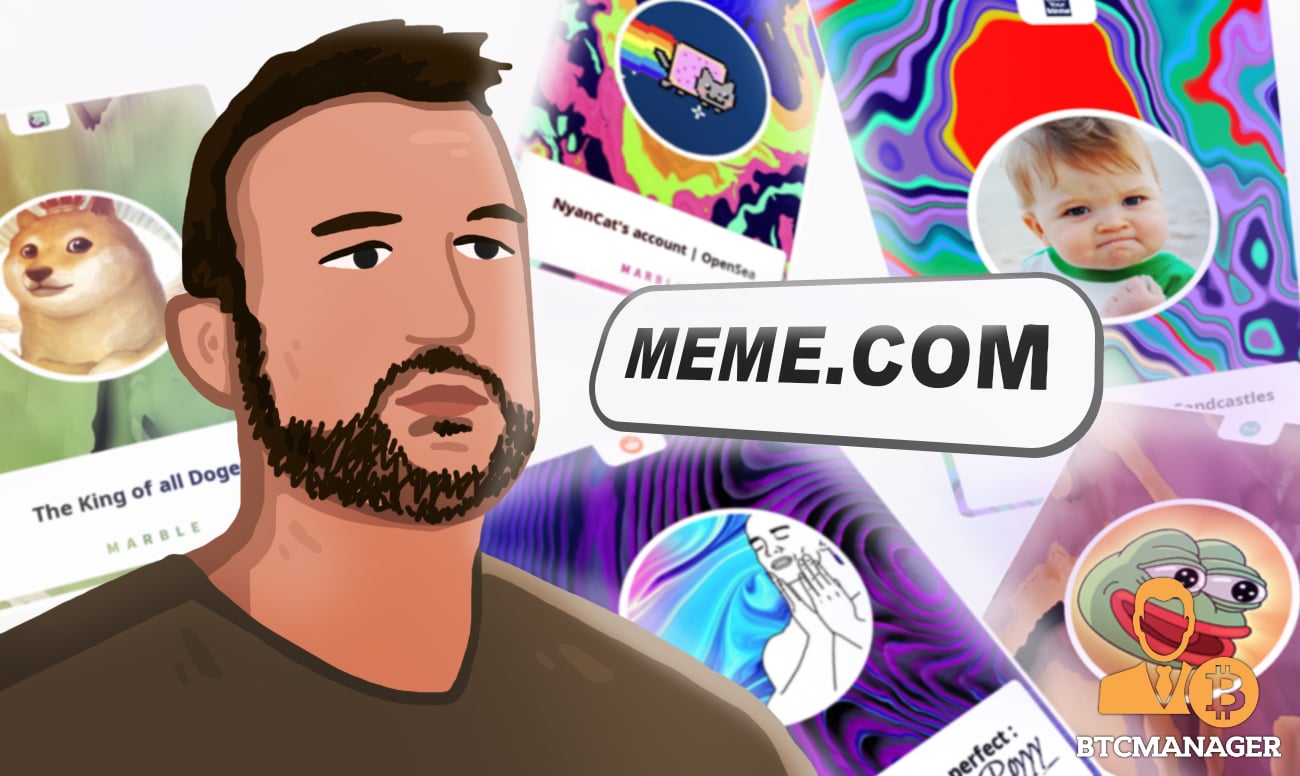 Recently, BTCMananger got the opportunity to interview Mr. Johan Unger, Ancient Alien at Meme.com.
Considering the ongoing NFT frenzy, we asked Unger about what prompted him to start Meme.com, its offerings, the utility of the $MEME token, and a lot more.
The interview follows below.
The Interview
BTCM: How would you describe Meme.com? What does it offer?
Johan Unger: Meme.com can be described as if Wikipedia and Dogecoin had a baby. A place where people explore different memes and trends on the internet. It enables users to mint Meme Tokens that are based on the perceived value of the trend or meme they represent.

Owners of Meme Tokens can elect to help grow their market by supporting the Meme Token Club. In the clubs, discussions will happen in exclusive Discord channels for each Meme Token. Each Meme Token will have it's own treasury, based on transaction volume fees of that particular Meme Token.

From the treasury, each Meme Club will be able to choose how to promote its memes and thus grow their Meme Token Market. We have already seen many discussions from the community as we prepare the Meme Clubs to go live. From awarding creators whom add content to the forthcoming Meme Token Club web pages to contracting out NFT artists for community rewards. Each Meme Club will be able to decide how they want to move forward!

The best performing Meme Club Markets each month will receive rewards in our native token, $MEM, and the finest of meme NFT artwork.
BTCM: What prompted you to start Meme.com?
Johan Unger: Since the launch of Marble.cards in January 2019, we have been interested in quantifying the popularity of trends. This was done, to a small extent, with MarbleCards as people would create and collect NFTs of items they were interested in and excited about. But we felt there was always something missing.
With Meme.com we are adding to the trend curation by creating Meme Markets that allow people to explore and create content around memes they love and believe in. Now you can meet other meme connoisseurs while supporting your favorite memes.

Take part in meme expeditions, explore trends, build meme expertise and earn your place in the Meme Clubs. With this, MarbleCards becomes an underlying asset layer that will assist in growing each Meme Club community.  
BTCM: The meme economy is perhaps the most visible in the crypto industry. How do you plan to leverage the meme economy for Meme.com?
Johan Unger: It has been quite interesting how the meme economy has grown to become an integral piece of the crypto industry. We are creating a platform where you can support your favorite memes while being awarded with crypto and fine meme art NFTs. Financial incentives for meme creators and meme enthusiasts supporting those creators is now available and in a transparent, decentralized way.
BTCM: What are the safety mechanisms in place for Meme.com?
Johan Unger: As far as the growth of each Meme Token, the safety depends primarily on the DAO. We will incorporate a Meme Council of community members who hold a certain threshold of our tokens or NFTs. This council will oversee the requests of new Meme Tokens and distribute each Meme Clubs treasury fund.

Transparency should be the core of any crypto project, and our forthcoming DAO structure aims to be community-driven while mitigating centralization risk.

BTCM: Can you tell us a little about the utility of the Memecoin ($MEM) token?
Johan Unger: Our Memecoin token has several different utilities on our platform at the moment, with more coming soon.

Creating NFTs: Create Marble cards NFTs to support any trend you believe in. Find that URL that you want to frame into an NFT, you are the curator while molding your NFT to your specifications. Drop that NFT in our Arena and gain yield off your creation. You can only create NFTs with Memecoin.
Meme Token Trading: Memecoin can be used to trade for Meme Tokens (e.g. mWOJAK) which will give the trader exposure to that Meme Token. This entitles the holder access to that particular Meme Token Club on Discord and our website.

Governance: Memecoin gives a holder the governance opportunity to join the Meme Council and help shape the future of Meme.com. Because the MEM token can be traded for Meme Tokens, one can also have governance rights in each Meme CLub they hold Meme TOkens in.

Meme Token Creation: The token will soon be available to submit requests for creating new Meme Token Markets. Wait until you find the next trending meme you believe in and submit a proposal to create a new Meme Token and become the initial buyer if the Meme Token is approved by the Meme Council.
BTCM: Can you share with us what it's like to be an Ancient Alien at Meme.com?
Johan Unger: It's been amazing! Everybody loves memes… even if they don't quite get that the image they are looking at is a meme. At Meme.com, it has become even more encompassing of my life as I grow with our community.

When we first began the idea in mid-2018, I never imagined the community would become so passionate about collecting NFTs. I like to think we've grown together and improved the NFT space as we look to further grow meme culture with our new Meme.com core layer.
BTCM: What is in the pipeline for Meme.com for Q3-Q4 2021?
Johan Unger: Outside of continual Meme Tokens released into our Meme Market, we have a lot planned moving forward.

Fine Meme Art: We have contracted out seven top-tier crypto artists to create the Genesis Meme Fine Art pieces. This is just the beginning, we have many ideas in the pipeline to feature top-tier emerging artists while growing meme culture.

Yield Farming: Soon we expect to have a staking protocol in place to stake your Meme Tokens and gain yield in the form of $MATIC or $MEM.
DAO Expansion: We are in the early stages here, the goal is to become as decentralized and transparent as possible. We are excited about the wrinkles this will bring as additional DAO layers are added.

Verified Creator: This Will allow for artists with artwork made from their art URLs into NFTs on Marble cards to be verified and receive a portion of all resales of those verified cards.
NFT Onboarding: Soon we expect to invite submissions of other NFTs into our MarbleCards Arenas. Allowing NFT holders to submit their NFT to gain yield off their assets while growing awareness for crypto artwork based on particular arena topics.
BTCM: Do you have any special messages for the Meme.com community?
Johan Unger: Yes! As we've grown with the community over the years we realize you are our most important asset. While we are aiming to build a platform to support your needs and wants, a key focus is to support creators. From artists to NFT creators and meme makers, anyone who can spot trends we want to have a platform to support them.

We love the suggestions as we grow together… keep them coming, we are listening!