Exotic Markets Launches World's First Dual Currency Note on Solana (SOL)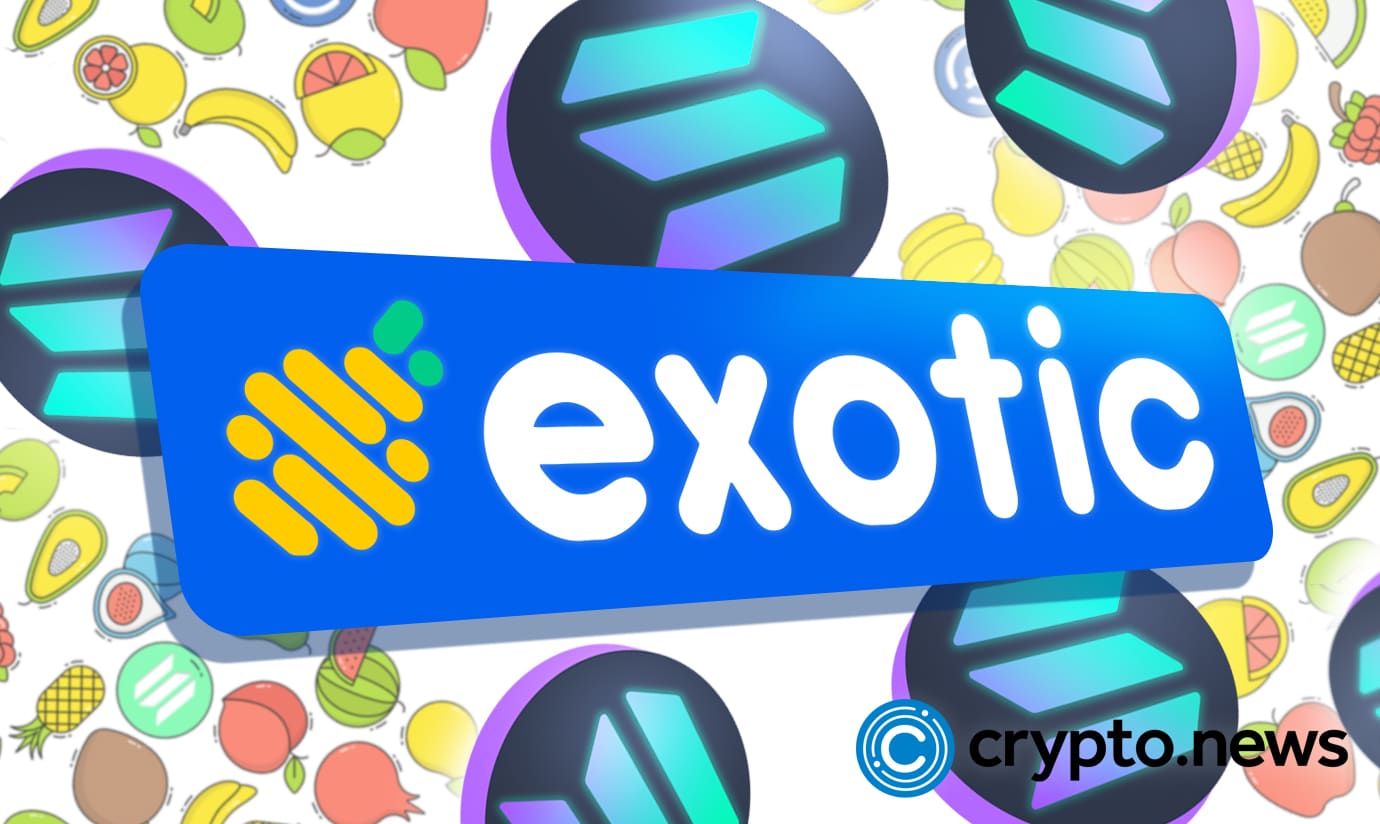 Exotic Markets has announced the launch of its Dual Currency Note (DCN) on the Solana blockchain. The team says the new DCN product functions well under bullish, bearish, and indecisive market conditions, enabling users to diversify their portfolios with fewer risks.
DCN Rekindling Interest in Crypto
In a bid to rekindle overall interest in cryptocurrencies following the collapse of the Terra (UST) algorithmic stablecoin project, Exotic Markets, a Solana-based decentralized finance (DeFi) protocol that claims to enable users to diversify their portfolio and maximize returns through user-friendly structured products, has introduced the first Dual Currency Note (DCN).
Per a press release shared with crypto.news, DCN is now live on the Solana blockchain following thorough testing of the solution on the network's devnet, with participation by more than 140,000 wallets.
The team says the ongoing bearish and sideways crypto markets have sparked an interest in new portfolio diversification opportunities that come with fewer risks.
DCN is the ideal solution for such diversification, as it is designed to operate optimally under all market conditions (bullish, bearish, and indecisive markets).
More Options
The innovative DCN solution unlocks more earning opportunities for users, as it allows them to receive their upside in their preferred crypto, which may be different from the one they hold.
The team explains:
"For instance, a Solana holder can invest in a Dual Currency Note and receive their upside in bitcoin (BTC). There is no need for alternative assets or wrapped tokens. Generating yield on the asset one holds for the long-term is the next logical step in decentralized finance. More importantly, it is a sustainable yield farming opportunity and one that allows users to maintain their positive outlook on their preferred crypto assets."
DCN upside trade allows 'hodlers' who believe in the long-term bullish potential of their cryptoassets to make the most of it. With a good number of cryptocurrencies down by nearly 80 percent from their all-time highs (ATHs), the team says it believes there is a real chance a new ATH price will be recorded by Solana (SOL) relatively soon.
Importantly, DCN users are not required to deposit their SOL or USDC tokens into small-cap coins or vaults to take advantage of the solution.
The team claims the DCN note is built with sustainable yield generation in mind, whereas other offerings suffer from inflated token supplies as the generated asset has very little demand.
"Exotic Markets has transparently put together the DCN offering, with all risks and processes clearly explained before users get on board. In addition, users maintain full autonomy over their assets and yield, further empowering the HODLers," declared the team.
Exotic Markets says the launch of DCN is just the tip of the iceberg, as it plans to offer members of its ecosystem unprecedented DeFi products via its mainnet, including Worst-of-options, accumulators, and autocallables.
In the coming months, Exotic Markets plans to add more features to its platform, including a referral program, trading competitions, and various educational content – through a collaboration with Xcellerate – to introduce a learn-and-earn aspect to the ecosystem.
Backed by several top investors in the blockchain space, Exotic Markets says its ultimate goal is to democratize yield for all investors.