Forbes Launches CryptoMarkets, a Cryptocurrency Price Aggregation Website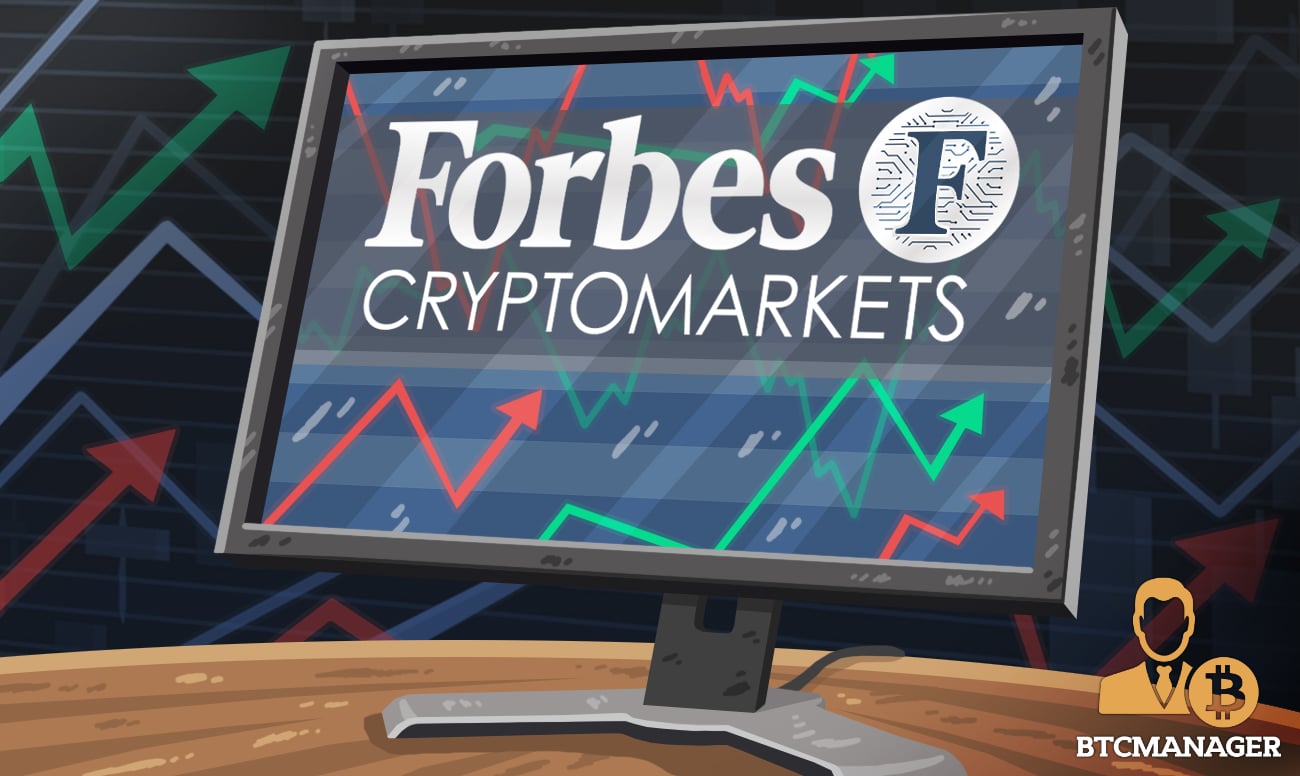 In a press release dated October 22, 2018, Forbes announced that it would be licensing its brand to a new cryptocurrency website, titled Forbes CryptoMarkets. 
Standing out from the Competition
The platform has been developed in collaboration with private investment company NewCity Capital and blockchain startup trade.io. The portal is set to serve real-time pricing data for the top 200 cryptocurrencies, sorted by market capitalization. This financial data is also flanked by a news aggregation column on the right, which lists top stories from major cryptocurrency publications.
Commenting on the launch, CEO of Forbes Media Mike Federle said, "Forbes CryptoMarkets, a new licensed business, represents a natural extension of our powerful brand into a new venture that promises to deliver immense value to investors, traders and market watchers."
Chein Lee, who is currently the Chairman of NewCity Capital, is expected to head the portal. He said, "We are excited to partner with Forbes to create a trusted source for those seeking information on the new digital economy, including Bitcoin, Ethereum, cryptocurrencies, tokens and the companies underlying them. [Forbes CryptoMarkets] will be the definitive resource for everything crypto and blockchain."
The press release goes on to explain that the website will also display "insights and information" from cryptocurrency exchanges worldwide, such as the available trading pairs, prices, and volume. In that respect alone, Forbes CryptoMarkets directly competes with CoinMarketCap. While alternative platforms already exist with similar user interfaces in the form of CoinGecko and WorldCoinIndex, they lack Forbes' news aggregation service.
According to Forbes and its partners, the news service is a pivotal aspect of the CryptoMarkets platform and serves as a real-time data source by itself. In addition to presenting news from top crypto and blockchain publications, the portal also has a dedicated section for stories from Forbes Media.
Forbes CryptoMarkets can also track the performance of cryptocurrency-based indices, which are limited to Forbes' own offerings at this time. For example, the "FB30" index lists the 30 most valuable cryptocurrencies weighted by market capitalization. As the website explains, "The index applies weight ceilings and floors to the constituents." This way, a single, sudden change in a constituent's market cap cannot manipulate the index in a particular direction.
The portal also lists three other indices, namely the FB10, FBCCG, and FBAPPSG, which are segregated by use-case. The FB10 index includes the top ten cryptocurrencies overall and is similar to FB30 in other respects. FBCCG, on the other hand, only weighs currencies that are meant to be used as a store of wealth like bitcoin, litecoin, and XRP. The final index, FBAPPSG, is dedicated to tracking tokens used by decentralized platforms and apps. As a result, it lists smart contract platforms such as Ethereum, EOS, and Cardano.
Cryptocurrency exchange trade.io, one of the companies collaborating on Forbes CryptoMarkets, announced that it had suffered a security breach in a Medium post published October 21, 2018. According to the company, a cold storage wallet was compromised and had 50 million TIO utility tokens withdrawn from it by an unknown entity. While the investigation was ongoing, the company was forced to disable trading on its website, as well as Bancor and Kucoin exchanges.