Fundraising Rounds of EtherMail, Datawisp, RISC Zero, and Stride Zone; Inflation Troubles Continues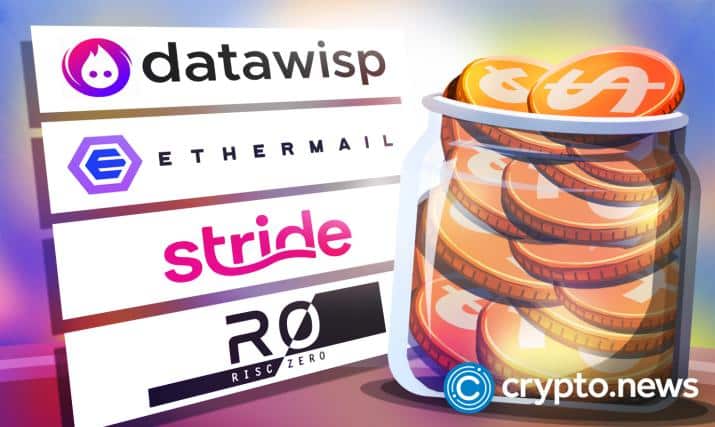 Several projects have reported successful fundraising rounds recently, including EtherMail, Datawisp, RISC Zero, and Stride Zone. Inflation continues to trouble many countries.
EtherMail Raises $3 Million in Funding Round
In a Twitter statement released a few days ago, Etheremail said, "We just raised $3M in seed funding to reimagine Email For Web3! EtherMail is the future of Email." According to a press release, this funding round was "led by Fabric ventures and Greenfield One."
The PR statement also states that these new funds will help expand the team and accelerate solution testing. When talking about this project, EtherMail co-founder and CEO Shant Kevonian said;
"This seed round represents a strong seal of approval for the unique EtherMail value proposition and will help us showcase our distinct solution – which can be used by any user and mail client – to a wide range of companies within the burgeoning blockchain space. We are providing a robust communication bridge from Web 2.0 to Web 3.0 and have already attracted interest from top platforms that want to explore partnership synergies. Watch this space."
Datawisp Closes $3.6 Million Funding Round
In a press release, a platform focused on web3 gaming, Datawisp announced a successful funding round raising $3.6 million. According to the release, Coin Fund led the funding round, with other investors like Mirana Ventures, Dweb3 Capital, Spartan Capital, and Play Ventures participating.
The platform's CEO and Co-founder, Mo Hallaba, said:
"Our vision is to build a product that works for everyone – regardless of their technical ability – and makes working with data as easy as sending an email in Outlook or creating a slide deck in PowerPoint."
When talking about this project, a Partner at Coinfund, Evan Feng, said;
"Datawisp is revolutionizing data analytics and laying the groundwork for business intelligence tools across both gaming and traditional business models within web3… We look forward to helping them achieve scale across their operations and ship their ambitious product roadmap across multiple end markets."
RISC Zero Completes a Successful Funding Round
RISC Zero recently announced a successful funding round raising $12 million. This funding round was led by Bain Capital Crypto, with other investors like D1 Ventures, Geometry, and Cota Capital participating in the round. This new funding round follows another round that raised $2 million.
Alex Evans of Bain Capital Crypto recently commented on the funding round, saying;
"We're thrilled to partner with the RISC Zero team as they empower developers to realize the full potential of this technology."
Stride Zone Raises $6.7 Million
Stride Zone, a multi-chain liquid staking platform, recently announced a successful funding round raising $6.7 million. According to reports, this round was led by North Island VC, Pantera Capital, and Distributed Global with many other investors like Everstake, Cosmostation, Imperator, 1Confirmation, Node VC, Cerulean Ventures, Road Capital, and Picus Capital.
The network was created by Riley Edmunds, Vishal Tasalani, and Aidan Salzmann to help users earn Defi and staking yields within the Cosmos Inter-Blockchain communication (IBC) ecosystem.
According to reports, Stride will use this lot of funds to recruit talents savvy in the technical and non-technical areas. Moreover, they aim to use the funds to increase their product offerings.
Inflation Continues to Trouble Many Countries
Inflation continues to hit many countries globally, with some suffering in Asian, European, American, and African regions. In Africa, Nigeria recorded massive inflations, hitting 19.64% in July, a 17-year high. With this increasing inflation, it's no surprise that many Nigerians have been investing in crypto. Other African countries, including South Africa and Kenya, also experienced increasing inflations.
In Asia, China and other countries are also experiencing increasing inflation. For instance, a recent Bloomberg report shows China's CPI reached a two-year high of 2.7% in July. As the Russian invasion of Ukraine continues, things could only get worse. In the US, on the other hand, things appear to be settling for now.