Gaming Industry Contributes to NFT Sales Surpassing $700 Million in 2021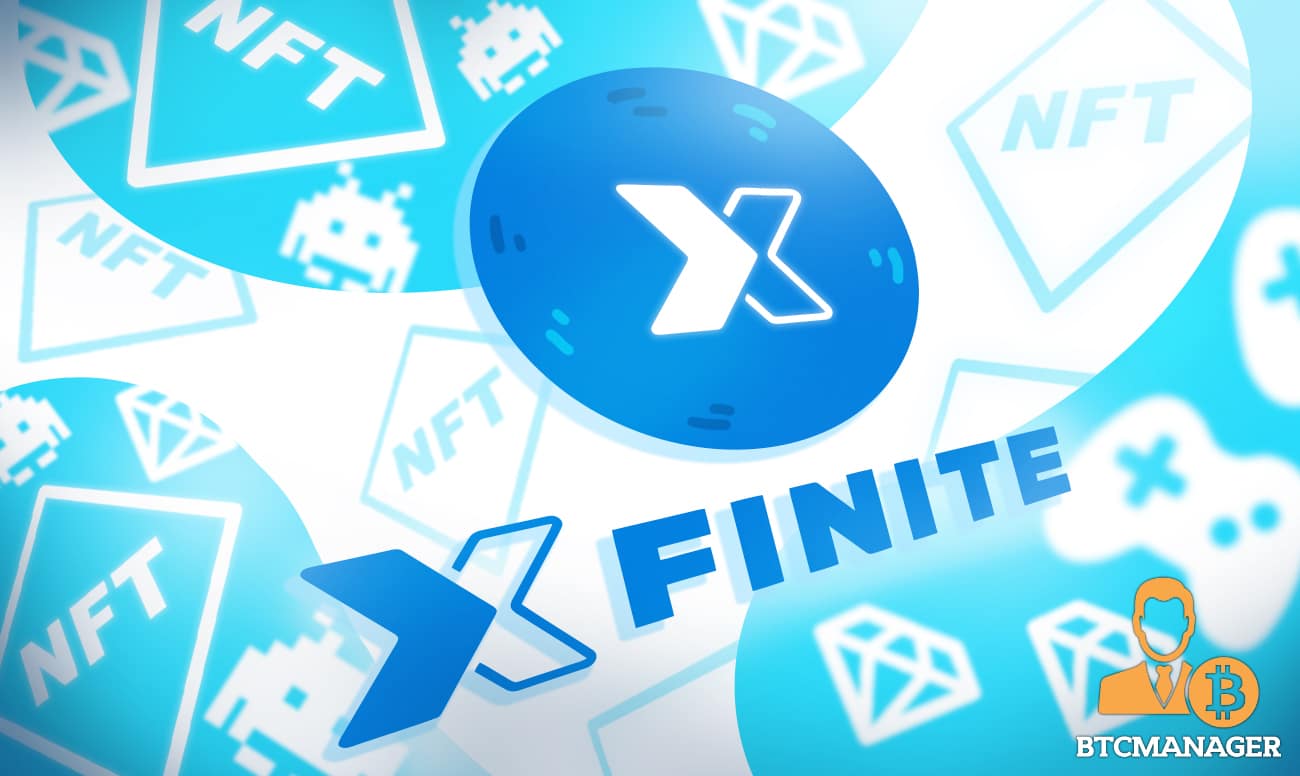 NFTs are creating the biggest buzz in the blockchain industry and cryptocurrency markets right now. Since the onset of the global pandemic, the global gaming industry has grown significantly due to the social restrictions in place in most countries. As a result, consumers spend more time on online platforms looking for entertainment.
As an amalgamation of the two, enter the NFT gaming industry, which uses blockchain technology in gaming. Non-Fungible Tokens (NFTs) represent the digital assets used as content in the games.
NFT Mania Grips the Market
Non Fungible Tokens (NFTs) are cryptographic assets on blockchain with unique codes which contain metadata that distinguishes them from each other. Due to their unique nature, they can't be traded for another token or be exchanged for equivalency unlike cryptocurrencies.
NFTs have evolved from the ERC-721 standard. It is created by few of the people also responsible for the ERC-20 smart contract which a lot of tokens in the Ethereum network are currently based on. The ERC 721 sets the foundation for ERC 1155 standard by providing ownership details, security and metadata, essential for the exchange and distribution of tokens. ERC 1155 takes this a step forward by reducing storage and transactional costs required for NFTs, allowing them to be bunched into a smart contract as well.
NFTs are being sold as crypto art collectibles on the market now. According to data from CryptoSlam, there have been more than $700 million in NFT sales till date. Out of which more than $400 million of those sales have come in the last 30 days, signifying how rapidly the industry is growing in 2021 being thrust into the spotlight of a sudden.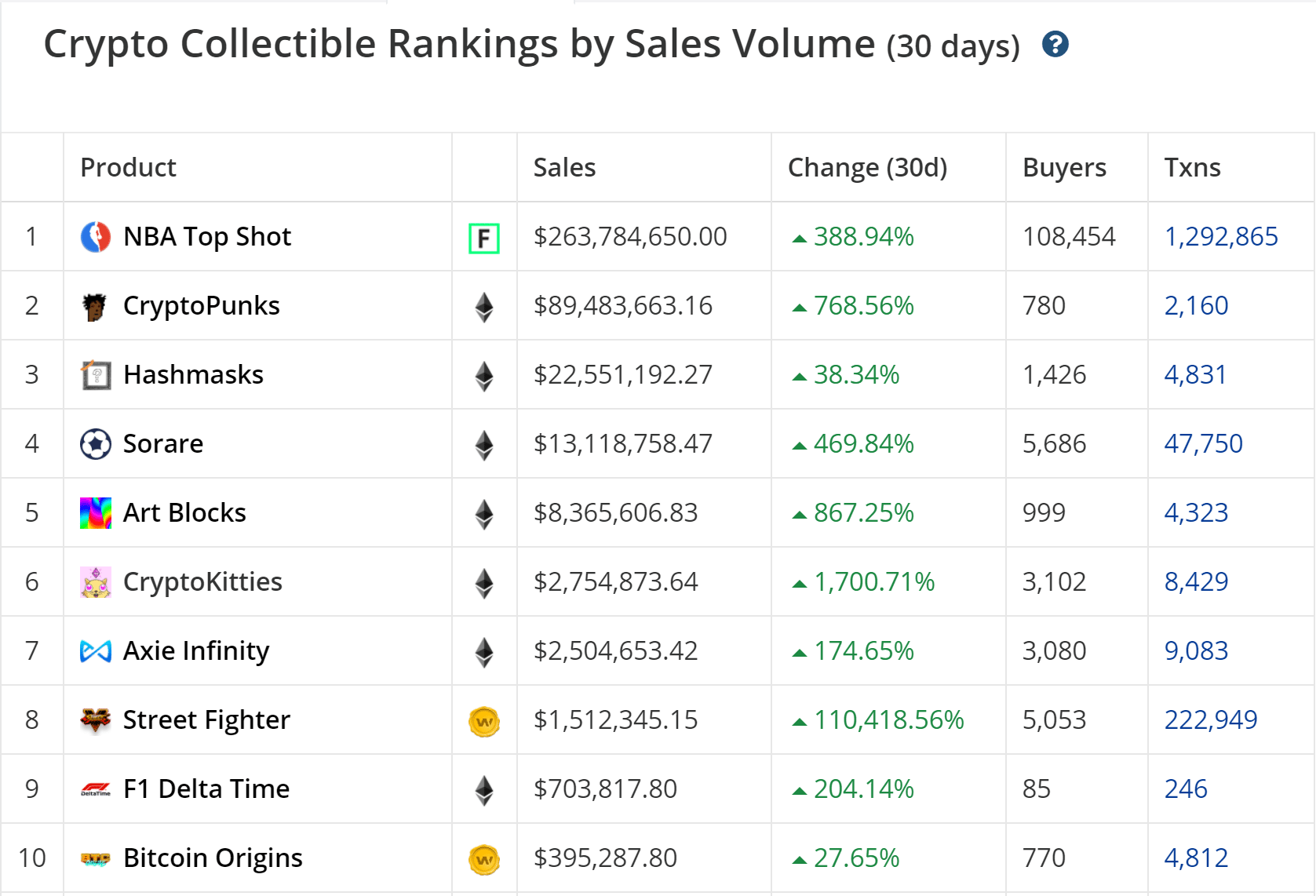 NFTs are seen in two major ways, as crypto-collectibles, and as fan tokens. Crypto collectibles are an art form that makes unique avatars or art pieces for fans and patrons to purchase and hold. Firms like NBA Top Shot and CryptoPunks are making the most prized NFTs available to the market apart from artist's NFTs. Recently, artist Beeple's NFT was sold through a Christie's auction for $69 million to crypto personality Metakovan, making it the record NFT sale to date.
NFTs facilitate decentralized social governance through the use of fan tokens. These fan tokens allow brands, fans, influencers to engage directly with their fans and patrons by providing them with voting options at different stages and categories of the NFT. The use of fan tokens in sports like football has been in increasing considering the empty stadiums due to the ongoing pandemic. Sorare is the platform leading the charge and offering users a platform to indulge in these fan tokens.
NFTs are also popular in the gaming industry as their unique functionalities solve some of the inherent problems that the gaming industry itself has regarding the sale of rare traits and accessories on their platform. With the use of NFTs, these features can be transferred easily and used across different games. NFTs help drive in-game economies; several sections like art platforms and OTT platforms have been using gamification through NFTs as a part of their platform. One such example is Theta.tv, a decentralized streaming platform made for content creators to mint and share with their fans. The NFTs are powered by the THETA blockchain technology.
NFT Gaming Gets a Push
NFTs usage in games powered by blockchains brings immutability, provable scarcity, player ownership, and interoperability to online gaming for a completely decentralized gameplay. Blockchains could become the technological foundation for player experience, player transactions, and the back-end technology for the games themselves. Even gaming giant, Atari has announced that they will set up a crypto casino soon using Ethereum's blockchain technology.
NFTs are also redefining the digital entertainment and OTT platform domain through gamification across some platforms. Most OTT platforms currently used are centrally controlled businesses; they work on two basic models. The first, more popular model is a subscription-based model wherein users pay a monthly or a yearly fee to have access to premium content on the platform. These models often also have multiple levels of subscription entailing that to access all the content on the platform users will have to pay a higher price as compared to a proportion of the content on the platform. Examples of this model are Netflix, Disney Hotstar, and Apple TV+.
The other established model is a free-for-users model, but the interference and distractions caused by advertisements placed within the content often prove to be a deterrent for users to use the platform. Perfect example of this in YouTube's old business model, which they changed to offer a Premium subscription for their users who don't want their attention monetized through advertisements.
In contrast, Xfinite, a blockchain technology platform aims to create positive economic incentives for its participants. Their first application, Mzaalo, is a gamified video on demand decentralised platform. Mzaalo provides free access to premium content, user rewards, and a range of interactive features. It is secured by Xfinite's unique blockchain. Mzaalo is a way to push mainstream blockchain adoption and aims to democratize social entertainment.
Mzaalo's OTT ecosystem rewards its users for watching content on its platform. The users can redeem their rewards for digital goods and premium experiences. Mzaalo has partnered with 50+ content providers to offer users a large collection of content. Since Mzaalo is focusing on the Indian market to start with, it has acquired the most extensive library of premium Bollywood content with exclusive licensing agreements. There are already 50,000+ hours of movies, series, live TV, video-on-demand content available on the platform. Their recent partnership with Eros, a big player in the Bollywood content ownership space, provides Mzaalo with a potential user base of more than 200 million registered users.
The XET token is the native currency of the Xfinite ecosystem. It is a token on the Algorand blockchain. XET functions as a unique value exchange mechanism for all stakeholders including users, brands & influencers, and content producers. Token holders can also vote for changes in the Xfinite protocol. Mzaalo's aim is to take user engagement and reward structure a step further than the other gaming platforms available.
With the more recent proliferation of blockchain technology and NFTs demand in the market, the demand for applications like these are bound to increase, especially in a country like India with it's extremely large population base of young consumers who are willing to adapt to change. Social entertainment could be the perfect place for blockchain technology to gain mainstream adoption in 2021 through such experiences and initiatives.
"Mario Casiraghi is the Chief Strategy Officer of Xfinite Global, a blockchain-powered global entertainment platform. Mario has been enmeshed in the blockchain sector since 2016, first as the founder of DandYlion and as a partner at Blockchain Solution Partners. He previously worked in traditional finance markets, both at Bank of America Merrill Lynch and at RBS."