Gate.io's NFT Magic Box Launches $1 Million Fund To Support NFT Creators
Over the last year, the global NFT market has boomed, minting new millionaires and pushing blockchain-based art to the forefront. Celebrities and leading brands from across the world have entered the market and many believe there will be a lot more growth in the market in the years ahead.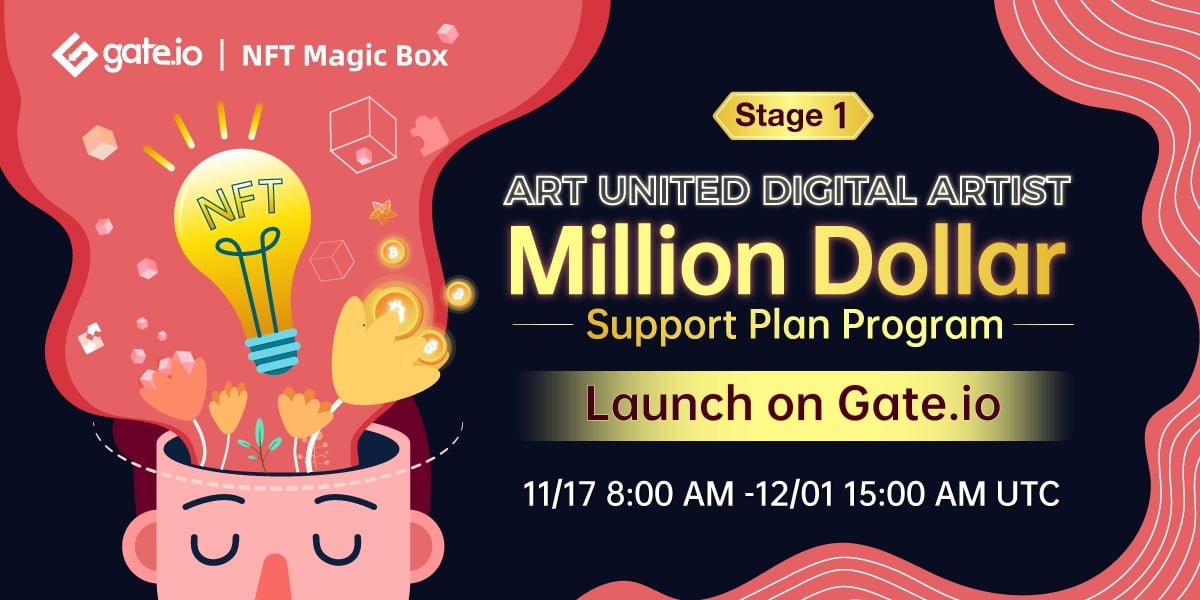 Leading cryptocurrency exchange, Gate.io, has launched a $1 million fund through its NFT Magic Box marketplace to support up and coming creators in the NFT space. The 'Art United Digital Artist Support Programme' aims to provide NFT creators with access to funding in addition to access to the wider Gate.io ecosystem.
"Since its launch earlier this year, NFT Magic Box has seen tremendous growth. As the global NFT market continues to grow, we at Gate.io aim to nurture up and coming talent and give creators access to funding and an environment that promotes their art. NFT Magic Box offers several benefits over other platforms, the most important of which offering artists the ability to mint NFTs for free. We also recently launched blockchain interoperability, allowing NFT creators using Ethereum and Tron protocols to showcase their artwork on the platform," said Marie Tatibouet, Chief Marketing Officer at Gate.io.
The first phase of the programme, launched on November 17th and ending on December 1st, hopes to draw interest from both established artists and newcomers. Participants will be able to receive rewards for uploading their artwork onto the platform in addition to receiving priority on the 'Officially Certified' section of NFT Magic Box.
Earlier in the year, Gate.io launched OpenPunks, one of the world's first community-driven NFT collections on NFT Magic Box, the company also partnered with several leading players in the NFT space, adding collections such as MetaverseX, iFans, Losercoin, Allen Iverson and more to the platform. NFT Magic Box recently launched a new service for verified, popular NFT collections, starting with the popular Bored Ape Yacht Club (BAYC) collection and its offshoot, Mutant Ape Yacht Club (MAYC).
The launch of the 'Art United Digital Artist Support Programme' will be the first of many initiatives aimed at cultivating digital art on NFT Magic Box, the company believes in the mantra 'NFTs for everyone' and hopes that the entire industry will benefit from artists and creators being supported in the early stages of their creative journeys.
About Gate.io NFT Magic Box
Gate.io NFT Magic Box is the world's first centralized NFT trading platform. It consists of two parts: a pioneering creation platform and an auction trading platform. The trading market covers collectible NFT works in a wide range of fields such as games, music, art, and sports. It supports auctions and immediate transactions, with the help of GateChain's interoperable public chain as the main chain. GateChain is compatible with Ethereum ERC-721 and ERC-1155 protocols, as well as TRON TRC-721 and BTFS protocols. Gate.io is committed to creating the world's top NFT coin creation, promotion, and auction trading platform.