German Government Recognizes VeChain's Drive to Improve Traceability and Supply Chain Management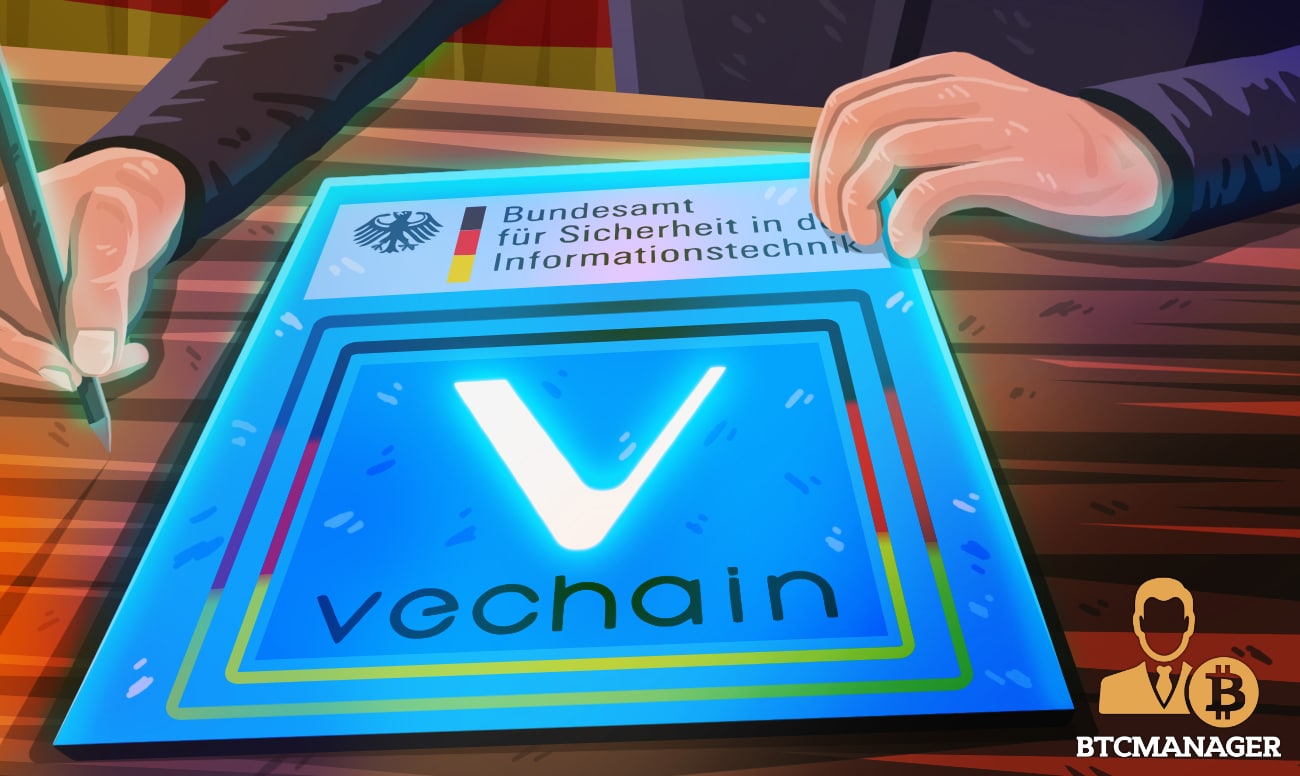 Considering the massive strides VeChain has made in the last few years, the recognition by a Germany's Federal Office for Information Security (BSI) in a recent report is a major shot in the arm. 
VeChain, EOS, Corda Stand Out
The BSI is Germany's national cybersecurity authority in charge of managing computer and communication security in the country. It studied 300 blockchains to discover ways of applying blockchain technology in relevant fields. 
They checked for relevance and applicability, security, and the blockchain's susceptibility–as adjudged from the number of recorded breaches, to weed out quality projects. 
This required source codes of all selected projects to be manually checked and analyzed for flaws, consistency, compliance, and quality.
Following their thorough analysis, only eight of the initial 300 blockchains were picked out. VeChain, EOS, and Corda stood out because of their high relevance and applicability. 
Specifically, the BSI report found that VeChain's supply chain management tools were intelligent while the EOS high throughput blockchain can be used to launch decentralized applications (dApps). Meanwhile, the German healthcare system can find use from the Corda blockchain. Corda is an open-source and enables businesses to transact in strict privacy using smart contracts.
VeChain's ToolChain
VeChain is a blockchain platform designed to meet enterprise needs. 
While it focuses on creating solutions that ease supply chain management through better transparency and traceability, it also resolves an array of problems in other core sub-sectors like in the automotive industry.
Driving their success has been the high adoption levels of its Blockchain-as-a-service (BaaS) platform, ToolChain. ToolChain leverages VeChain's Thor blockchain to offer diverse services to businesses, therefore, driving adoption.
An extract from the BSI report read (translated from German):
"Similar to Ethereum, VeChain is a mixture of basic technology and digital currency. The VeChain blockchain is intended to store information about certain products. Unlike OriginTrail, VeChain is significantly more capitalized and supported by a variety of large companies. The investigation of VeChain and OriginTrail covers the application field "Supply Chain Management."
Traceability Efforts in China
On June 6, 2020, BTCManager reported that VeChain had partnered with Shenzhen Yuhongtai Foods Co. Ltd's subsidiary Meijiada Fresh Foods to power its Food Traceability Platform with the VeChain ToolChain technology. 
To further enhance transparency and traceability, Sam's Club China announced the launch of a tracking platform called the Sam's Club Blockchain Traceability Platform based on the VeChain blockchain.