Glassnode Data Suggests Ethereum "Whales" Are Switching to Bitcoin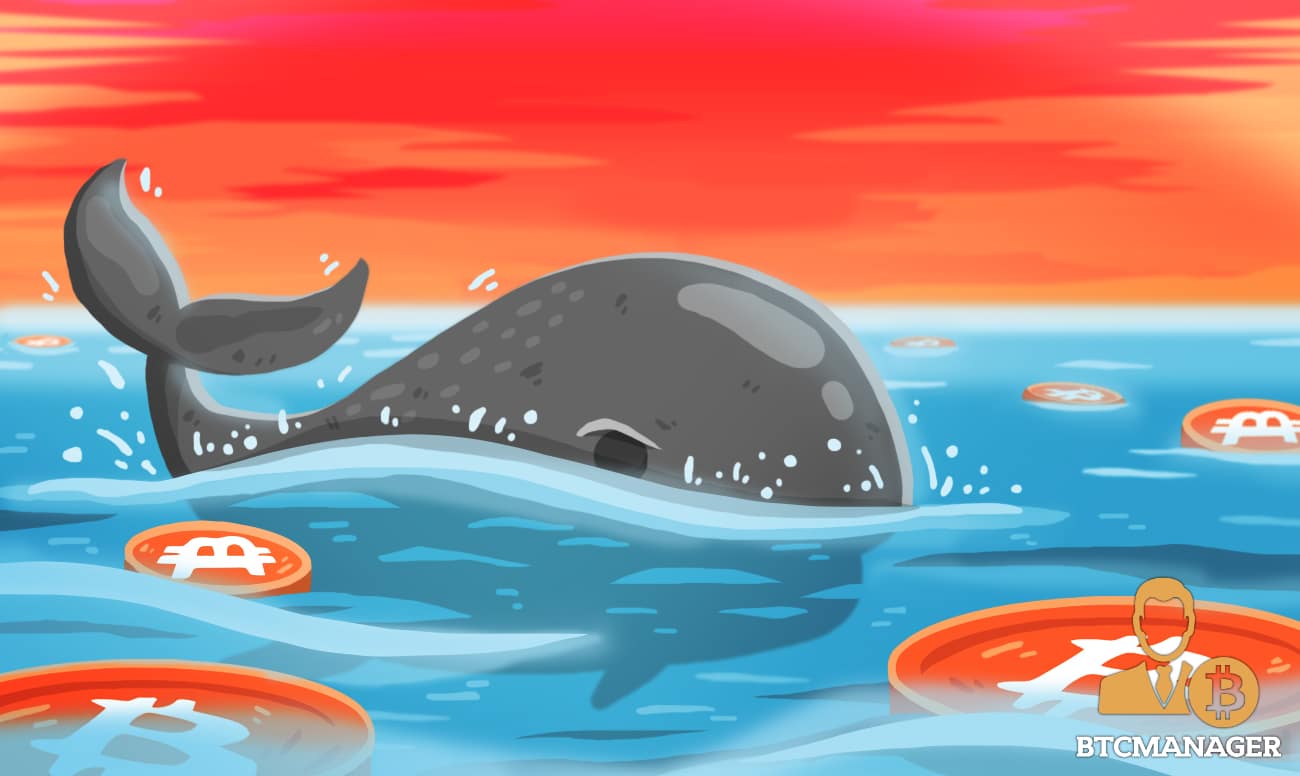 Whales holding Ethereum (ETH) have decreased drastically in 2020, despite the currency's surging prices and institutional adoption, if the latest data from on-chain analytics firm Glassnode is considered. 
Whales Fleeing ETH
Bitcoin's now-concluded halving saw the pioneer cryptocurrency's price move from sub-$5,000 in January 2020 to over $10,000. Most digital assets followed suit, with large-cap currencies like ether and XRP posting over 50 percent gains. 
But Glassnode's data suggests Bitcoin is the "flavor" for this year. An analysis of unique addresses holding upwards of 10,000 ETH felt to just 1,050 on May 14. The figure is a new low since January 2019, indicating a year of outflows from ether.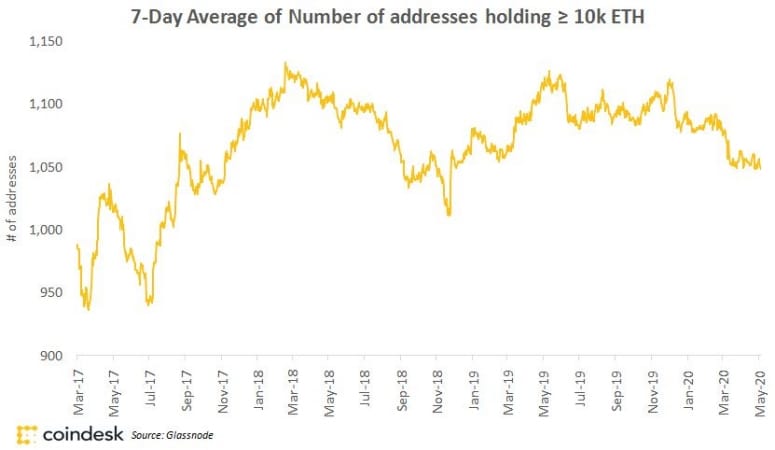 (Rolling seven-day average of addresses holding 10,000 ETH or more. Source: Glassnode.com)
CoinDesk quoted Connor Abendschein, a crypto researcher, on the matter:
"Some ETH whales could have moved into BTC in anticipation of potential price appreciation in the top cryptocurrency due to effects of the mining reward halving."
In the same time period, whale-linked Bitcoin addresses have risen significantly. A seven-day moving average metric on Glassnode reveals 111 individual wallets holding upwards of 10,000 BTC, or a minimum of $95 million at current prices. The figures were last seen in April 2019. 
Even the figures for whale-linked addresses are down 6 percent since last December. The metrics aren't crypto-exchange figures either, Glassnode exclusively tracks "private" or hard wallets, meaning the coin movements were not bourses unloading exposure and moving to Bitcoin. 
"Small" ETH Holders Surge
The move to Bitcoin coincides with the now-concluded halving event. As shown in the graph, "large" BTC addresses moved by 5 percent in March 2020, a month before halving. 
However, individual Ethereum addresses holding upwards of 32 ETH have risen. The below graphic shows: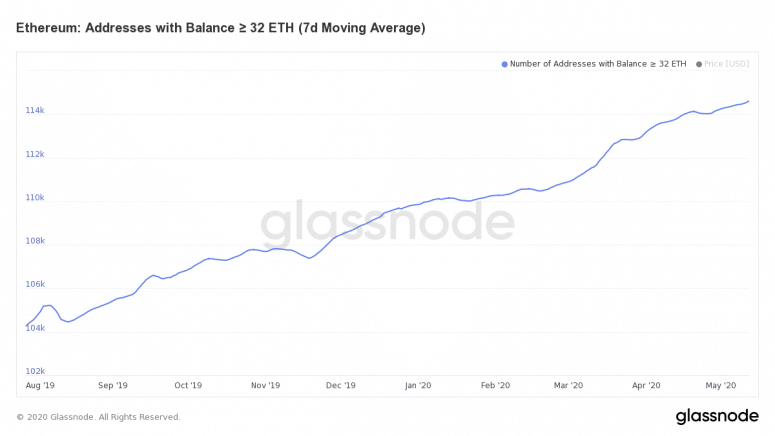 (Source: Glassnode)
While BTCManager cannot independently verify the claim, the anticipation ahead of Ethereum's move to a staking protocol could mean passive investors are looking at accumulating ETH to earn interest. 
Addresses containing 32 ETH hit a record 114,625 on May 13, a previously unseen level. The figure is the minimum amount of ether required to run a validator node, which processes transactions on the network and rewards stakers with an interest of over 7 percent.
At press time, ETH trades at $198.66 with a market cap of more than $22 billion.