Technical Glitch on Cloudflare Sends Crypto Sites Offline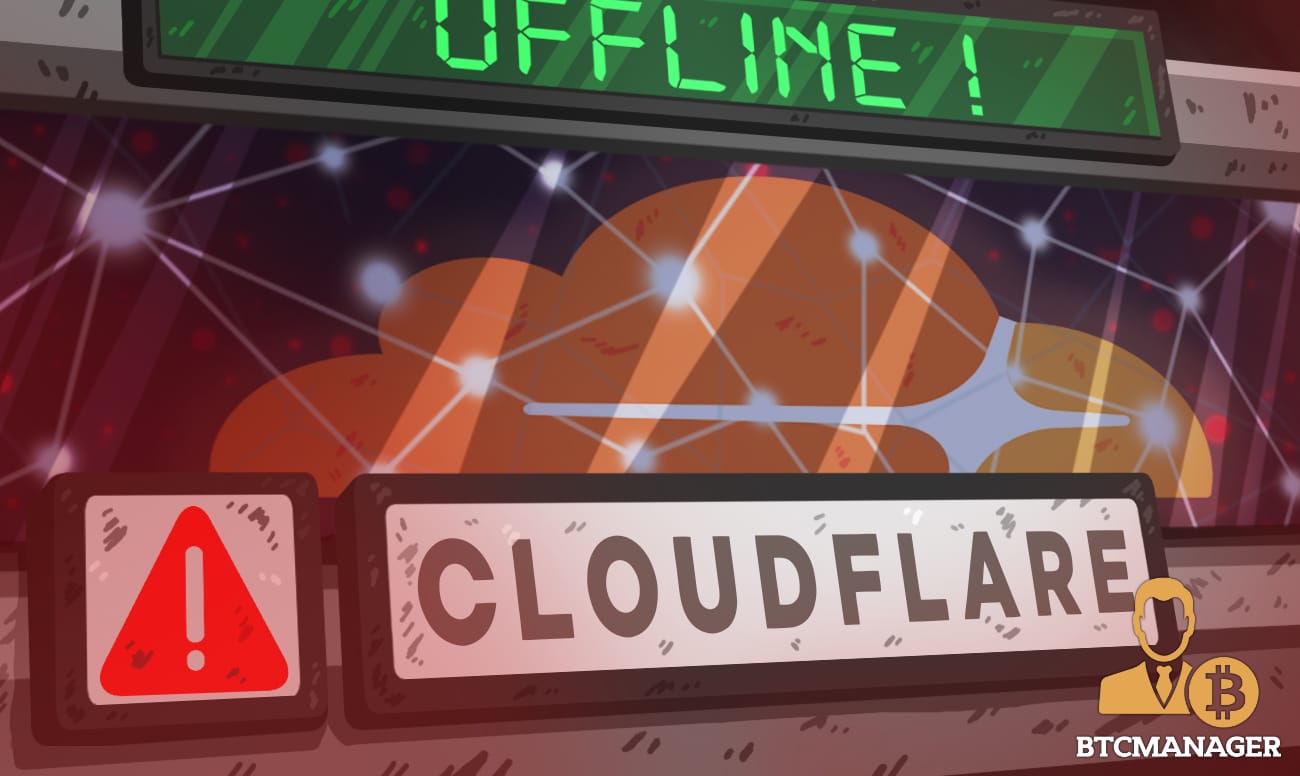 Cryptocurrency service providers were struck by an unexpected technical mishap on Cloudflare that deemed their servers inaccessible to users reports The Next Web. Cloudflare confirmed the outage in a blog post, acknowledging the downtime as a result of bad software, July 2, 2019.
Downtime for Exchanges
Cloudflare is one of the largest web hosting services in the world and a ton of large online service providers depend on them for giving their users a seamless experience. However, a server glitch rendered multiple cryptocurrency services like Coinbase, Bitfinex, MyEtherWallet, and CoinMarketCap inaccessible.
Thankfully this wasn't caused by an attack and forced by malicious intent, as no funds were lost as functionality has returned to the websites. Similar circumstances occurred in November 2018 when South Korean exchange Upbit was forced into unexpected downtime because of an error on Amazon Web servers.
Bitfinex was quick to take to social media to inform their users that this was not an attack and just a glitch on the host's servers. However, this event could have potentially caused a dent in the ecosystem and Cloudflare is a main provider of DDoS protection for most websites it hosts. The lack of such protection, even for a small amount of time, could lead to potentially catastrophic circumstances.
Cloudflare has addressed the issue, confirming it was the result of deploying bugged software that was rolled back. Within 30 minutes, Cloudflare servers were functioning as usual and no security lapses were reported as a result of this outage.
Staking a Decentralized Ecosystem on Centralized Services
The dependence on Cloudflare and lack of a decentralized alternative to web hosting and content delivery networks (CDN) is a huge obstacle for running cryptocurrency services. By staking access to decentralization on centralized services, censorship resistance is not truly at its peak. While owning bitcoin and transacting over the network is not something a government can control, they can control the internet and web hosting companies that can cut off access to those using these specific networks. This was the main reason for the launch of the Blockstream satellite.
The closest thing to a decentralized internet is a utopian project called NOIA, which is a distributed layer of the internet's infrastructure. NOIA allows for the creation of peer to peer CDN's, which can give users the truly censorship resistant ecosystem they desire.
However, a lack of adoption and awareness have rendered NOIA largely unutilized. As long as centralized service providers are able to provide a good experience, they will dominate the internet and not make way for decentralized web hosting alternatives.