Goldman Sachs Scores Partnership with Galaxy Digital to Provide Bitcoin Investment Services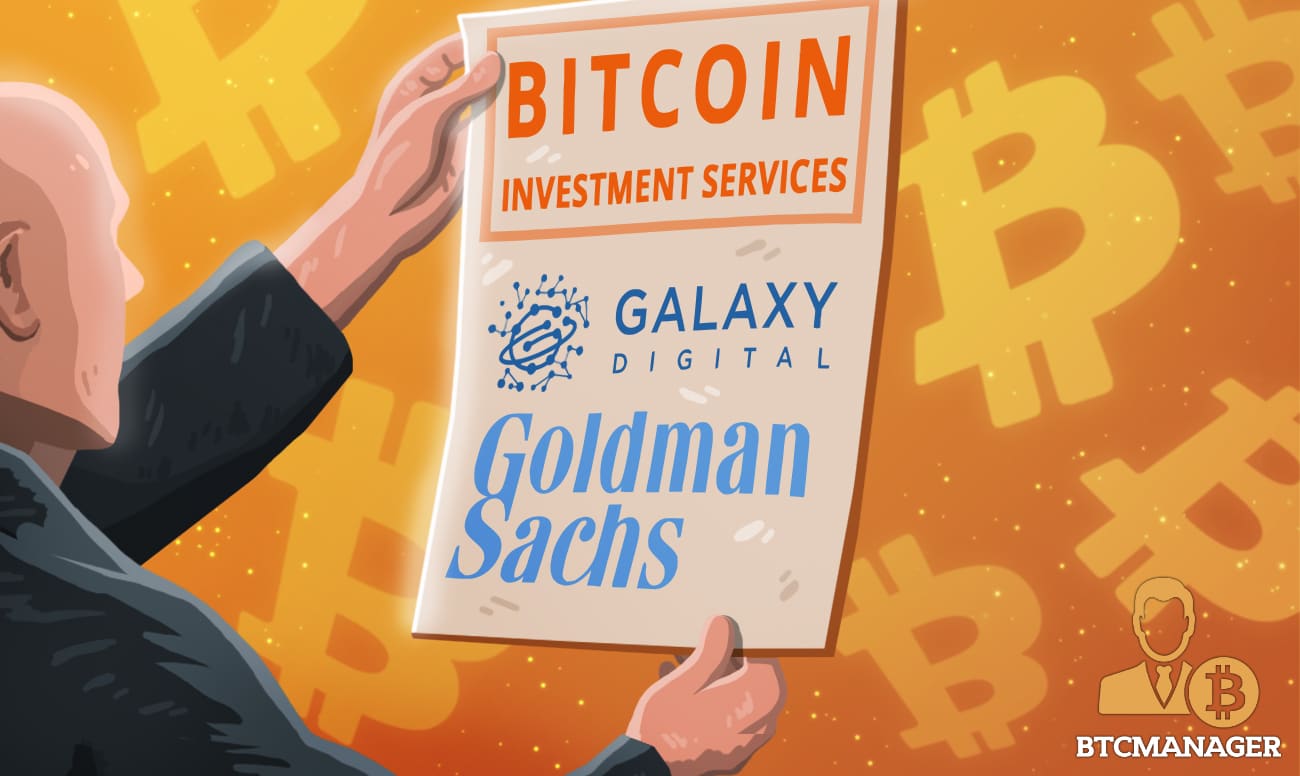 Goldman Sachs, on June 18, set a new path for banking institutions by beginning to exchange Bitcoin futures with Mike Novogratz's Galaxy Digital network. Galaxy Digital announced the partnership, as Goldman Sachs aims to invest in the crypto world. 
Galaxy Digital as The Liquidity Provider
The move by Goldman Sachs bank will pose a challenge in the banking ecosystem and could have an incredible impact on crypto. Goldman is partnering with Galaxy digital, which will be providing liquidity to ensure Goldman offers convenient services for the average investors. 
Damien Vanderwilt commented on the recent partnership with Goldman, noting that the institutions' trust in them proves the viability of their services. Damien said; 
"Goldman's trust in us validates our institutional expertise and the strength of what we're building here at Galaxy."
Goldman is not the first institution to trust Galaxy as their liquidity provider and risk manager. The platform has in the past made partners with several banking partners. 
Galaxy Digital will provide Goldman Sachs with the best execution prices and safe access to the futures and assets. Therefore, the partnership between Galaxy digital and Goldman Sachs will vastly benefit Goldman Sachs. On the other hand, Goldman's move will set fiat banking institutions on an almost similar path. 
A New Beginning for Banking Institutions
According to many sources, Goldman Sachs is the first bank in the US to trade cryptocurrency actively. Many fiat banking institutions view Bitcoin and crypto just as a financial bubble. Even financial experts believe that crypto is still a scam after over a decade of existence. 
However, due to the new Goldman-Galaxy partnerships, banking institutions everywhere will face pressure from consumers to expose them to crypto. Once the pressure to provide bitcoin grows, the banking institutions will be obliged to please their customers. According to Mr. Vanderwilt, hopefully, more banking institutions could join the crypto world soon because of the fear of missing out. 
The partnership between Goldman and Galaxy digital proves to banks that there are ways to go around the strict regulations set for fiat banks against crypto. By linking with Galaxy, banking institutions, including Goldman, can invest in crypto.  
The Future of Bitcoin and Crypto
After this move, it's clear that financial institutions are increasingly trusting Bitcoin and the crypto world. Thus, the institutional adoption of Bitcoin shows that the future is in Bitcoin and the crypto world. 
Accordingly, as financial institutions increasingly support the currency, global adoption will increase. Therefore, Bitcoin will be available in the deepest places of the market. Hence, volatility issues in Bitcoin will vastly reduce and ultimately end as the currency's adoption continues.