Incoming Recession could Drive Aussies into Bitcoin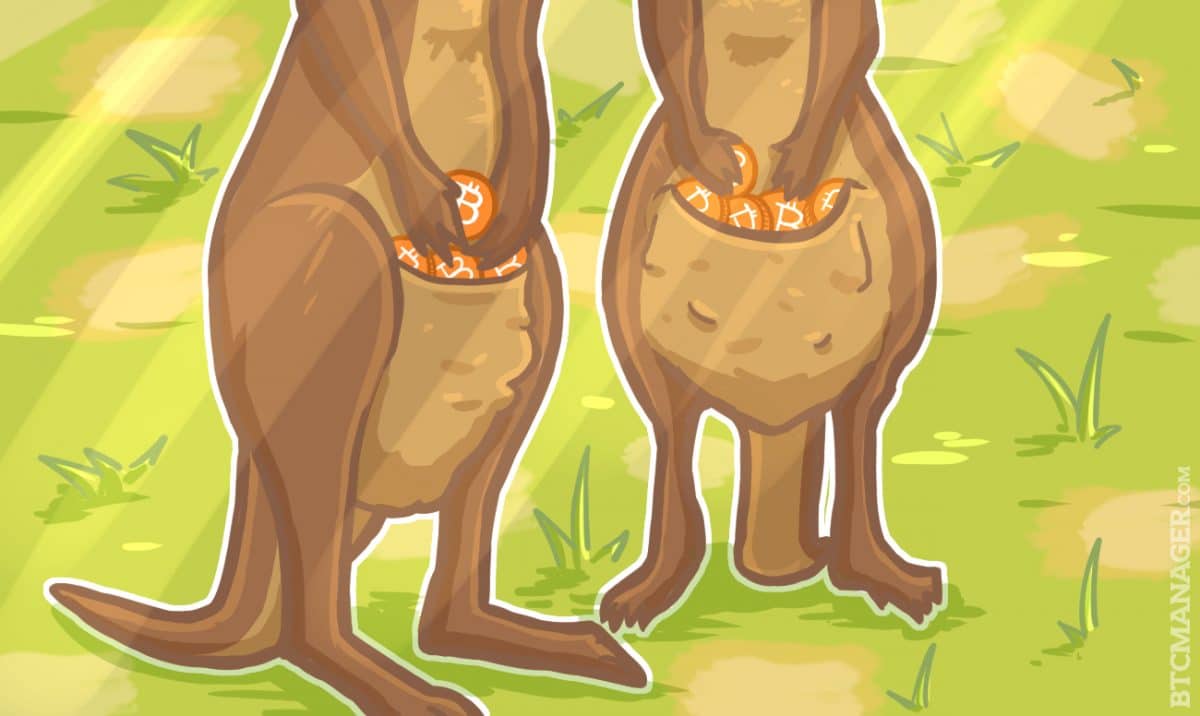 Steve Keen, one of the few economists who foresaw and predicted the Global Financial Crisis, now warns of the prospect of a recession in Australia. He reckons Australia's credit binge will lead to a sharp slowdown in economic activity and rise in unemployment as soon as next year. Keen also sees house prices falling as much as 40-70 percent, potentially leading more investors in alternative investments such as cryptocurrencies. While a recession would be bad news for the Australian Dollar, Aussies could increasingly turn to bitcoin to insulate themselves from a protracted loss of purchasing power.
A large part of Australia's growth has been fuelled by a rise in the household debt in terms of Gross Domestic Product (GDP), with private debt levels increasing to 210 percent of GDP. GDP is a measure of the total economic output, meaning the debt is more than twice as large as the value of all the goods and services produced within Australia's economy. Such a high figure signals that Australia is becoming more unable to service its debt and will have to act to reduce this debt level as it is unsustainable.
With more credit creation, the economy can consume more than what is it able to produce and sell, experiencing an artificially elevated level of demand. But when debts are due to be paid and banks are not eager to extend credit, credit creation slows, dragging on demand and slowing the economy's growth. Keen suggests a protracted downturn is inevitable as the central bank will add more fuel to the fire by encouraging more borrowing, taking debt levels even higher and making the downturn even more pronounced.
An economy that is underperforming is usually associated with a currency experiencing a loss in purchasing power. If Keen is correct and we see Australia enter into recession, the value of the Australian Dollar will fall over the long term. The current base interest rate stands at 1.50 percent, a historic low, and to keep the demand-inducing effect going, the Reserve Bank of Australia will be forced to take rates close to 0 percent. The Reserve Bank of Australia slashed interest rates earlier today by 25 basis points in response to slower economic growth and a slump in business investment. Markets are now looking to brace for a further rate cut this year.
In times of economic instability and depression, demand for bitcoin tends to rise as it has a built-in monetary policy that cannot be tampered with, which is designed to avoid a loss in purchasing power. Australians may increasingly turn to bitcoin to provide a store of value and hedge against a period of recession.
The Australian Taxation Office decided in 2015 to treat digital currencies like commodities. As a result, a 10 percent Goods and Service Tax is charged on every bitcoin transaction as well as for any goods or services purchased, leading to a situation of 'double taxation'. The government signalled in March it would be open to change the tax on digital currencies.
In recent weeks, there has been a sharp rise in peer-to-peer Bitcoin transactions conducted in Australian Dollars on the Paxful exchange with volume jumping to A$5,181 compared to A$2,000-A$3,000 in the previous weeks. Moreover, the traded volume on Local Bitcoins also increased in Australia to around A$822,000 last week after rising steadily over July. A rise in volume precedes price action so further increases in the traded volume of bitcoin for Australian Dollars should see the price increase too. The price in Australian Dollars is currently sitting above A$800 psychological support.
While in the long term, bitcoin is expected to appreciate against the Australian Dollar, the outlook for Bitcoin against fiat in the short term now looks to be bearish. The change in the colour of the Ichimoku cloud has been confirmed from our previous price analysis of bitcoin and since then the price has tended toward $600. After remaining relatively stable around the $650 handle, BTC-USD on the BitStamp exchange has begun to test the $600 psychological level in today's trading session.
If the $600 level is broken, then support will be found at fractal support at $540. The chart below illustrates the red Ichimoku cloud formation which is signalling the start of a downtrend. Now the price is attracted to the lower span of the Ichimoku cloud around $605. The market will most likely swing around this level for the next few days with $605 serving as an equilibrium zone.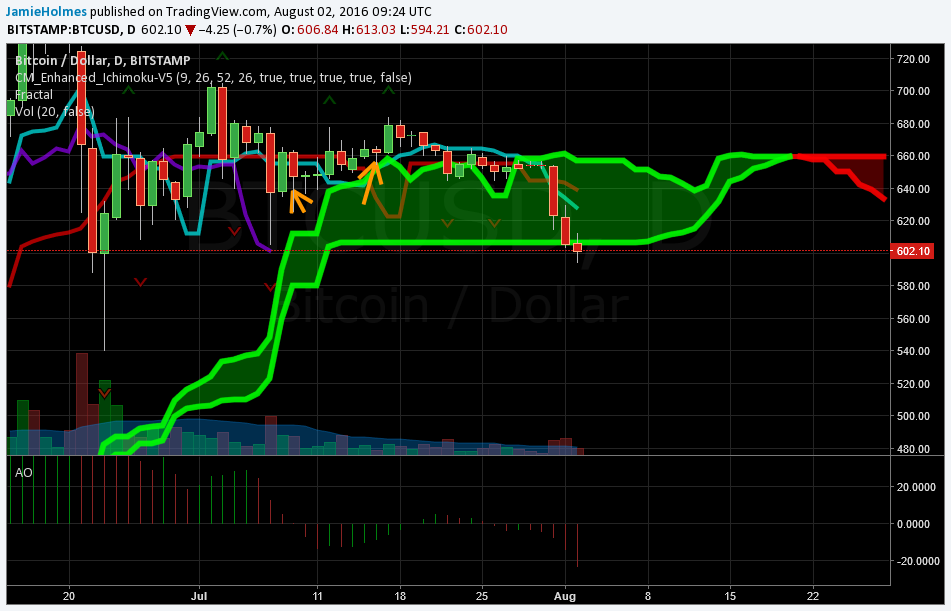 The short term outlook is shown below with the hourly price action. The most recent fractal levels indicate support and resistance at $594.21 and $613.03 respectively. Therefore, we should see a short-term bullish trend develop if BTC-USD breaks above $613.03. However, a continued downward movement is anticipated with a break below $594.21.