Institutional Investors Reconsider Gold Amidst Bitcoin Price Crash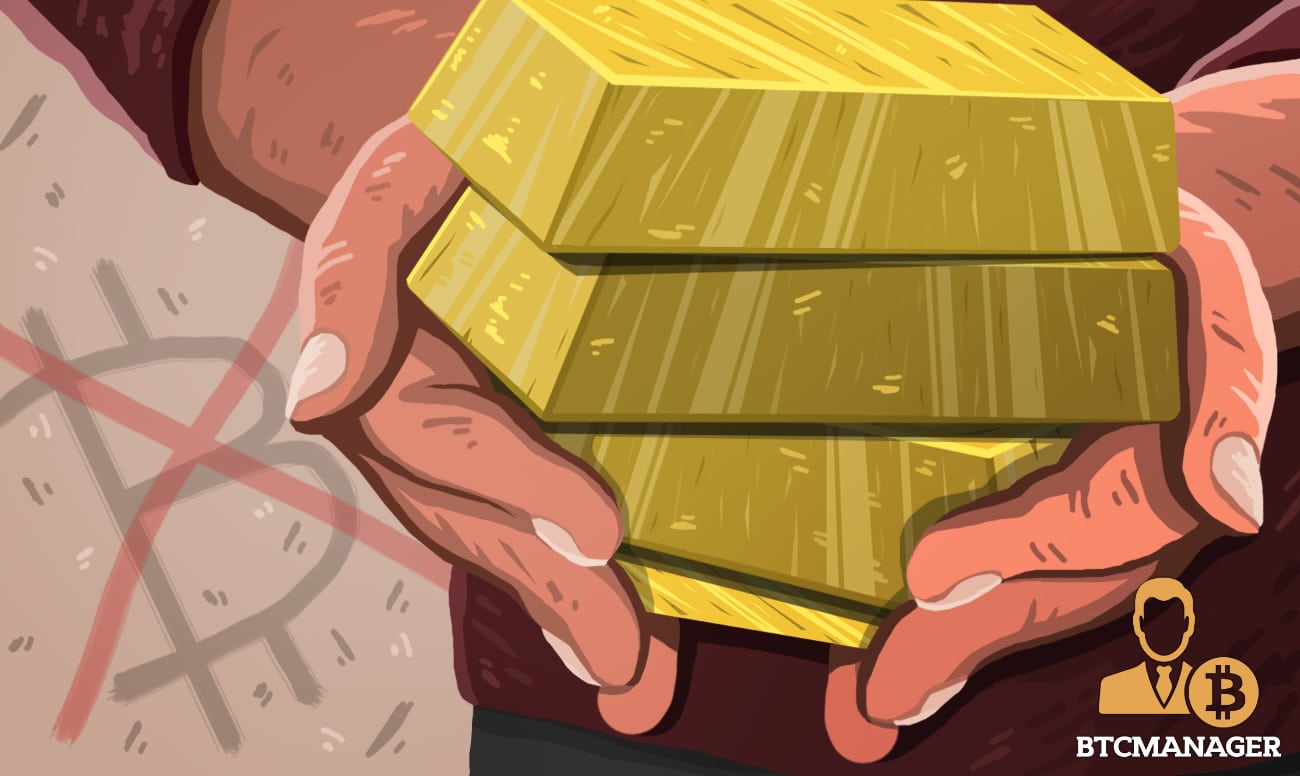 J.P.Morgan analysts have revealed that the bitcoin (BTC) price dip witnessed in recent weeks has succeeded in weakening institutional investors' appetite. The analysts note that there has been a considerable level of outflows from bitcoin funds while gold exchange-traded funds continue to see a decent level of inflows, according to reports on June 1, 2021.
Bitcoin Adoption Slows Down 
While the price of bitcoin has gained more than 291 percent since last year, according to Google Finance, the world's flagship currency, however, hit a major snag in May, after negative tweets from Elon Musk and China's fresh crackdown on mining operations triggered a serious bloodbath in the entire cryptomarkets.
Though the bitcoin price has recovered a bit from the $30,000 low seen in May, rising to a high of $40k before hovering around the $33k to 38k price region, J.P.Morgan strategist and bitcoin expert, Nikolaos Panigirtzoglou has hinted that the digital currency may see further price declines.
"We had argued earlier that the failure of bitcoin to break above the $60k threshold would see momentum signals turn mechanically more bearish and induce further position unwinds. The longer-term signal remains problematic, as it has yet to turn short. It would still take price declines to the $26k level before longer-term momentum would signal capitulation," he said.
What's more, the strategist has argued that the recent dip in the digital currency has slowed down institutional demand for bitcoin and ether, as "it reduces the attractiveness of digital gold versus traditional gold in institutional portfolios," he added.
Interest in Crypto Remains High
Echoing the same sentiments with Panigirtzoglou, Jeff Currie, Head of Commodities Research at Goldman Sachs, recently argued that the digital gold narrative of bitcoin is entirely wrong, as cryptocurrencies are just too volatile. 
"If anything they'd be a substitute to copper, and I argue that because they're pro-risk," he said.
Despite the current state of the crypto markets, investors' interest in crypto remains quite high, if the CoinShares Digital Asset Fund Flows Weekly report released on June 1, 2021, is anything to go by.
"Ethereum resumed inflows totaling $47m last week. The price correction had a minor impact on investment flows the previous week, but this looks to have recovered, with all product providers seeing inflows. Ether achieved its highest market share, peaking at nearly 27 percent of all investment products last week," the report noted.
As reported by BTCManager on May 31, 2021, the monthly trading volume of centralized crypto exchanges, including Binance and Coinbase surpassed $2 trillion in May, a strong indication that investors are actively trading the dip.
Coinbase CFO, Alesia Haas said: 
"And the momentum that we are seeing is continuing. There's a lot of interest in crypto. We shared it on our first earnings call just recently, andthe momentum we saw in Q1 has continued into Q2. We are optimistic at this point that we are going to see similar levels of excitement in volume on our platform this quarter."