Interpretation of the White Paper "SGEM": This Blockchain Game, Which has been Developed for 4 Years, May Surpass Axie Infinity?
This summer, the game market's favorite is not the Genshin Impact, but a rising blockchain game called Axie Infinity. When it comes to the flourish of Axie Infinity, the Play to Earn model is an indispensable part of it. This excellent model has given many of the low-incomes opportunities to obtain good rewards, which makes Axie Infinity so popular not only in southeast Asia, but the world.
However, with more gold farming players' participations, the token faces a growing inflation. The large turbulence of token's price was severely damaging players' benefit, especially who relied on the game to make their own livings. As a result, people began to doubt the sustainability of Axie and the Play to Earn model.
 However, a blockchain game called SGEM, which was told that it has taken four years to develop the game, has recently published the White Paper. The project's idea and the Play to Earn model attract wide attention of numerous players and the practitioners.
What exactly is Play to Earn 2.0? Can it solve the current problems of Axie Infinity, and even subvert Axie? The following will give you a deep understanding of the SGEM project White Paper, and what is Play to Earn 2.0.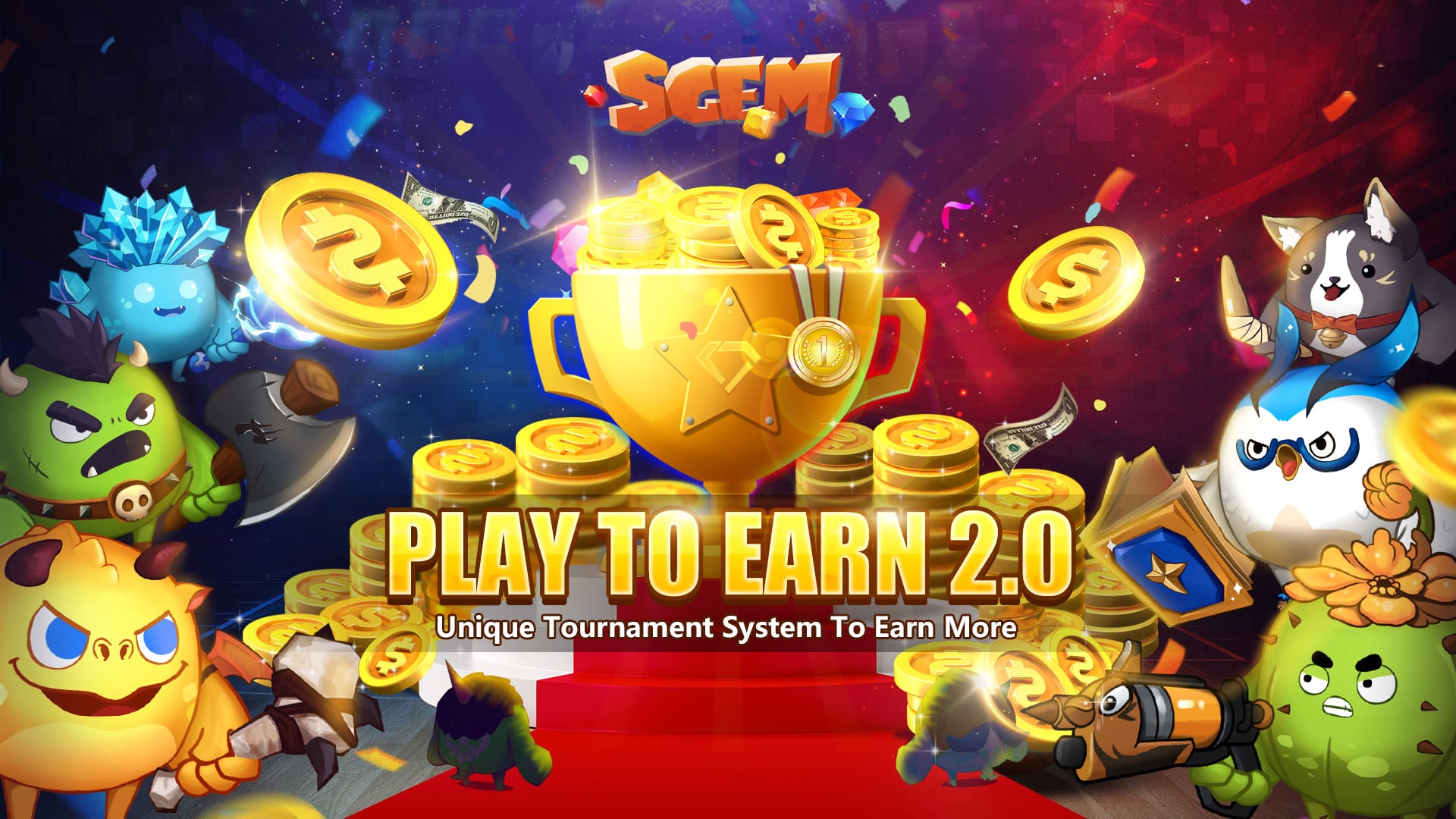 What is SGEM?
According to the information in the White Paper, SGEM project aims to create a virtual entertainment space on Ethereum. This project is not only a blockchain game, but also a blockchain gaming platform which is open to all developers and allows different games to access.
All blockchain games connected into this virtual entertainment space share one account system and the same type of token. Players can switch among multiple games and transfer assets among different game worlds.
In other words, SGEM is essentially a virtual world in which playing content can be continuously expanded, even to infinity. As long as the player uses one account, one type of token, they will be able to play all the blockchain games connected to SGEM.
In addition, players can even transfer their game assets from one game to another. As a result, the in-game currency or equipment obtained by players In one of the SGEM games can also be used in other game worlds. Players no longer need to start from scratch frequently, just enjoy and explore different game worlds.
This is precisely the embryonic form of a recent hot concept "metaverse"。
What is Play to Earn 2.0?
The original blockchain game "SGEM City" is the first game world to access SGEM. "SGEM City" is characterized by its unique "Hero + Card + Architecture" trinity, which makes up a strategic tower defense fighting game. Around this game style, the game incorporates the mechanism of gold farming and the unique reward system of the tournaments throughout the year, so that players can make money while playing the game.
At the same time, "SGEM City" is also the first game designed with Play to Earn 2.0.
In the White Paper, Play to Earn 2.0 is a comprehensive upgrade of the traditional Play to Earn mode, and "SGEM City" pays more attention to the innovation of the game's playability, socializing and sustainable development of the game based on the original mode. It brings Play to Earn into the 2.0 era with a more fun and profitable design concept.
Now "SGEM City" is about to launch the Global Genesis Closed Beta, and only players who have the beta invitation code in the upcoming code distribution activities are eligible to enter the game. Now, let's find out what's special about this blockchain game based on Play to Earn 2.0.
More friendly and profitable for players
Around the rich gameplay and well-developed economic system, "SGEM City" has designed a variety of gameplay and ways for players to earn profits. Including:
1) Tournament divided in several levels : Compared to Axie Infinity, which has only one type of arena, "SGEM City" has set up various prize-winning tournaments such as the annual cup, seasonal tournaments, monthly ladder rankings, regular undifferentiated competition and limited matches, which are open all year round. This event arrangement gives players more choices, so that everyone can choose the events that can give full play to their advantages, thus having a better chance of winning and earning huge profits, instead Axie Infinity only has a small number of winning places for hundreds of thousands of players to compete for.
2) Original option mining: This is a very unique way to make money in SGEM City. According to the definition in the White Paper, the winners who win various tournaments and some players who meet certain conditions (based on the contents described in the White Paper, the guess is that players who participate in the important activities of the project and promote the healthy development of the community would be the two types of players who meet certain conditions) will have the opportunity to enter the mining area for mining, and to mine the Grade 1 token ORE in SGEM at the initial issue price.
This is quite different from Axie Infinity, which means that players have a very special passage to make profits. With the efforts of SGEM project team and the support of players who join the community constantly, if ORE can continuously expand the consensus and receive recognition, then these important participants who meet certain conditions will have the opportunity to mine ORE at the initial issue price while the ORE prices are rising continuously, so the returns can be guaranteed.
It also fully reflects the spirit promoted in the White Paper: participate in community building, promote community development and obtain returns in community together. We have reasons to believe that this setting will become a new paradigm for the blockchain game industry in the future.
3) Daily gold farming: In "SGEM City", players can get rich AA token rewards through PVE single player mode, raid mode, daily tasks and other gameplay. The AA tokens can be sold in the secondary market, which ensures the stable daily income of the players.
4) Breeding and trading: Similar to Axie Infinity, players can cultivate and breed their own pet Babo NFT in SGEM City. By producing more offspring with 2 Babos, or by breeding Babo babies with good genes, players can sell them in the market and earn a lot of money. In addition, players can also invest in Babo NFT in the secondary market, and earn the difference through the right trading opportunity.
5) Staking reward: In the future, according to the project progress, the ORE staking mechanism will be started in 2022. Players can stake their ORE and get periodic stable income from the rewards.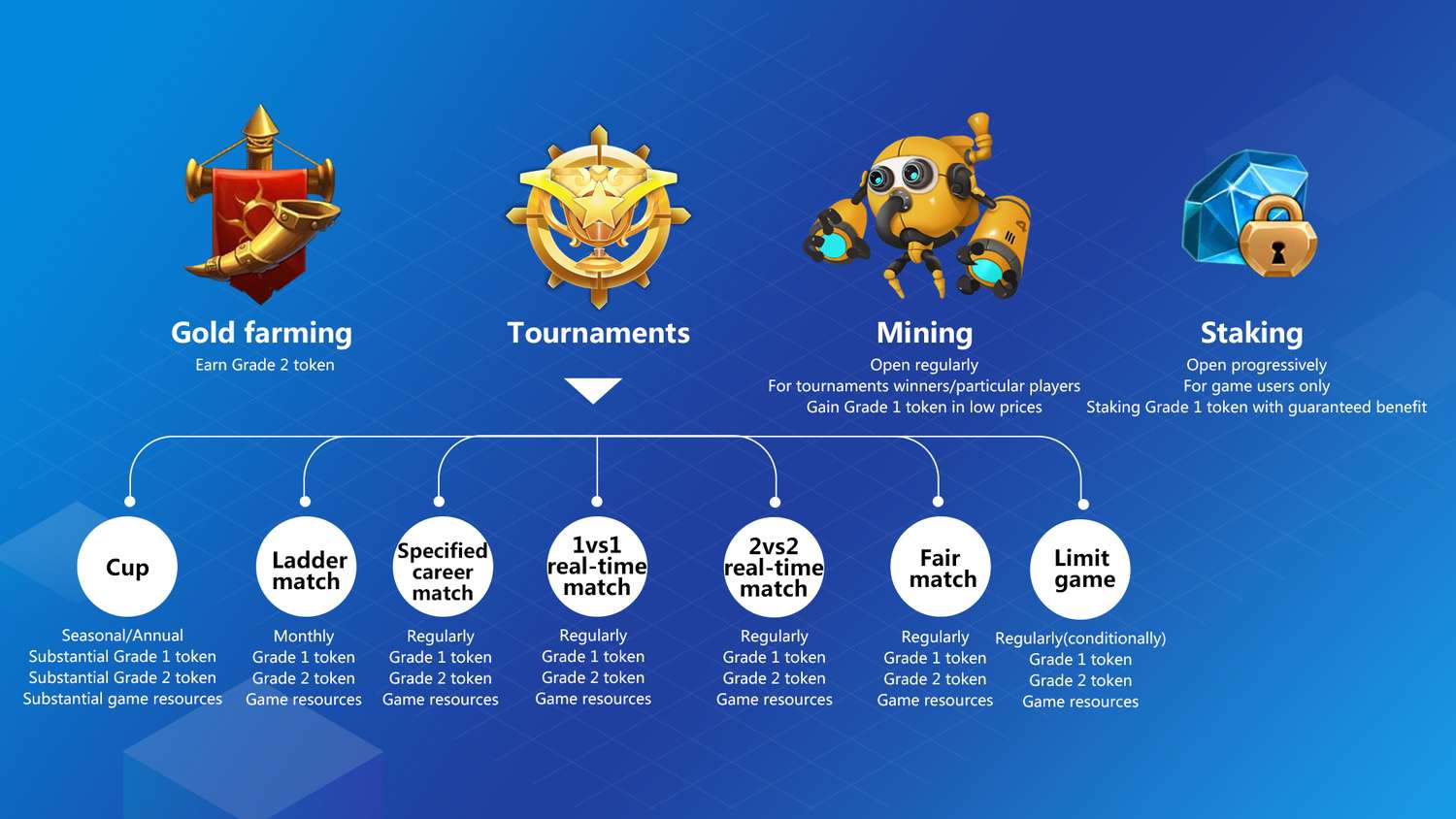 More fun, more diverse game content
Around the fast-paced tower defense battle mode of "SGEM City", players can experience various playing contents derived from it.
1) Original combat mode: Compared with the simple Axie VS Axie mode of Axie Infinity, the trinity combat mode of "Hero + Card +Architecture" designed by SGEM City is more playable and strategic. Players should not only consider which hero to choose from and how to grow them, but also think over the arrangement of cards and the placement of defensive formations, which greatly improves the players' experience in battle. Based on the design of combat mode, the game also extends the gameplay to Babo cultivation, card collection and base building, which greatly expands the depth of the game content. This is exactly what Axie Infinity desperately wants to conquer.
2) Babo NFT collection and cultivation: Babo is a hero NFT in SGEM City, and also a hero for PVP and PVE in gold farming and tournaments. Each Babo NFT carries different genes in different body parts, and different gene combinations can make each Babo NFT have unique appearance and skill matching. Players can breed more Babo NFTs with unique appearance or powerful skills by pairing two Babo NFTs, and experience the fun of collecting and cultivating war pets.

3) Card collection: The cards in "SGEM City" are an important offensive tool of Babo NFT in PVE and PVP. Cards are divided into different career types and quality types, and different decks are matched according to the characteristics of different Babo, which can play a great role in battles and matches.
4) Base construction: In SGEM City, players can build different buildings to make their own bases. By studying the functional characteristics of different buildings and arranging their placement positions to design defensive formations, players can experience the fun of blocking attackers' sneak attacks, defending base resources and fighting each other.
5) Diverse tournaments: There are many kinds of prize-winning events in "SGEM City", and different tournaments also have their own features. For example, the raid mode of asynchronous combat, the free match between 1v1 and 2v2, and the absolutely fair and undifferentiated match, etc. Players can have a variety of gaming experiences, study different game routines, card matching and building placement according to different playing modes, and have fun with strategic fighting.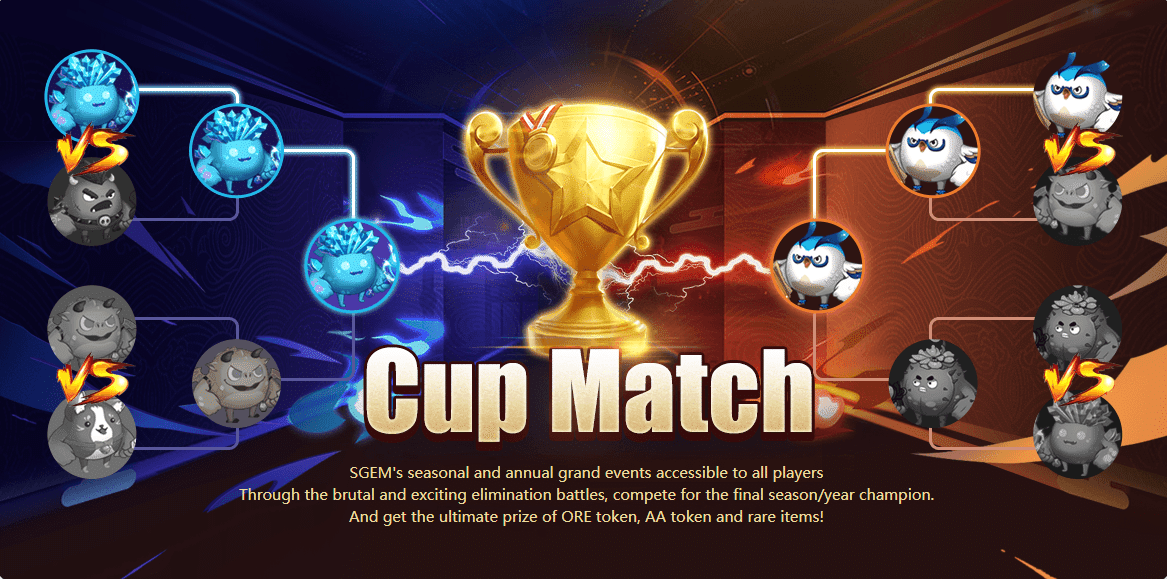 6) Social interaction: "SGEM City" is a well of rich socializing and gameplay. For example, in the game, everyone can openly chat with players from all over the world, play 1v1 or 2v2 teams with other players in the match, or take revenge on the players who attack them in the raid mode. This is conducive to establishing relationships among players and the community building. At the same time, it is also one of the few blockchain games designed with social gameplay.
7) Cave adventure: This is an interesting mini game in "SGEM City", in which players can kill time in the game and have the opportunity to obtain important game resources.
8) Explorer dispatch: Players can recruit different explorers and send them to different areas for exploration according to the efficiency characteristics of explorers. At the end of the exploration, players can get a lot of materials to upgrade, so that players can easily level up.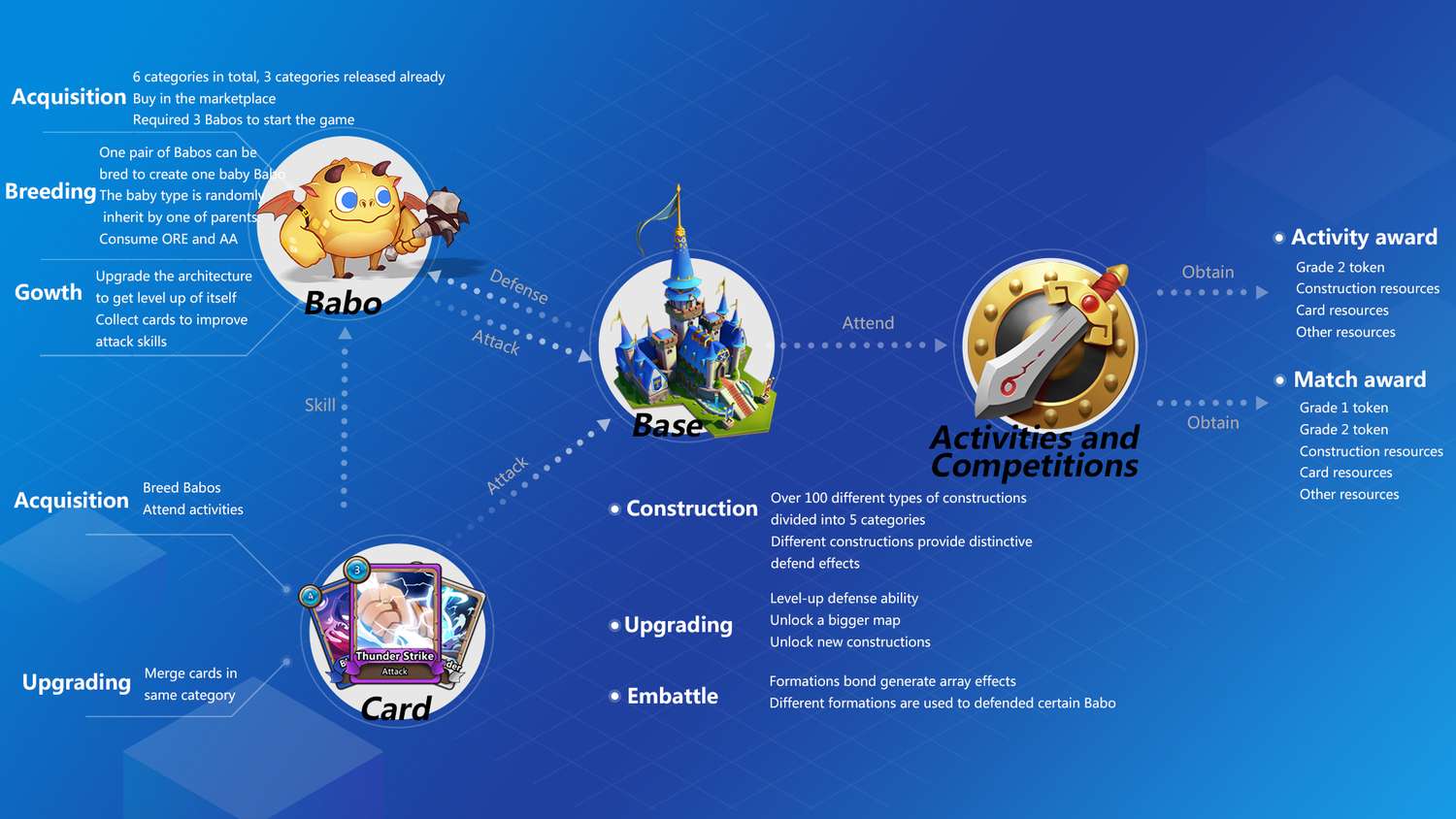 Play to Earn 2.0 revolutionizes Axie Infinity
The design of Play to Earn 2.0 model in SGEM shows us the first real "blockchain + game" attempt since the birth of a blockchain game.
Forerunners tended to get to a circumstance of choosing their priority on game play or financial attributes. However, no matter which side they chose, they couldn't keep the game ecology in balance. This also caused many blockchain games in the past to finally come to an end. Play to Earn 2.0 provides a good base for integrating both attitude of entertainment and investment, which meanwhile, can be seen as a first try in this industry.
Behind the fact of Play to Earn 2.0 mode's design, we can see that it is more important to provide sufficient gameplays with diverse and rich content, while focus on having a stable economy system in the game.
The White Paper also shows that both SGEM and Axie Infinity adopt the Dual-token system. In the early stage, Axie Infinity with Play to Earn 1.0 did make many of its players gained rewards and got really good reputation. But as time goes by, it shows the drawback due to lack of game plays: the inefficiency in consuming a large amount of SLP brings inflation, and the token price can't help dropping. The players' loss is severe. On the other side, SGEM with colorful and diverse contents, the indispensable guarantee for a well-functioning economy system of the game, builds a good foundation for Play to Earn 2.0,
The project's recent movements
A block chain game cost the develop team four years to develop, which is not usual in this industry, shows us how much they devote in and care about it. Even though Axie Infinity make a big hit in the industry, its gaming experiment and sustainability are still not good enough to convince traditional players or staff in gaming industry. We are looking forward that SGEM can bring back their attrition about blockchain games.
According to the company sources, the first round of invitation code releasing is on the agenda, we believe that it won't be long for us to take a glimpse of the first game from SGEM. Let's wait and see.
Get Invitation Code : https://www.sgem.io/pre-order
Website: https://www.sgem.io
Discord: https://discord.gg/9wUHcsgVUA