Interview with Patrick Murphy, the Director of Eightcap in the U.K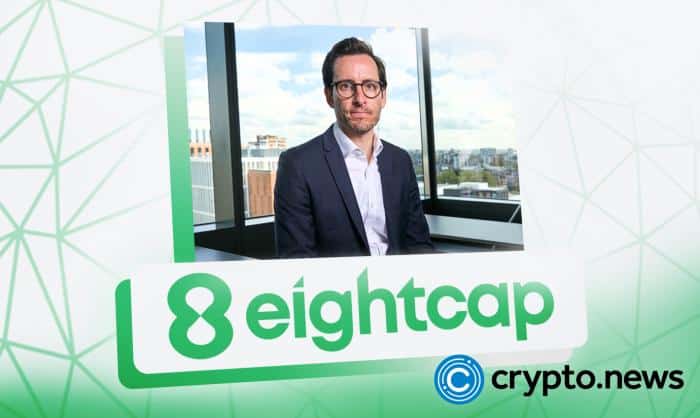 Crypto.News recently sat down with Patrick Murphy, a career banker and the current Eightcap's Director in the U.K.
Patrick started his banking career in Australia before moving to the U.K., where he worked for an investment broker and a Japanese bank before stints as a compliance lead in various crypto projects, including Skrill and PaySafe. 
Today, he works with Eightcap, a multi-award-winning derivative broker with offices across Europe, the Americas, and Asia. We are here to pick his mind on the state of the market, security measures in place, and Eightcap's plans.
Welcome, Patrick.
Q1) Can you introduce Eightcap to our readers?
Eightcap is an award-winning derivatives broker, offering over 1000 financial instruments ranging across FX, Stocks, Cryptocurrency, Commodities and Indices. Last year, we launched over 300 crypto derivatives, which pushed us into the forefront of the crypto derivatives space. We still have one of the most extensive crypto derivatives offerings in the industry, users can trade anything from altcoins, crypto crosses and crypto indices paired with great pricing. We are headquartered in Melbourne, Australia and were founded back in 2009. Since then, we have expanded our global footprint and have offices in the UK, Bulgaria, Cyprus, Vietnam and the Bahamas. We have had numerous successes over the years, the most notable being our recent collaboration with TradingView, which our client-base can access for free with their trading account.
Q2) How can people use Eightcap to add an extra stream of revenue?
Our latest launch is specifically geared towards other businesses, allowing them to add an additional revenue stream and product. We have launched what we call an embedded investing offering using our single API solution. For now, we are looking to partner with payment solution providers and exchanges in order to enhance their client lifecycle. We essentially are offering our full-stack of regulated derivatives and integrating it to the partner's front-end interface. Our solution will cover everything from products, trading platforms, pricing, liquidity, custody and licensing. We collaborate with a number of technology partners to make this happen.
Q3) Can you elaborate and add more on Eightcap's technology stack?
Eightcap uses AWS services and configuration across multiple regions. Our embedded investing solution uses REST API's for transactional processing and websockets for datastreams which ensure integration speed and stability.
Q4) Is Eightcap API secure?
Yes, we are committed to guaranteeing the security of our API solution. Eightcap uses OAuth2 credential flow to authenticate and authorise. Additionally, the implementation of AWS Shield Advanced Protection and Crowdstrike Falcon Complete makes certain that multiple layers of security are in place to service Eightcap customers and partners.
Q6) How are client assets custodied?
We take the responsibility of handling client funds seriously. All client funds that we handle are kept in a designated trust account with Tier-1 financial institutions. In all jurisdictions, we segregate client funds from our own funds.
Q7) Can you share with us Eightcap's regulatory success to date?
The Eightcap network of companies is licensed in several jurisdictions, including Australia, Cyprus, and The Bahamas. Furthermore, in 2021 we achieved one of our long-standing goals of obtaining a license in the United Kingdom. Eightcap has operated in a regulated environment since 2009, and prides itself on maintaining a strong culture of regulatory compliance.
Q8) What's in the pipeline for Eightcap for the rest of 2022?
Right now we are focused on completing a few projects around our embedded investing solution. We are keen to collaborate with medium-scale exchanges and payment providers initially so that they can benefit from providing their customers with a full stack of regulated derivatives, in order to make the most out of market volatility and in turn increase their revenue stream.
Q8) Is there any message that you would like to share with our readers?
Embedded investing is the new frontier for non-traditional financial services as a way of extending the client lifecycle, by enhancing the client experience. We understand that some exchanges may not have the capability of providing regulated derivatives to their client base. However, with our single API solution, we can provide everything needed to monetize existing clients and make way for additional revenue streams. The client will only need to log into their exchange's front-end user interface, and from there the option to trade regulated derivatives will be available. Therefore, allowing the exchange to own both clients' experience and derivatives trading together. For more information regarding our embedded investing solution, please see here.
That's it for today.
Thanks, Patrick.