Investors' greed increases as bitcoin stays above the $23,000 mark
As January ends, investors start to show signs of greed for cryptocurrencies which has not been seen in more than a year, per Coinglass data. This movement comes as the flagship digital asset, bitcoin (BTC), sticks above the $23,000 mark.
According to the futures trading and on-chain data platform, CoinGlass, the crypto greed and fear index has hit 61, showing signs of investment desire. The index reached 60 on March 28, 2022, but the last time it surpassed the 61 mark was in Nov. 2021, per the data provider.
Moreover, according to the CryptoQuant analyst Wenry, the inflow of funds to spot wallets was one of the leading causes behind BTC's rise over the past 15 days, while the declines were "led by futures." 
Wenry's charts show that, in derivatives markets, the selling pressure has risen and is more dominant as more sell orders are filed.
"Technically, the current strong buying trend is continuing, but trading volume is declining and the indicator has reached a critical point for overbought."

CryptoQuant analyst Wenry
Furthermore, bitcoin is currently trading at $23,700, up by roughly 2.2% in the past 24 hours, with a 4.4% growth over the last week. BTC's market cap is $460 billion at the time of writing, while total crypto market capitalization stays at $1.08 trillion.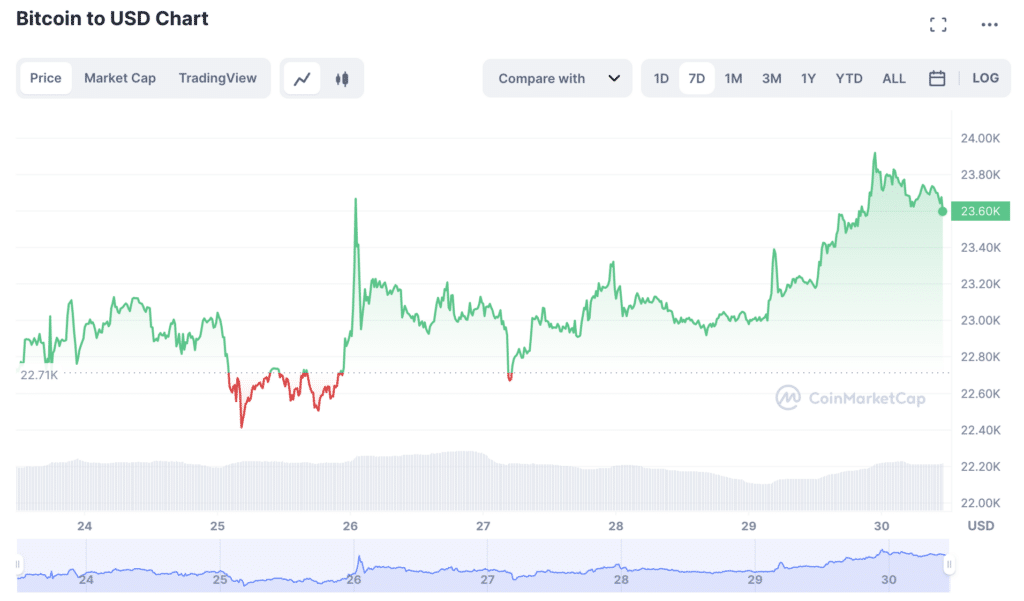 It's important to note that bitcoin has surged 43% over the past month.