IoTeX is Eating IOTA's Market Share with 1.3 Update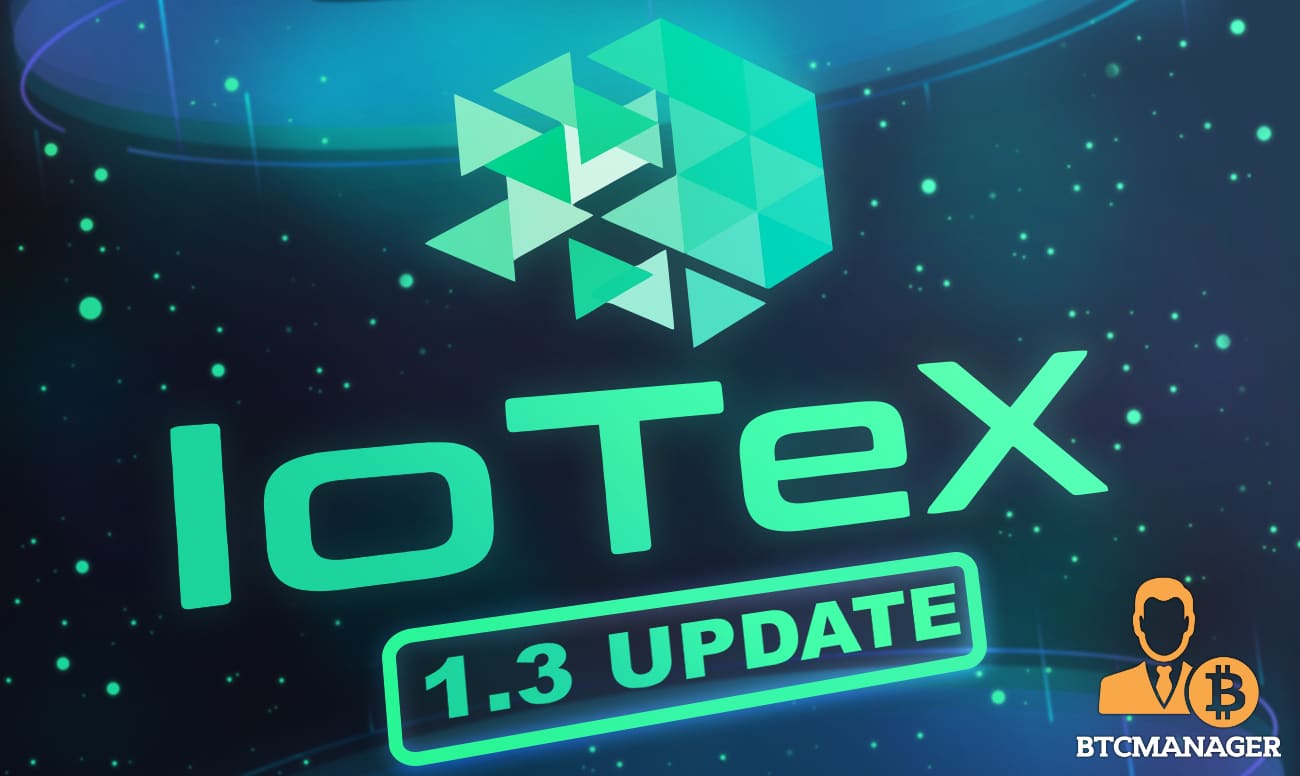 Since IoTeX was started in 2017, I've been closely following their progress towards implementing a blockchain-based future for the Internet of Things (IoT). Over the years, they've successfully developed a highly-scalable blockchain with lightning-fast and incredibly low-cost transactions. Their blockchain platform not only powers the many digital applications running on Iotex, but also smart devices such as their CES award winning secure home security camera UCam, as well as their real-time environment tracker designed for supply chain implementation, the Pebble Tracker.
In fact, this is why IoTeX has an edge over other notable IoT solutions such as IOTA. IOTA was the earliest blockchain and IoT solution but due to its centralized architecture, it hasn't delivered on its ambitions and is falling behind at this point. On the other hand, IoTeX is building nonstop, supporting developers with consistent new releases of software and real-world devices. Its decentralized infrastructure is fundamental to ensuring that no one but you owns your data and digital assets. So in a world where IoT (Internet of Things) is projected to become the next industrial revolution, I'm waiting to see how Iotex will be implemented globally to secure and power the billions of connected devices arriving in our near future.
"IoTeX is the first blockchain platform to power real world devices that allow everyday people to own and control their devices, as well as the data and value their devices generate. This is the foundation of IoTeX as we build out the Internet of Trusted Things. There are billions of smart devices that can be connected. IoTeX is leading the way to secure connectivity," said Art Malkov, Head of Growth, IoTeX.
Being technically inclined, I love exploring the fine details of both technology and design. While IoTeX provides extensive reports of their changes, to save you time I've provided a summary of what's most relevant. Below are the 5 main takeaways that you should know about IoTeX, their recent updates, the current blockchain implementation, and why it matters for the future.
1) Extremely low-cost, ensuring affordable transactions for all.
Right now, transaction and data transfers cost as little as one-fiftieth of a U.S cent, and with the 1.3 update, these costs have been dropped even lower. For the cost of a $3 dollar cup of coffee, you'll be able to perform 15,000 actions on the Iotex blockchain. To put that in perspective, that same cup of coffee might get you one or two transactions on Bitcoin's network. These low fees enable developers to deploy applications and devices for significantly lower costs than other networks, letting them build more, for much less.
2) The blockchain is as fast as lighting — no waiting for your transactions.
IoTeX transactions are one of the fastest in the industry: While other blockchains can take minutes to process and confirm a transaction, Iotex is able to confirm transaction blocks in mere seconds. To compare, Bitcoin can process four transactions per second and Ethereum can process thirty, but Iotex is capable of 1,000 transactions in just one second. With version 1.3, Iotex has been further updated to adopt the latest Ethereum improvements, further speeding up computations.
For an IoT application, where real-world data is being used to initiate transactions, fast transaction speeds are vital to ensuring network functionality as billions of smart devices come online in the coming years. Even compared to other IoT-focused projects such as IOTA, where transaction confirmations can take up to three minutes, Iotex has a clear advantage. These blazing fast transaction speeds are vital to making sure that applications and real-world devices are able to function efficiently with minimal delay between data transfers.
3) Up to date with the latest version of Ethereum— any developer who's built applications on Ethereum can easily build on IoTeX.
With the 1.3 update, Iotex now fully supports Ethereum's Istanbul upgrade, an extremely popular platform for blockchain application development. Anyone who has written an application for the Ethereum Virtual Machine (EVM – essentially a blockchain-based computer) should be able to import it onto Iotex with ease, with full support of the new features provided by the latest EVM, giving developers more tools while improving speed and security. This upgrade increases the utility and compatibility of the Iotex platform, and in combination with its speed, low fees, and security, makes it an even more powerful environment for IoT application development.
4) Creating and supporting smart devices to power the connected future.
It's been forecasted that there will be more than 41 billion IoT devices by 2027, creating a massive market of connected devices that benefit from Iotex and its blockchain-IoT integration.
Since its inception, IoTeX has broken ground on this mostly untapped market, powering two real-world smart devices built around the integration of IoT and blockchain. Iotex and its heavy focus on smart devices is something to keep a close watch on: I'm sure that we'll be seeing rapid growth in this relatively unexplored sphere.
Here are quick descriptions of the two smart devices they've already released, to give you an idea of what IoTeX is aiming for in the future.
The Ucam home security camera gives users full privacy over their video data by replacing the traditional username and password, which can be easily compromised, with a randomly generated blockchain-based login. This gives its consumers not just uncrackable security, but the peace of mind that their video is viewable by no one but them.
The Pebble Tracker is able to gather real-world data, such as location, gyroscopic data, and temperature, verify the data's legitimacy, and then send this data to the blockchain, where anyone can see it and verify it themselves. Since the information gathered by Pebble is verifiable by anyone, it can be trusted by everyone.
As an example, suppose a car rental company wants to enact and enforce a no-smoking policy and certain mileage limits. The company could collect this data with the Pebble's GPS and air quality sensors, which is tamper-proof and available for anyone to see. Now the customer doesn't need to worry that the rental company is making false accusations, and the rental company doesn't need to worry about their tracker or their data being somehow modified.
For all of these years, IoTeX has dedicated itself to designing and creating a brilliant product that solves the main issues of blockchain-based IoT. In addition to today's 1.3 update, they've just launched a new site this week alongside the blockchain update, and their native token $IOTX has just been listed on Bitmart, marking its entrance to the US market. These upgrades to IoTeX and its ecosystem mark a major step on the path towards bringing IoT and blockchain together on a larger scale.
So far, the Iotex network has proven itself as a highly efficient, fast, inexpensive blockchain network. It's also shown how such a network can have extremely useful and marketable industry applications. I will be watching closely to see how things develop in the future, but right now IoTeX is clearly leading the charge when it comes to IoT and blockchain integration.