Italy: Red Cross Now Accepts Bitcoin (BTC) Donations for COVID-19 Crisis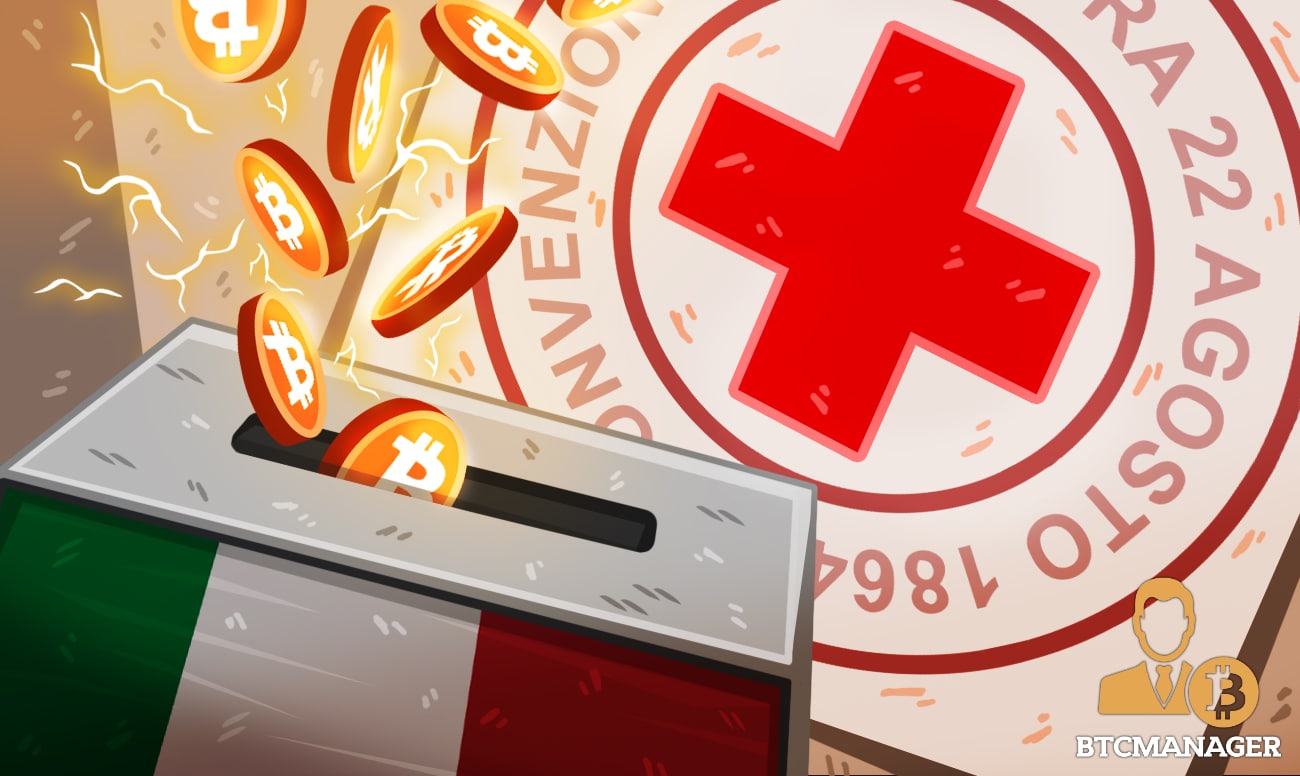 Amid the COVID-19 pandemic that has engulfed the whole world by storm, the Italian Red Cross – Young Platform, and the Colli Albani Committee – on March 15, 2020, announced that they are now accepting donations in Bitcoin (BTC) with the help of Helperbit.
Italian Red Cross Embraces Bitcoin
In a bid to accentuate the relief process for COVID-19 pandemic, the Italian Red Cross society is ramping up its modes of accepting payment, with the latest development being it introducing support for the premier cryptocurrency – Bitcoin.
This was made possible courtesy of blockchain startup Helperbit. For the uninitiated, Helperbit offers a platform to raise money for charitable causes including the COVID-19 mayhem that has taken a firm grip over the planet.
Per sources close to the matter, every donation received from the new initiative will be used to set up a second-level advanced medical post. Reportedly, these posts will be used for pre-triage of COVID-19 cases in Italy.
Among the whole host of countries battling the deadly COVID-19 virus, Italy has been one of the worst hit. The total death toll as a result of COVID-19 recently crossed the 1,000 mark in Italy with no signs of any improvement. The whole country has been put under self-imposed quarantine which has brought the local economy to an absolute standstill.
It is expected that BTC donations will cross $10,000. The amount so raised will be utilized toward procuring more hospital beds and medical staff to cater to the needs of the exponentially growing number of patients.
Commenting on the development, Bruno Pietrosanti, President, Colli Albani Committee, said:
"We believe that an innovative fundraising tool like Bitcoin can help us find the necessary economic resources, that are very difficult to obtain in this historical moment."
Similarly, Andrea Ferrero, CEO, Young Platform, said:
"I firmly believe that blockchain technology is more effective and transparent to support this kind of initiative."
Blockchain and Crypto for Humanitarian Purpose
Despite Bitcoin being blockchain's most popular use-case to date, the emerging technology's immense malleability has made it a ready pick for a slew of different industries.
The technology's use for humanitarian purposes has really taken off in the past couple of years. BTCManager reported in September 2018 how the United Nations had hinted that it would be using blockchain in tackling the global social crisis.