iZUMi Finance and HOURAI Collaborate to Bring DeFi Value to New NFT's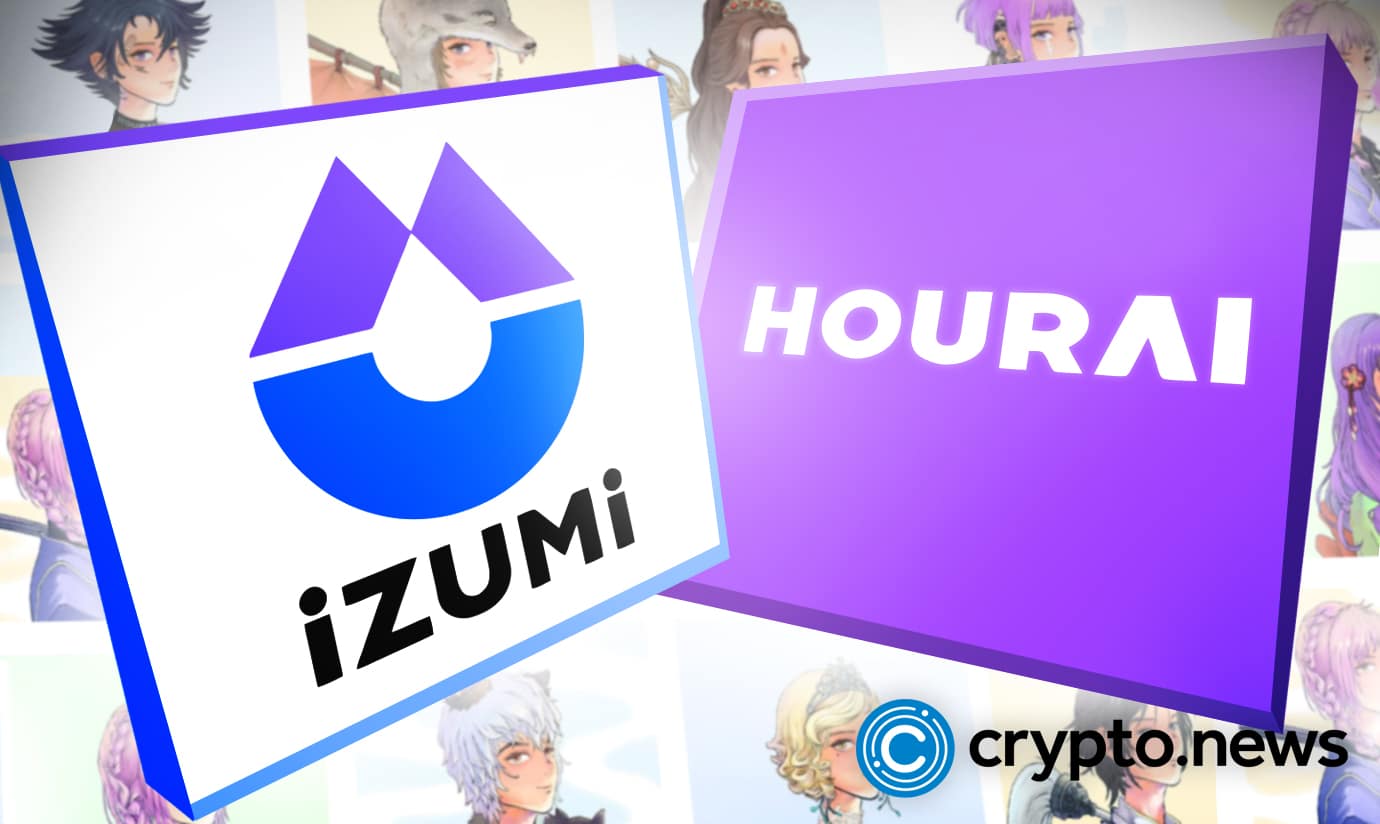 Singapore, March 21st, 2022 — iZUMi Finance, an innovative DeFi protocol bringing programmable liquidity mining to Uniswap V3, is partnering with the HOURAI NFT project to imbue its upcoming NFTs with value from iZUMi's DeFi derivatives.
Each holder of HOURAI NFTs, if whitelisted (mint price at 0.1 ETH), can trade the original HOURAI NFT for an iZUMi DAO veNFT (veiZi), which contains 0.2 ETH worth of locked iZi tokens. The HOURAI NFTs will have a value support to their floor price by integrating with an innovative DeFi project backed by major industry players. The HOURAI NFT drop will happen on April 6, shortly after the launch of iZUMi DAO veNFTs and beginning of staking rewards distributions on March 21.
iZUMi DAO veNFTs are a unique innovation in DeFi governance, seeking to solve the plutocratic nature of existing DeFi governance where wealth is directly tied to power. By locking iZi tokens into the veNFTs and executing governance through them, the protocol is able to support quadratic voting, a form of vote counting that combines token-based voting power with a more democratic principle of one person being one vote. Under this model, 1 veNFT holding 100 tokens will have less voting power than 2 veNFTs holding 50 tokens each.
By potentially owning veNFTs, HOURAI NFT holders become members of the iZUMi DAO as an additional benefit. Combining NFTs with DeFi is still an underexplored field that is becoming more relevant as a way to empower NFT utility.
HOURAI is a collection of anime-style figures designed by artists from Studio Ghibli and Musashino Art University. Each of the characters is inspired by different aspects of cultures all around Asia, having a mysterious and stoic pose — a strong break from previous animal NFTs that have now likely over-saturated the market.
"We strongly believe that NFTs are the future of crypto, starting from how they've made their way into DeFi with Uniswap V3 positions and iZUMi's layer of liquidity mining on top," said Jimmy Yin, co-founder of iZUMi. "By collaborating with HOURAI, we're finally connecting NFTs to DeFi derivatives, which can create a number of very interesting use cases. Personally I'm also really excited about our veiZi model, which leverages NFTs to create more equitable DAO governance — in which HOURAI holders will also take part."
"Collaborating with iZUMi is a win-win for both projects," said Leo Lee,co-founder of HOURAI. "Our NFT holders get additional value that is backed by DeFi derivatives, they get to participate in a new project, while iZUMi gets more DAO members that are incentivized for the long-term. "
About veNFTs
veNFTs are a unique concept of interest-bearing and DAO governance NFTs, allowing holders to stake for rewards and vote for governance. Each veNFT has locked a certain number of ERC20 token for a certain time. The voting power of veNFT is calculated as locked number * locked time left. iZUMi DAO veNFT (veiZi) in iZUMi ecosystem has the rights like voting, staking and boosting.
About iZUMi
iZUMi is the platform providing programmable liquidity as a service on Uniswap V3 multi-chains. It proposes LiquidBox liquidity mining platform to provide Uniswap V3 LP token staking rewards non-homogeneously in different price ranges, which could improve the efficiency of incentive distribution for reward providers and enhance the earnings of liquidity providers in Uniswap V3. iZUMi Finance has now launched the beta version of veiZi on their website and the staking rewards will officially start on March 21.
About HOURAI
HOURAI is a World-class NFT project supported by DeFi derivatives. HOURAI NFT is designed by the artists from Studio Ghibli and Musashino Art University. Each of their characters is designed with the inspiration of Asian culture. To better combine DeFi and NFT and help more projects achieve base value support, HOURAI founded Floor Protector Alliance. At present, multiple quality NFT projects, including XRabbitClub and LiveArtX have become members of the Alliance, in defense of the bearish market.
Join HOURAI's Discord to learn more: https://discord.gg/hourai You can also follow HOURAI's twitter here: https://twitter.com/HOURAIer