Jaguar Car Drivers Will Soon Earn Cryptocurrency for Sharing Data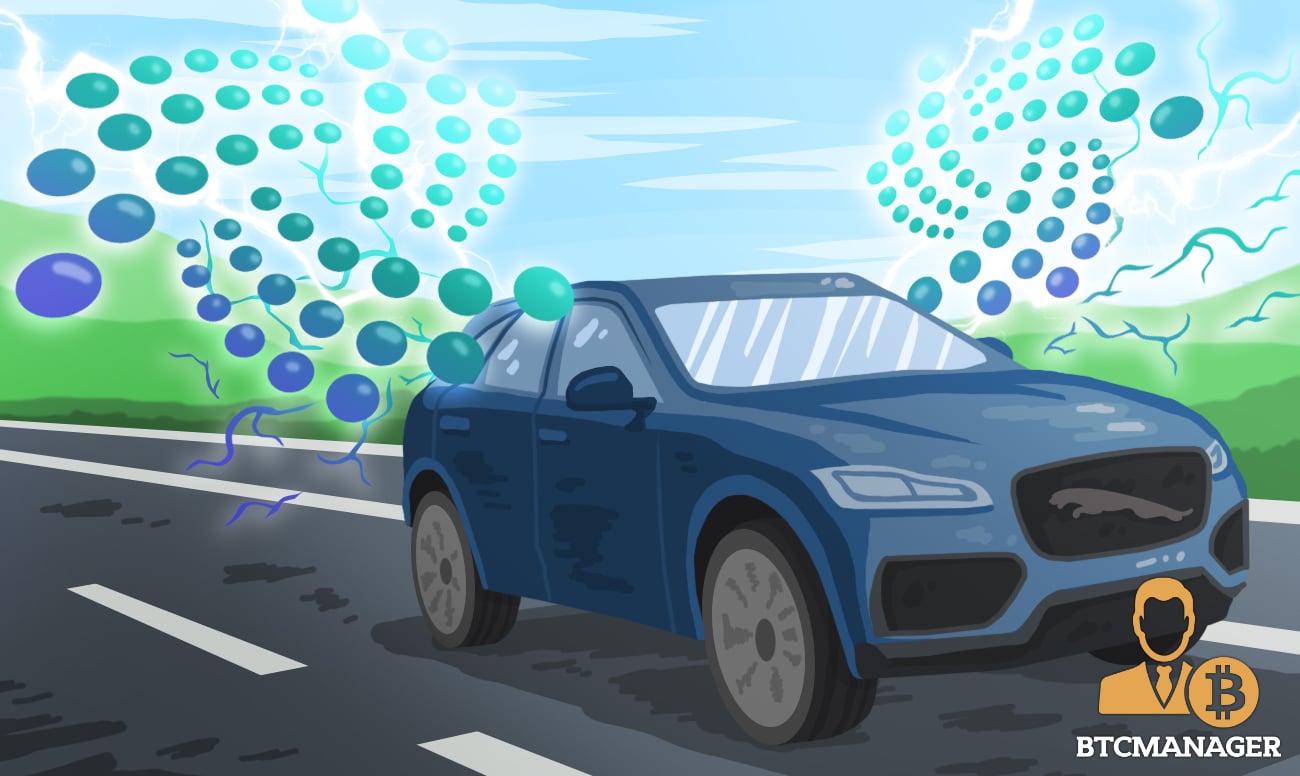 Britain's largest automobiles manufacturer, Jaguar Land Rover is testing a prototype that would allow its drivers to earn MIOTA digital currency as a reward for sharing data, Reuters reports, April 29, 2019.
IOTA Enters the Race for DLT Adoption
Germany-based blockchain project IOTA, which seeks to disrupt the Internet of Things (IoT) sector with its trademark Tangle solution, has received a massive push towards adoption as Jaguar declared that its drivers will soon be able to earn MIOTA cryptocurrency simply by sharing useful data.
Per sources close to the matter, Jaguar – in partnership with IOTA – is developing "smart wallet" technology which will be installed in its automobiles. Post successful installation, Jaguar car drivers can earn MIOTA tokens for enabling the car to automatically report relevant data, such as the current state of traffic or potholes to local authorities or navigation service providers.
Drivers will be able to earn cryptocurrency and make payments on the move using innovative connected car services being tested by Jaguar Land Rover. Read more: https://t.co/NVwsn7xmgM#FutureMobility #Connected #Technology pic.twitter.com/fn4bWJKs83

— Jaguar Land Rover (@jaguarlandrover) April 29, 2019
Jaguar added that drivers can also earn MIOTA coins if their car participates in ride-sharing programs. The company stated that these tokens can, in turn, be used to pay the fee for toll, parking, and charging for electric cars. According to the firm, the goal of the initiative was to achieve "zero emissions, zero accidents, and zero congestion."
The report by Reuters noted that the automobile company is in the midst of testing the "smart wallet" feature at its new software engineering base in Shannon, Ireland. The firm's engineers have already installed the same on vehicles, including the Jaguar F-PACE and Range Rover Velar.
It's worth pointing out that the automobiles giant has not yet announced any timeframe as to when these smart wallet-enabled cars will be commercially available. However, considering the rapid pace of development and testing, one could assume that it won't be too long before they hit the roads.
Dominik Schiener, co-founder, IOTA, told Reuters:
"The smart wallet technology…can be easily adapted into all new vehicles."
He added:
"IOTA wants to enable interoperability with all these different players. So there is no Jaguar coin, no BMW coin, but one universal token for this machine economy."
Blockchain on the Road
Blockchain – the technology that powers bitcoin and other cryptocurrencies – looks primed to take-off for its journey on the road.
BTCManager reported in March 2018, the partnership between Porsche and German tech startup XAIN seeking to deploy blockchain technology for the development of smart cars.
Recently, premium automobile brand Mercedes-Benz announced on February 26, 2019, that it will be using distributed ledger technology to make its supply chain more transparent.