Korean Regulators Probe Banks Over $6.5 Billion Linked to Kimchi Premium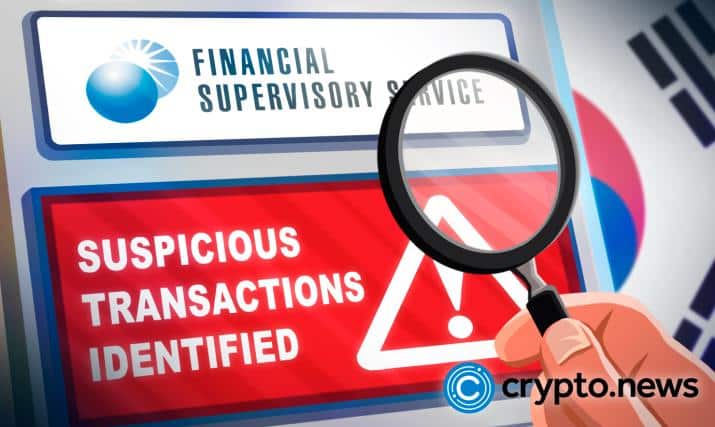 South Korean banks are under investigation for their role in facilitating $6.5 billion in suspicious overseas remittances that have been linked to firms arbitraging cryptocurrencies.
Korean Banks Probed for $6.5 Billion in Suspicious Transactions
According to a report published on Monday by Asia Times, the Financial Supervisory Service (FSS) launched an investigation into South Korean banks last month after discovering a substantial amount of overseas remittance transactions at the end of June.
The investigation revealed that the majority of the $6.5 billion remitted overseas between January 2021 and June 2022 originated from crypto exchange accounts before being sent out of the country, implying that some Korean companies are exploiting the "Kimchi premium (kimp)."
The Kimchi premium refers to the difference in cryptocurrency prices between South Korean and foreign exchanges. Investors purchase cryptocurrencies on foreign exchanges and then sell them on Korean exchanges for a profit.
Kimchi premium trading has alarmed regulators because it promotes capital outflows from the country. According to market tracker CryptoQuant, the kimchi premium is currently at +3.37% but was above +20% as recently as April.
According to reports from Shinhan Bank and Woori Bank, the majority of remitted funds were initially transferred from domestic cryptocurrency exchanges to various corporate accounts of Korean firms.
Asia Times reported on Monday that these large remittances had raised red flags, suggesting that investors are using large sums of money to exploit the Kimchi premium.
Money Laundering Suspicions
According to KBS on Sunday, there are also suspicions that the remitted funds were used for money laundering, and some employees of the unnamed companies that carried the remittances have been arrested.
The total amount sent abroad exceeded the FSS's expectations when it ordered banks to investigate the matter. According to Asia Times, the FSS is now expected to undertake additional on-site investigations of domestic banks, which may reveal additional remitted funds.
The FSS is now expected to impose sanctions against Shinhan and Woori for allowing the highest volume of remittances. According to Asia Times, the head of the FSS, Lee Bok-Hyeon, stated, "We are taking the foreign exchange transaction seriously, and sanctions are inevitable."
Shinhan and Woori are currently undergoing on-site investigations, which will be concluded on August 19.
Korea's Other Crypto Woes
Late in July, South Korean investigators conducted raids on a number of local cryptocurrency exchanges, seizing transaction records and other evidence as part of an investigation into the circumstances surrounding the Terra platform's demise.
According to reports in May, the collapse of Terraform Labs compelled South Korea to establish a Digital Assets Committee, whose duties include the creation of regulations and oversight of the crypto space until a government agency is established under the announced Digital Asset Framework Act.
Meanwhile, Do Kwon, the CEO of Terraform Labs, which caused massive losses for investors when both its stablecoin TerraUSD (UST) and native token Terra (LUNA) failed, has finally made a public appearance for his first interview since the project's $45 billion demise.