KuCoin to Airdrop Kratos' KTS Test Token, Launch the Velo IEO on their 3rd Anniversary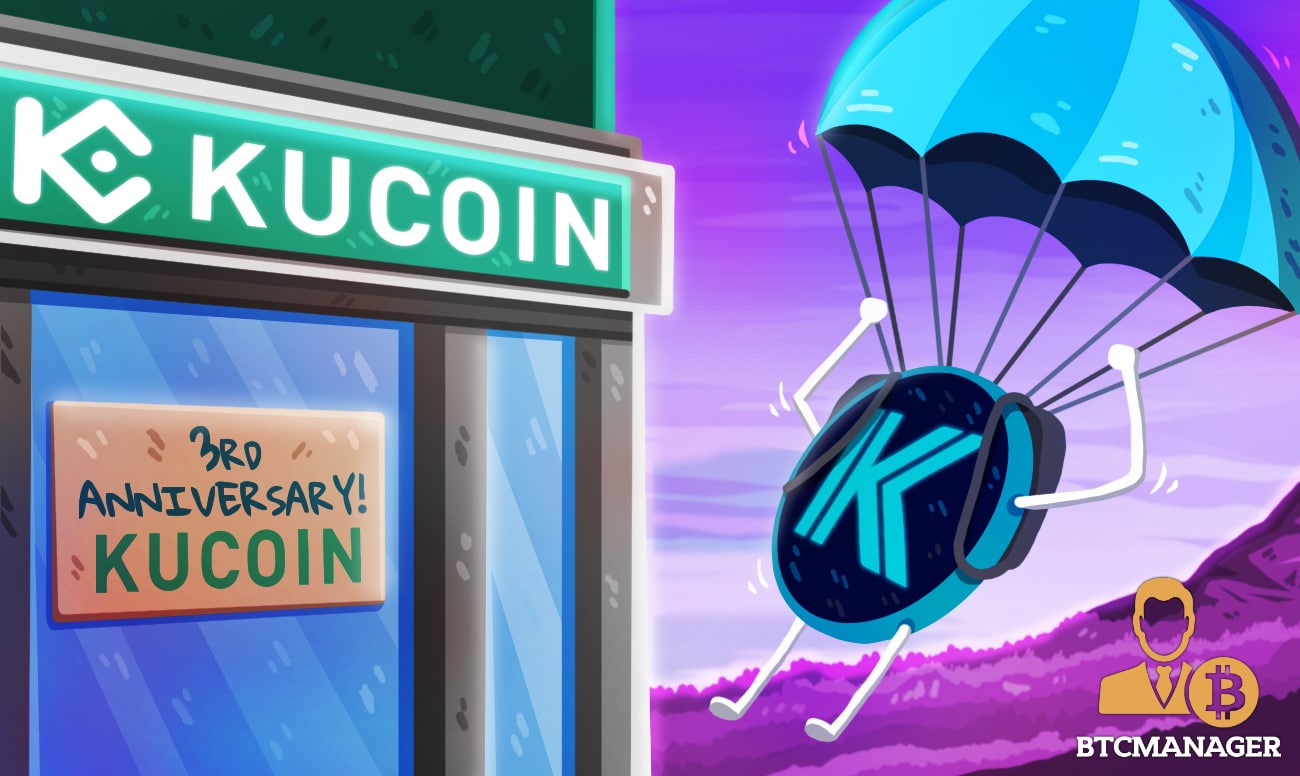 KuCoin — a global cryptocurrency exchange based in Seychelles with a presence in over 100 countries and serving more than five million clients, is today marking its third business anniversary. To celebrate, it is closely working with KuChain — a financial public blockchain under development by KuCoin Group, to airdrop KTS tokens to dedicated clients. 
Kratos (KTS) Details
KTS is the native coin of the KuChain Testnet, Kratos.
Kratos is cordial with KuChain in terms of architecture, design, and concept, designed to be a testing environment for decentralized finance product pioneers tagging secondary benefits of trying out KuCoin's other functionalities like governance and staking.
KuChain is now conducting the KTS initial coin distribution following the successful launch of the KuChain Betanet Events Phase I in July 2020.
To earn KTS test tokens, users should participate in a Lockdrop on the Pool-X platform ahead of the scheduled opening of the Betanet Events Phase II. Once Kratos officially launches, KTS test tokens will be upgraded as a coin priming the mainnet.
KuCoin Milestones Since 2017
After launching operations in September 2017, its customer base is growing at a steady rate. The on-demand and regulatory compliant cryptocurrency exchange continue to register success as it adapts to the evolving cryptocurrency market and changing customer needs. 
Notably, KuCoin provides a series of cryptocurrency-related financial services. Traders can link their bank accounts to the exchange's wallet allowing them to directly deposit or withdraw funds. Besides, there is support for crypto-to-crypto trading, P2P trading, derivatives, staking support, lending, and a token launchpad for blockchain projects seeking to crowdfund from a secure and trusted ramp. 
Driving this is the exchange's unwavering angling for quality and the adoption of a layer-1 security layer of a strict vetting process for projects seeking to list to cushion the end-user against fraudulent open systems chiefly characterized by weak security measures or a lack of a developed ecosystem. 
To counteract malicious attacks, KuCoin has an in-house WAF protection system. Since launch, it has safeguarded the exchange, successfully deterring over 10 billion attempts in the last three years alone. 
As part of their stringent quality control and assurance, KuCoin has a dedicated team of experts who spent hours every day scouring the blockchain space for top-notch quality projects.
This explains why KuCoin supports 250+ high-quality blockchain projects supplemented by innovative products such as KCS bonuses, KuCoin Lending, Pool-X, among others, directly benefiting their diverse clientele. 
These complementing ancillaries have seen KuCoin clients reap more than 5 million USDT in profits. Other than incentivizing programs and easy-to-use features, KuCoin's derivatives platform is powered by a Level-3 trading mechanism allowing for transparent and near-instantaneous order execution.
Despite their overwhelming success and solutions that resolve previous pain points, KuCoin continues to explore other verticals to provide even more lucrative opportunities for their clients. 
Kratos to Resolve DeFi Pain Points, KTS Airdrop
KuCoin's gravitation to decentralized finance and the airdropping of the KTS is advised from positive developments around open finance.
Lauded by financial analysts, the vibrant and fast-paced sub-sector continues to draw liquidity to DEXes, triggering another wave of IEOs as ambitious DeFi projects search for the best means of raising capital and achieve their goals. 
Thus far, the transformative DeFi scene continues to expand, locking billions worth of tokens–of which most are in Ethereum. However, the pioneer smart contracting is faced with unprecedented scaling challenges forcing transaction fees through the roof.
In a bid to resolve this nagging issue, KuChain is building a high-performance public chain. Kratos will be the testing environment building a four-layer network to sufficiently serve and satisfactorily meet the needs of a modern-day DEX, eventually resolving problems rampant in the DeFi field.
Additionally, Kratos will modularize its functions and protocols, while concurrently working towards improving its use case.
The Eight Spotlight: Velo
Aside from the Airdrop, KuCoin will officially launch the eighth IEO project, Velo, via its Spotlight launchpad on Sep 5. 
After activation in March 2019, seven blockchain projects have successfully raised funds directly from KuCoin clients with KCS token as a funding conduit through the Spotlight. In essence, the goal of Spotlight is to help the project raise funds, access immediate liquidity, and build influence cheaply and efficiently.  
Velo is the largest DeFi project in South East Asia and will become the eighth project to raise funds through KuCoin's Spotlight. The DeFi giant wants to build a decentralized settlement network where trusted partners can, promptly, securely, and transparently transfer value by leveraging smart contracts.
Their immediate focus is to onboard remittance and money transfer agencies in South East Asia before expanding to the whole of Asia.
The success of Spotlight's projects translates to positive gains of KuCoin's native token, KCS. Reflecting on the popularity of the exchange, not only has KuCoin helped two quality projects crowdfund, but KCS continues to outperform those from competing exchanges. 
Since KCS is needed to participate in an IEO, it is highly likely that the KCS token will rise in tandem.