A Beginner's Guide on How to Trade on EtherDelta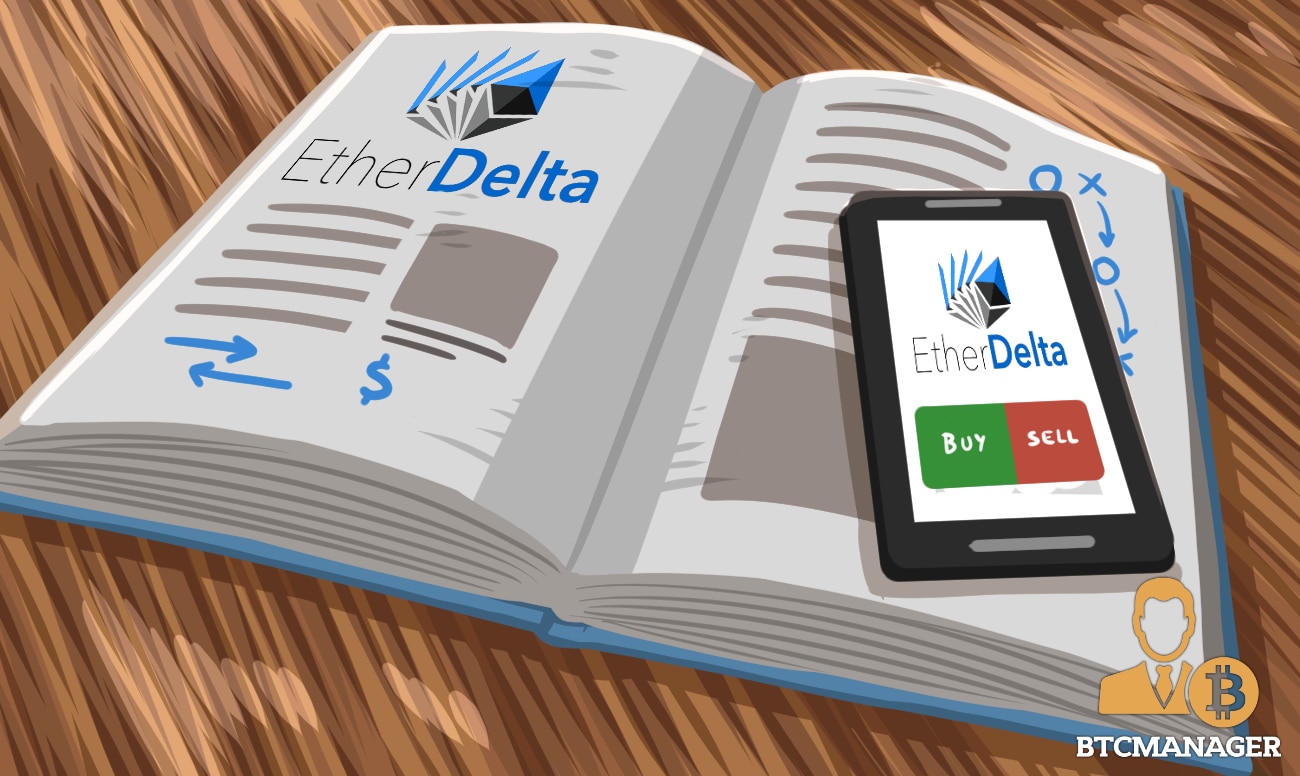 EtherDelta has emerged as one of the most popular decentralized exchanges in the cryptocurrency ecosystem. In this guide, you will learn how you can trade ether (ETH) and ERC20 tokens peer-to-peer directly on the Ethereum blockchain using EtherDelta.
What is EtherDelta?
EtherDelta is a decentralized cryptocurrency exchange dedicated to the trading of ether (ETH) and Ethereum-based ERC20 tokens. The exchange was launched in 2017 and quickly emerged as the most popular DEX for Ethereum tokens, most notable newly-issued ICO tokens.
EtherDelta is not easy to navigate and can be very difficult to use for newcomers who are used to trading on centralized exchanges or online brokerage accounts as it entails the use of smart contracts and requires a basic understanding of Ethereum smart contracts as well as the use of public and private keys.
EtherDelta does, therefore, not see the number of users that popular centralized exchanges see nor does its liquidity match that of their centralized counterparts despite offering added benefits such as anonymity, lower trading fees, and increased security as it does not store its users' funds.
How to Set Up Your Account
To get started, you will need to download an Ethereum client that is compatible with EtherDelta. The recommended Ethereum client for this platform is MetaMask.
If you haven't installed MetaMask yet, you will need to do so by going to the MetaMask website. Once you have installed the Chrome plugin, set up your wallet and remember to note down your recovery key in case you forget your password.
Once MetaMask is set up, log on to Etherdelta and click on the top right to create a new account and securely not done your private key for safekeeping.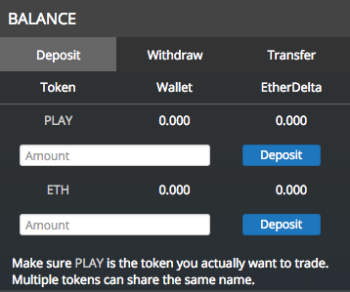 (Source: Etherdelta)
Now you will be able to see your balance in ETH, which will say zero.

(Source: Etherdelta)
To start trading, you will need to deposit ETH into your wallet on the EtherDelta smart contract. Once you have deposited ETH, you can go ahead and despot the ERC20 tokens that you would like to trade on the exchange.
On the top left, there is a panel that shows your deposited token balance. This panel will help you to deposit, withdraw and transfer your tokens.  
How to Buy and Sell Digital Tokens on EtherDelta
Once you are set up and you have deposited the token you want to trade, you can get started by choosing the token you want to buy or sell on the platform. To do that, you need to click on the top left next to the EtherDelta logo where all available ERC20 tokens are listed in a drop-down menu.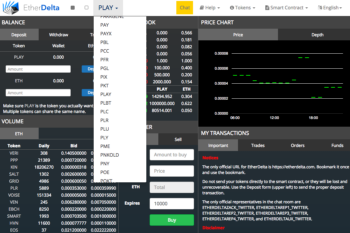 (Source: Etherdelta)
Once you have deposited ETH that you want to use to buy a specific token, there are two ways to place a buy order.
You can either place a new order by putting the amount of the token you want to buy and the price in ETH that you are willing to pay and then click the 'Buy' button. At this point, you order will be placed into the order book and you have to wait for it to be filled.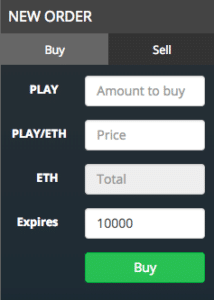 (Source: Etherdelta)
Alternatively, you can go into the order book and buy the token you want to buy from one of the available offers. This will be faster and ensures that your order will be executed as you will be the price taker as opposed to a price maker.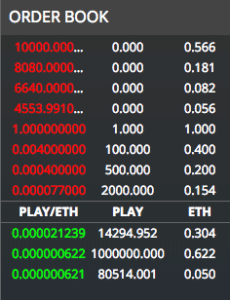 (Source: Etherdelta)
When buying tokens directly from the order book, make sure that you are purchasing tokens as the lowest available price for the volume you are looking to buy. Sometimes that may mean making two or three trades if you are buying larger volumes.
To confirm your trade, a pop-up window will appear that will reiterate the conditions of the trade. Simply click 'Buy' and the trade will be executed.
If your transactions are slow (because the Ethereum network is clogged with transactions), you may want to increase the Gas fees on your trades. You can do that by accessing the 'Gas Price' section in your account drop down and increasing the Gas fee.
Once you have completed your trades, you should transfer your tokens back into your personal Ethereum wallet, such as MyEtherWallet, for example, by using the withdraw and transfer functions in the balance panel. First, you need to withdraw your purchased tokens into your EtherDelta wallet, and then you need to put your public Ethereum wallet address into the address field in the transfer section to send your tokens to your wallet.
What to Look Out For When Trading on EtherDelta
Trading cryptocurrencies on EtherDelta is not an easy feat for beginners and even more advanced crypto traders can get caught off guard on this decentralized exchange. To ensure you do not end up losing money unnecessarily when trading on EtherDelta, there are several things you need to keep in mind.
Firstly, it is important to ensure that you are on the correct EtherDelta platform and are not falling prey to a phishing scam. Cryptocurrency users have been conned out of their funds on a fake EtherDelta site in the past, so always ensure that you are on the correct Etherdelta website.
Secondly, EtherDelta users will notice when executing a trade is that the time it takes for the trade to be completed is not as fast as on popular centralized exchanges such as Bittrex or Binance. As each trade is conducted through a smart contract, it takes a little longer for the trades to settle.
As suggested above, if you find your trades are taking too long, it is best to increase the Gas price for your transactions so that they can be completed on time. This is especially important during times of high usage of the Ethereum network, which tends to occur during high profile ICO launches.
Thirdly, given that EtherDelta is not the most user-friendly platform, you should always double and triple check the amount you are putting in to ensure that you are not accidentally selling tokens well below market price. This, for example, has happened to Reddit user 'Goatcoin11' who unintentionally bought 0.001 POWR tokens at a price of 5000 ETH, instead of buying 5000 POWR at 0.001 ETH. This mistake ended up costing him his entire bankroll of 6.1 ETH.
'Goatcoin11' was not the first user that this has happened to and it seems like the EtherDelta team has not (yet) addressed issues of this sort on its platform. Hence, it is vital to make sure that all the figures you put in are correctly when conducting trades on the platform.
Finally, while EtherDelta – as a decentralized exchange – offers more security than centralized exchanges as it does not hold user funds, it needs to be noted that even the likes of EtherDelta are not immune to cyber attacks.
In December 2017, EtherDelta had to temporarily suspend its service as the exchange fell victim to a hack where attackers were able to gain access to the platform's DNS servers and were, thereby, able to engage in "domain spoofing." This hack led to the loss of at least 308 ETH, worth over $250,000 at the time, according to Mashable.
That means that not only should you make sure that you are on the correct website but if you are looking to transact in large volumes on EtherDelta, it is probably best to also check EtherDelta's Twitter account or Reddit thread for any possible interferences with their service.
Should You Trade on EtherDelta?
EtherDelta provides users with the ability to anonymously trade ERC20 tokens on a peer-to-peer basis with low trading fees. Furthermore, as EtherDelta is a decentralized exchange, use funds are not at risk of being lost due to an exchange hack as it is the case on centralized exchanges.
There is much space for improvement for the UI and UX of the platform, and it is currently only really an option for experience cryptocurrency users who are not intimidated by the use of smart contracts and the lack of fiat currency pricing of tokens.
For experienced cryptocurrency investors who are very active in the trading of ICO tokens, however, EtherDelta provides an excellent platform to flip tokens after they go live or to buy tokens cheaply in the secondary market before they are listed on large centralized exchanges. Especially, for investors in smaller ICOs whose tokens end up not listing on reputable centralized exchanges, EtherDelta provides the opportunity to get out of these tokens before they drop into worthlessness.