A Step-By-Step Guide To Buying And Selling NFTs On OpenSea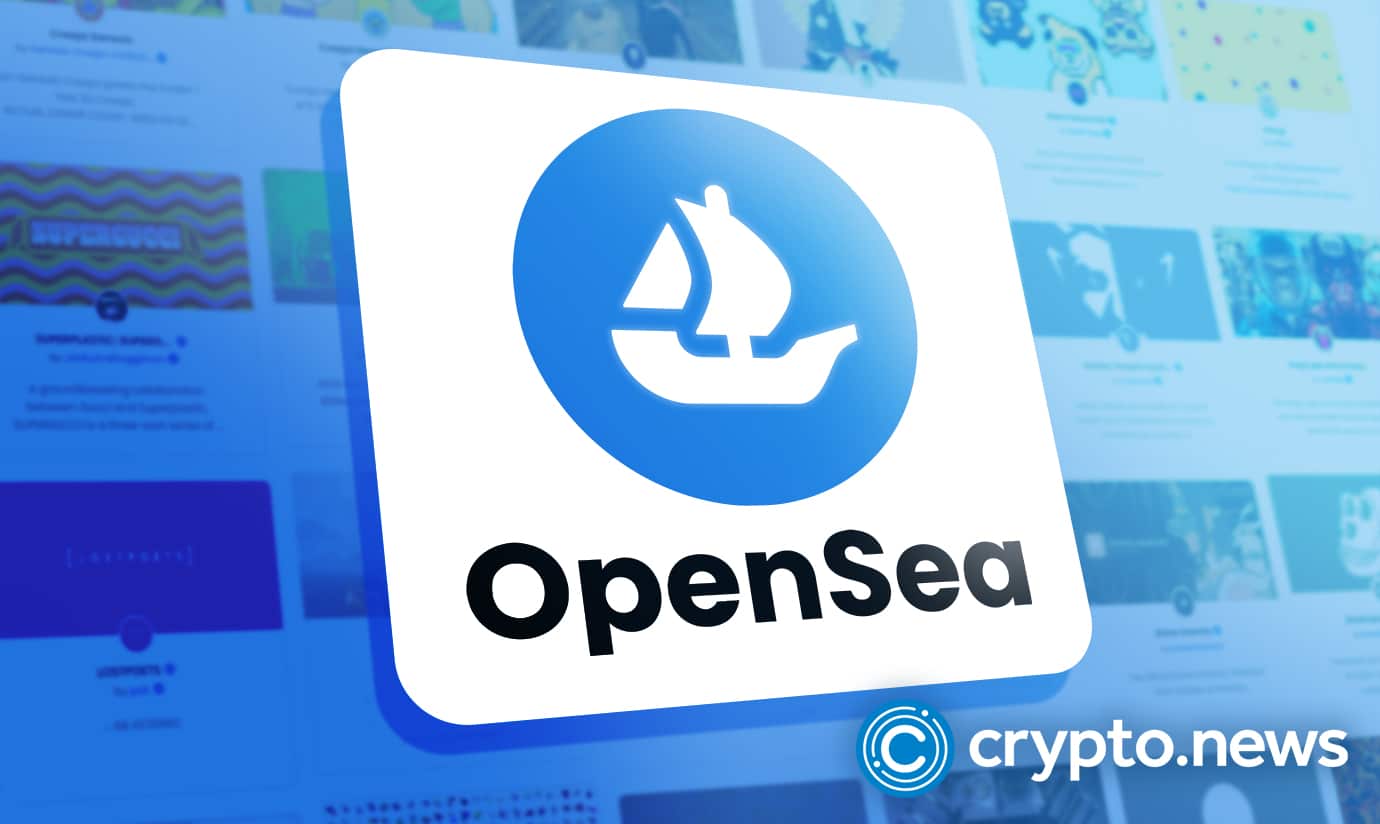 OpenSea is one of the most popular NFT marketplaces because of its size and ease of use. Click through to learn how to buy, sell, and mint NFTs on the OpenSea marketplace! OpenSea is widely known in the NFT community as one of the largest marketplaces, thanks to its massive trading volume and partnerships with big companies like Coca-Cola. But what exactly is OpenSea, and how do you trade NFTs there? Read on to find out!
What Is OpenSea?
OpenSea is an NFT trading platform founded in 2017. As one of the first NFT marketplaces, OpenSea has established itself as one of the largest players, with an all-time-high trading volume of $4.97 billion in January 2022.
People are drawn to OpenSea because you don't need any technical knowledge to create NFTs there. Its beginner-friendly interface allows anybody of all skill levels to create, mint, and trade NFTs. With the ease of use comes a large volume of creators and NFTs – the OpenSea NFT Marketplace boasts over 80 million pieces in its marketplace.
OpenSea's Features
What makes OpenSea a favorite among NFT collectors and creators alike? In addition to its intuitive interface, OpenSea offers features and benefits like:
Free NFT minting: Minting NFTs on OpenSea is entirely free, but you're charged a service fee upon sale.
NFT gifting: OpenSea lets you send NFTs as gifts to other users. Additionally, you can send NFTs to people not on OpenSea by providing their Ethereum address.
Multiple crypto wallet support: OpenSea supports numerous crypto wallets like MetaMask, Coinbase Wallet, and TrustWallet.
Cross-blockchain NFT support: OpenSea supports creating NFTs on the Ethereum, Polygon, Klaytn, and Solana blockchains.
NFT rankings: OpenSea ranks the most popular NFT projects, so you can buy into the hottest collections.
What You Need To Create NFTs
Planning to make your own NFTs to mint on OpenSea? Here's what you need:
A creator software
A digital wallet with some cryptocurrency
Artistic talent/creativity
Creating Your NFT Art
If you want to mint an NFT on OpenSea, you must have the artwork first. Here's a step-by-step guide to creating an NFT digital art piece:
1. Know Your Audience
If you want to sell your NFT, you need to know who you're selling to first – this will help you develop marketable NFT concepts. Your NFT's concept informs everything about your art, especially its visual style and title.
Research your target audience to discover what kind of art appeals to them. For example, a younger, internet-savvy audience is more likely to love "memeable" NFT art concepts. Once you know what your audience wants, develop an NFT concept that appeals to them.
Don't skip this step, even if you're creating an NFT for yourself. Define what kind of art appeals to you and create work based on that.
2. Create Your Art
With a concept in mind, it's time to create. Boot your creative software up and make the art piece based on the concept you came up with.
If you're planning to create a large NFT collection in the vein of Bored Ape Yacht Club, use a generative art script to speed up the process.
3. Save The Art Into Digital Files
Save the digital art files on your computer or in cloud storage. Make sure you have backups in case your computer crashes.
Minting And Selling Your NFTs On OpenSea
Now that you have an NFT piece, you can mint and sell it. Here's how:
1. Make A Cryptocurrency Wallet
Create a cryptocurrency wallet if you don't have one yet. Popular NFT wallets supported by OpenSea include MetaMask and Coinbase Wallet.
2. Sign Up To OpenSea
Next, connect your wallet to OpenSea to create an account. Follow the instructions and add your profile information to become an OpenSea member.
3. Upload The NFT Collection
After logging into OpenSea, click the "Create" button on the homepage to visit the NFT creation page. Upload the digital files you saved beforehand and fill key details out, like the NFT's title and description. You can also add extra information about the NFT and whether it includes any bonus content.
If you have several NFT pieces as part of a collection, you can upload them on the same screen. Simply create a new collection and upload the rest of your pieces.
4. List Your NFTs For Sale
Once everything's uploaded, click the "Sell" button on the homepage to enter the NFT listing page. There, choose between three sale options:
Fixed-price sale
Highest bidder auction
Declining price auction
Additionally, you can set the sale's time limit, starting price, and royalty rates. Before confirming your NFT listing, make sure you have enough ETH in your wallet to pay the service fee when your NFT sells.
Buying NFTs On OpenSea
OpenSea boasts over 80 million NFTs, so there's bound to be an NFT piece you like. Here's how to find and buy NFTs on OpenSea:
1. Make A Crypto Wallet
As when you mint NFTs, you need to create a crypto wallet. Sign up for a MetaMask wallet or any other crypto wallet supported by OpenSea. Ensure you have crypto in your wallet before making your purchase.
2. Sign Up For An Account
Connect your crypto wallet to OpenSea and fill your profile information in to create an account.
3. Browse For NFTs
Explore OpenSea's marketplace to find NFT pieces that catch your eye. If you don't know where to start, browse the NFTs listed in the site's top rankings.
4. Make A Purchase
Depending on the seller, you typically have two ways of buying NFTs on OpenSea:
Fixed-Price Sales
For a fixed-price sale, check the price and click "Buy Now". From there, just pay the gas fees to become the proud owner of a new NFT piece.
Auctions
In NFT auctions, click the "Place Bid" button and input your bid amount. Once you've made the offer, just sit back and wait until the auction finishes. However, if you really want that NFT, we suggest keeping an eye on the page and upping your offer every so often.
Conclusion
OpenSea is one of the best NFT marketplaces available thanks to its user-friendly interface and low minting costs. It boasts 80 million NFT pieces, meaning there's likely something for every collector.
FAQs
How much do you have to pay to mint NFTs on OpenSea?
Minting and listing NFTs on OpenSea is completely free of charge. However, there's a 2.5% service fee for every sale.
Can I mint NFTs on the OpenSea app?
You can't mint NFTs on the OpenSea app since it's exclusively designed for browsing. To mint NFTs, you must go to the desktop website.
What payment methods are accepted on OpenSea?
OpenSea accepts payments with crypto coins, PayPal, and credit cards.