The Beginner's Guide to Trading on Binance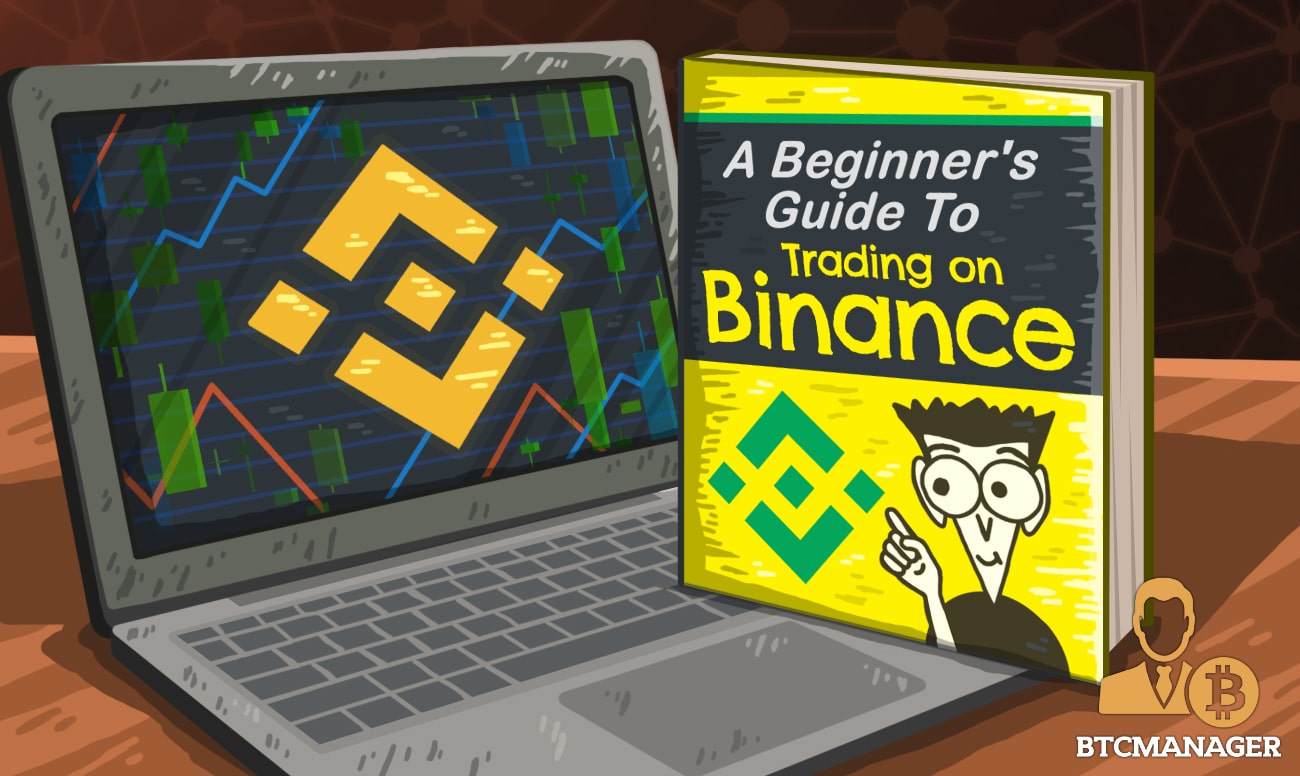 Binance is one of the newest but also most popular bitcoin exchanges in the market today. Founded in 2017 by Chinese entrepreneur Changpeng Zhao, the exchange has grown in users as well as reputation in a matter of months.
Binance initially started out with its headquarters in China and then moved its servers and facilities to Japan as a result of the souring regulatory environment in China. It moved again to Taiwan but recently announced it would be moving its headquarters to crypto-friendly Malta.
Binance has become very popular within the crypto community with Zhao stating that the platform registers new accounts that number upwards of two million per week. Additionally, Binance consistently tops the list of the exchanges with the highest bitcoin trading volumes on CoinMarketCap.
Why Is Binance so Popular?
Binance has witnessed staggering growth for many reasons. For one, they have created a platform that makes cryptocurrency trading easy. The trading tools are relatively straightforward, even for those who may be new to trading.
Additionally, Binance allows its users to use the platform in the language of their choice. This is a major advantage as sometimes language can be a barrier for international crypto traders.
One of its greatest selling points, however, is its high number of cryptocurrency pairs. On the platform, it is possible to purchase a large number of digital currencies and tokens, many of which can only be obtained through the platform. As a result, many investors opt for Binance.
Moreover, Binance features low fees. In comparison to other exchanges, Binance is at the low end of the scale and charges a 0.1 percent flat fee for trading on the site. There are no fees charged for deposits. Withdrawals fees are charged on a tiered basis and are also dependent on the market. Additionally, if you use Binance's token, BNB, it is possible to slash further the fees you are charged.
Binance has also demonstrated attention to security. Exchanges have become targets for malicious actors looking to steal the significant amount of funds that they hold.
Zhao's exchange was able to stop a hack looking to steal its users' money. The hackers had phished the login credentials of users for a while and used those details to log in and try to pump a specific coin. However, Binance's security tools recognized unusual activity and took steps which resulted in only the hackers losing their funds. This has solidified the exchange's reputation.
Things to Remember When Trading on Binance
Before you start trading on Binance, there are a few things you should consider. You must already own cryptocurrency before you begin trading on Binance as it is a crypto-to-crypto only exchange.
Security should be a major priority for you. Ensure that you research and familiarize yourself with best practices for keeping your crypto holdings secure. While exchanges such as Binance will do their best to keep their platform secure, you must also take adequate precautions. This begins with your password. Choose a strong password which you have not repeated on other platforms.
Additionally, ensure you enable two-factor authentication. This is an easy way to create an added layer of security to your account. Binance has provisions for text and Google 2FA. Both are easy to do and are likely to save you from unnecessary losses.
To stay up-to-date, it is recommended to follow the exchange's official social media accounts. However, to be safe do not click on links on social media. Always access the exchange from the exchanges official URL.
How to Sign up to Binance
First, log on to the Binance website. The landing page typically includes various links relevant to traders such as trading pairs and other additional information such as news ongoing within the Binance community.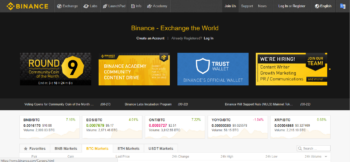 To gain access to the platform and start trading, you must first create an account. This is easy to do as the link is prominently displayed on the landing page. Click on the "Create an Account" hyperlink. Once you do this, you will be directed to another page.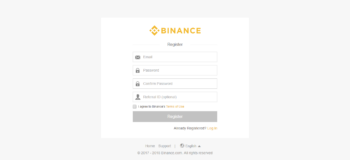 Here, you are required to input your email address as well as create a password. It is important to remember that this password will be the primary source of security for your profile on the trading platform. Therefore, be sure to create a secure password. If you have profiles on other trading platforms, then do not reuse the passwords.
Once you have input all the information required, you will typically be requested to finish a puzzle to prove you are human. After this step, Binance will send you an email. This is an important step as without it you cannot complete your registration.
Within the email are a link and other instructions which you should follow in order to finish the sign-up process. Once you click on the link, you should be directed to the account activation page.
Once at this point, your account has been created and can now be used to access the platform and trade the different cryptocurrency pairs available on Binance.
How to Start Trading on Binance
Once your account is created, you must again log in to the platform.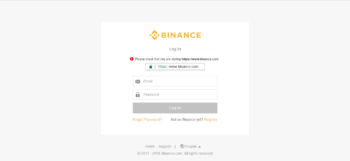 Due to a number of phishing attempts targeted at Binance users, the platform may sometimes include a warning reminding you to check the URL of the site you are using. To avoid falling prey to users, the current URL of Binance is https://www.binance.com.
Once you use the details of your newly created account to log in, you are directed to a page with further instructions. You must agree to the tips before you can proceed.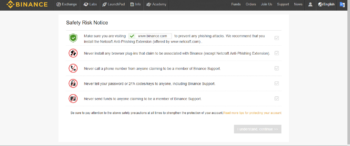 Demonstrating the need for attention to security, Binance draws attention to different methods malicious people may try to gain access to your account. Binance recommends installing the Netcraft anti-phishing software. However, Binance advises against downloading any other plugins that may say they are associated with the platform before conducting an adequate amount of research.
Moreover, the platform strongly advises against sharing your password with anyone. This includes people who may claim to be Binance employees. There is a comprehensive list detailing the steps you should take to make sure the integrity of your account is not compromised. The link to the security document is also included on this page. It is highly recommended that you take a look at the tips provided by Binance.
Once you signal your agreement to these tips, you are done with the initial log-in process, and you can proceed to trade immediately.
It is important to note that for level one you do not have to verify your account. However, for this level, there is a two BTC daily withdrawal limit. The second level will let you withdraw up to 100 BTC per day. To access this level, you will need to go through the verification process which includes uploading a photo ID and other documents.
Moreover, you will have to wait until your account is approved. There are higher levels available for users, however, you will need to contact the trading platform directly to have access to those.
Funding Your Account
Binance is strictly a cryptocurrency only exchange. This means it does not accept any fiat currency. Therefore, to begin trading, you must first fund your account with the digital currency of your choice.
You can purchase cryptocurrencies through the vast array of cryptocurrency exchanges that allow users to use their fiat currency to buy crypto. This must be done before you can fund your account on Binance.
Once you have purchased the crypto of your choice, you can start the process of funding your Binance account. To do this, look to the left-hand area of the page. Here you will see a funds tab. Hovering over it will display a number of options. Click on balances, after which you will be directed to this page: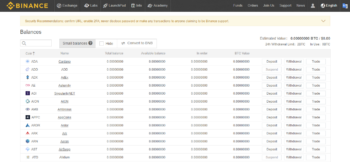 Click on the cryptocurrency you would like to use to fund your account. It is recommended to use either BTC or ETH when funding your account. Using the search option, you should be able to find the currency of your choice.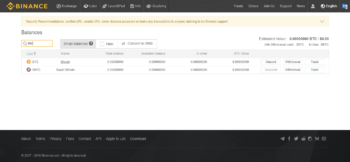 Once you have chosen the digital currency you would like to use, you will be directed to a page displaying a wallet address. This is the wallet where you must send the cryptocurrencies to fund your account.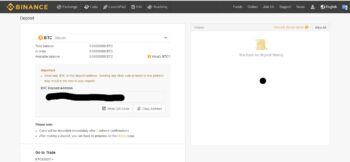 It is important to note that this wallet address is specially created for your account on Binance. Additionally, it is designed explicitly for the crypto you are trying to use to fund your account. For instance, if you send ETH to the address generated for a BTC funding transaction, then you will lose the ETH you have sent. Thus, be attentive when working through this step.
Once your transaction fulfills the requirements set by Binance, such as two network confirmations for BTC transactions, then your account is funded, and you are ready to start trading.
Trading on the Basic Exchange
Regardless of the level of your account, Binance provides two different trading platforms on the site. These are the basic and advanced exchanges. If you are a novice, it is better to begin on the basic platform.
To access the exchanges, look to the top right area of the page. You will see an exchange tab. Hovering over it will reveal the two platforms. Click on the basic option to be directed to this page: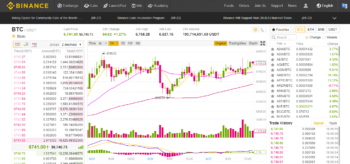 The various cryptocurrencies you can use to trade are displayed on the right side of the screen. Pick the currency of your choice. To make things easier, you should pick the coin in which your account is funded. The trading options include BTC, ETH, BNB or USDT. You can also specify your favorites through a tool provided on the page.
There are various trading pairs listed on the side of the page. Click on the one you would like to trade in. After this, you will be directed to a page similar to this: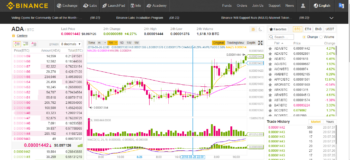 Here we have chosen the ADA/BTC trading pair. Once you have picked your currency of choice and it has loaded on the screen, the left-hand side will display the prices that people are willing to sell in the top half in red. The prices at which people are willing to buy will be shown in green in the bottom half of the page. The number in the middle shows the price at which the last sale happened.
The buy/sell functionality is at the bottom of the page: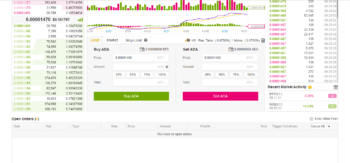 To buy, you can manually input the amount of crypto you would like to purchase. Alternatively, you can use the percentages tool to use the funds your account holds to buy whatever crypto you would want. For instance, here you can use 25 percent of the BTC you hold in your account to purchase Cardano.
Additionally, you can manually input the price at which you are comfortable purchasing your cryptocurrency. However, it is recommended to choose a price from the prices listed on the left-hand side of the page. This matches you with those willing to sell.
Once you have filled the order form, click the buy button. Following this, you will see the trade under your open orders tab. Once the order is filled, you have purchased the crypto token.
To access the tokens, look to the funds tab. Using the deposits and withdrawals functionality, you will be able to withdraw the crypto to the wallet of your choice.
Selling cryptoassets follows a similar pathway. Simply pick the pair you are interested in and go to the bottom of the page. Then input the price you are willing to sell at. Click sell and wait for the order to be filled.
Using the Advanced Exchange
Binance also features an advanced exchange, which works similarly to the basic, but the interface is different and features more in-depth charts.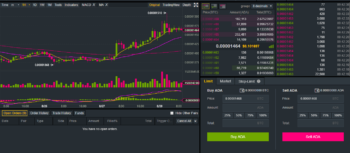 To buy and sell, use the same steps as you would in the basic exchange.
Enjoy trading on Binance and good luck!