The Highest Coins of 2018: Cannabis and the Blockchain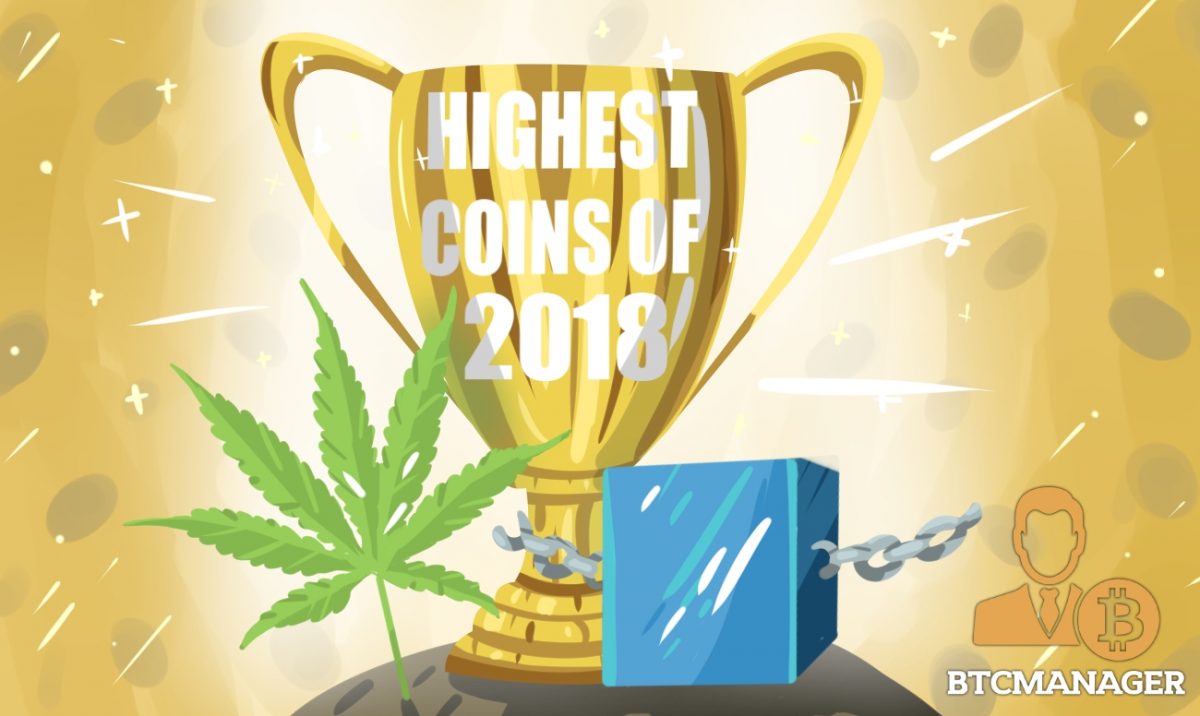 The Cannabis Industry has been booming across the United States for the last few years. The most significant problem plaguing the industry as a whole is banking and fiscal transactions. Blockchain technology has already begun entering this space and seeks to provide solutions where they are needed most.
The State of the Cannabis Market in the United States
This is a touchy subject for many in the legal field as currently federal law which trumps state law declares marijuana a Schedule I drug. The United States Drug Enforcement Agency ("DEA") states a Schedule I drug must have no known medical benefit and a high possibility for abuse. The list of Schedule I drugs includes; heroin, LSD, marijuana, mescaline, MDMA, GHB, Ecstasy, psilocybin, Methaqualone, Khat and Bath Salts. This means the DEA has classified marijuana among the company of heroin and Bath Salts. What is more surprising is Schedule II drugs include; Oxycodone, Fentanyl, and Adderall. The difference in classification is because the DEA acknowledges the high potential for abuse of the stated Schedule II drugs, but they have a medical purpose.
Currently, the U.S. federal government's stance on cannabis is it has no medical purpose and is likely to be abused. The DEA has been requested and sued to change the classification of marijuana but has chosen not to, and not been forced to do so regardless of studies demonstrating marijuana's benefits. The United States, as great a country as it may be, has chosen to classify marijuana among drugs like heroin, even though countless studies are demonstrating its many benefits.
The United States federal government may have made a clear error in their classification of cannabis, but more than 25 states at this point have decided to ignore the demands of the federal government and allow the implementation of both medical marijuana programs and recreational programs. Currently there are more than 29 states with medical marijuana programs and more than ten with recreational consumption systems in place. A comprehensive list of state laws regarding medical marijuana can be found here.
In 1996, California was the first state to create a medical marijuana program. 22 years later and the United States still has state laws that conflict with federal laws, along with state laws that conflict with other state laws. This has created a major dilemma for those seeking marijuana as both a medicine and recreational product. In 2018, Vermont, was the newest addition of states that added recreational marijuana programs. With more than the majority of states allowing medical marijuana, recreational use, or both, it seems to be time to adjust the federal law to reflect the new studies that have been done using cannabis. This conflict between state and federal law has created banking issues that the blockchain looks to resolve.
How Can Blockchain Technology Impact the Cannabis Industry?
For operational dispensaries, the largest problem they are currently facing is a banking issue. Banks that operate in multiple states and federally will not allow any account that is medical marijuana or recreational related. This creates a situation where you have legitimate business owners that are completely unable to use the standard banking system in a state where they intend to follow all the laws (state laws that is). The level of risk in a business where credit card processors fail regularly and cash is the primary means of transacting is very high.
Blockchain technology can reduce the risk while solving the banking issues that currently plague the entire medical and recreational marijuana industry in the United States. By removing the power from the central banks (which is what cryptocurrencies do) medical and recreational facilities will be able to transact on the blockchain. Unlike many developing blockchain markets the Cannabis Coin Niche already has many early entrants.
The five Cannabis-related coins we've selected to analyze are; POT, THC, DOPE, CCN, and GRWI. (The coins are ordered based on which the author feels is the most undervalued and will have the most market adoption in the short and long run).
Analysis of Cannabis Industry Related Coins
POT
Potcoin (POT) is most likely to come out on top in the next two months. PotCoin was launched in 2014 making it one of the first cryptocurrencies for the cannabis industry. It was specifically designed to solve the banking problems plaguing the Colorado dispensaries. They even took it upon themselves to install PotCoin ATMs in multiple dispensaries. However, 2014 was early for individuals to be expected to understand the blockchain. PotCoin sat in the shadows until the summer of 2017. Their promotional stunt was funding Dennis Rodman's trip to North Korea while capturing photos of him in a PotCoin shirt. This provided national publicity and put PotCoin back in the national spotlight. The total number of PotCoin is 420 million (420!), with just over half those in circulation. Their total market cap is approximately $50 million which provides it significant room to grow. PotCoin is unique as they are ramping up a large advertising campaign to capture the captive audience of dispensary owners and recreational users, starting with their WeedMD promotion.
A few other aspects that make PotCoin exceptionally unique is their Proof-of-stake system that lets you earn the altcoin solely by holding the PotCoins you have in a specific wallet or on a particular exchange. By being one of the first entrants into the Marijuana Blockchain Industry, by having a large advertising campaign rolling out, the ability to receive five percent dividends for just holding, and a niche industry that is struggling greatly with credit card transactions PotCoin should make 2018 a year to remember.
The price is currently $0.23 per coin, a 100 percent rise in the next few weeks would not surprise the author. The ability to have market adoption of a specific coin relies on the market knowing and understanding blockchain. The Cannabis industry is slowly becoming more knowledgeable, and PotCoin looks to be the likely winner when the industry realizes many of their problems subside when their transactions begin to take place in cryptocurrency instead of fiat. If the author were to select one coin in this niche to hold for the next few months, it would be POT. Plus, the most obvious part is it has a great name! Who could be confused with a name like PotCoin?
PotCoin is genuinely a great cryptocurrency impacting an industry that needs fiscal and legal change. PotCoin cannot affect federal law, but it has created an easy to use banking platform for those in the Cannabis Industry. The author sees PotCoin growing exponentially in 2018 as more states move toward recreational use, while even more individuals seek Cannabis-related banking and payment solutions. PotCoin can be purchased on Bittrex, Poloniex, and Cryptopia.
THC
The Hemp Coin (THC), similarly to PotCoin came into existence in 2014. The author has a tendency to have faith in what has shown resilience. The cryptocurrency scene has seen its fair share of scams, and if a coin has been around for years, it is a safer assumption to assume it is legitimate. According to THC, their focus is less on an individual looking to purchase Cannabis at a dispensary and more on, facilitating transactions between marijuana farmers and local dispensary shops. THC has a price currently of approximately $0.37 and a market cap of roughly $91 million. With a market cap almost double of PotCoin, it seems slightly overvalued in comparison.
However, the author holds very high expectations for THC in 2018. They have a smaller number of total coins than POT with 230 million in circulation. THC has intentionally moved beyond solely the Cannabis Industry and has broken into the agriculture realm trying to provide banking solutions to more than just the niche market of Cannabis. THC's presence for over four years, breaking into new industry's beyond cannabis, and their large market adoption makes them a strong coin for 2018. PotCoin should have a stronger rebound from a technical and market analysis perspective, but THC when compared to the overall crypto market and other cannabis industry coins should far exceed standard returns. THC is our second favorite Cannabis Industry coin. THC is solely available on Bittrex. Hopefully, you've had an account prior to their closing new registrations!
DOPE
DopeCoin has a much smaller market cap than both THC and POT and was also created in 2014. However, there seem to be some red flags. Their "mission is to provide marijuana enthusiasts with a modern and secure way of doing business for the 21st century." This seems to be far too all-encompassing from an analyst's perspective. What does DopeCoin do? What do they specialize in? Their website was the most fun to browse with great pictures of marijuana buds and photos of all sorts of recreational and medical products.
However, the author is yet to learn about their strategic partnerships their penetrating into the industry, or anything of real substance besides glossy photos and an entertaining website design. DOPE has a market cap of approximately $15 million with around 116 million coins in circulation. Their newest campaign, announced on Twitter, is to pay $250-$300 to each individual who refers a medical marijuana business and gets them successfully signed up. This seems like a fine idea but the functionality of having to sign up to a non-related payment center, email DopeCoin, and hope they reimburse you seems a little far-fetched of a promotion to be hugely successful. While the author is supportive of the Medical Marijuana industry, there are better options on the exchanges than DopeCoin. Regardless, DOPE can be purchased on Bittrex and Cryptopia.
CCN
CannaCoin (CCN) transferred to a Proof-of-Stake coin at block 370,000. They are self-described as a group of cannabis enthusiasts working toward the future of cryptocurrency applications for the cannabis sector. CCN is lagging behind both POT and THC in almost every category. CCN has little to no market penetration, a minimal advertising campaign, and an inferior website, for an industry that is already saturated with blockchain tech this coin seems unnecessary. Their market cap is approximately $13 million with approximately 92 million CCN in circulation. This equates to a price point of $0.17 per coin.
The blockchain sector should grow rapidly in 2018, with the cannabis industry niche, growing even faster. Although, one horse wins a race, there should be multiple coins that succeed in this space and the author does not foresee CCN having enough traction to be one of them. CCN, if interested, can be purchased on Bittrex and Cryptopia.
GRWI
Growers International (GRWI) is the smallest of the five coins analyzed in the Marijuana Industry. With a market cap of approximately $2.3 million and under two million GRWI it seems as though they have a long way to come before they are generally accepted. It is never a good sign when you can't even access their homepage.
If it is difficult to do basic research on the coin's specific website, there is a likely underlying issue. With great options in the Marijuana Blockchain Niche such as THC and POT, the author recommends staying away from coins with no market adoption, faulty websites, along with coin supplies, and market caps that do not allow them to be truly useful currencies. GRWI is available on Cryptopia.
Conclusion: POT (first) and THC (second)
Don't judge a book by its cover. However, realistically speaking, most of us do. The general investing public does as well. Very few delve deeply into the teams, chart analysis, market penetration, technology and the market cap. To recommend buying a coin based on its ticker symbol would be asinine but it does help that POT and THC both have the most relevant ticker symbols for the industry they are trying to capitalize on. POT has slightly more market adoption, awareness, and publicity than THC which in the short term can mean a huge difference in price appreciation.
The author is very bullish on cryptocurrency, especially cannabis industry coins for Q1 of 2018. Especially following the most recent market correction and the wave of new recreational laws that have passed. POT seems to be the clear leader with THC being a worthy number two. With the Medical Marijuana industry booming and their biggest flaw currently being banking, blockchain technology has the ability to truly penetrate and capture a significant portion of a multibillion-dollar space. POT should beat standard crypto returns in Q1 and for the remainder of 2018 with THC being a solid second option.