How & Where to Buy Avalanche (AVAX): A Beginner's Guide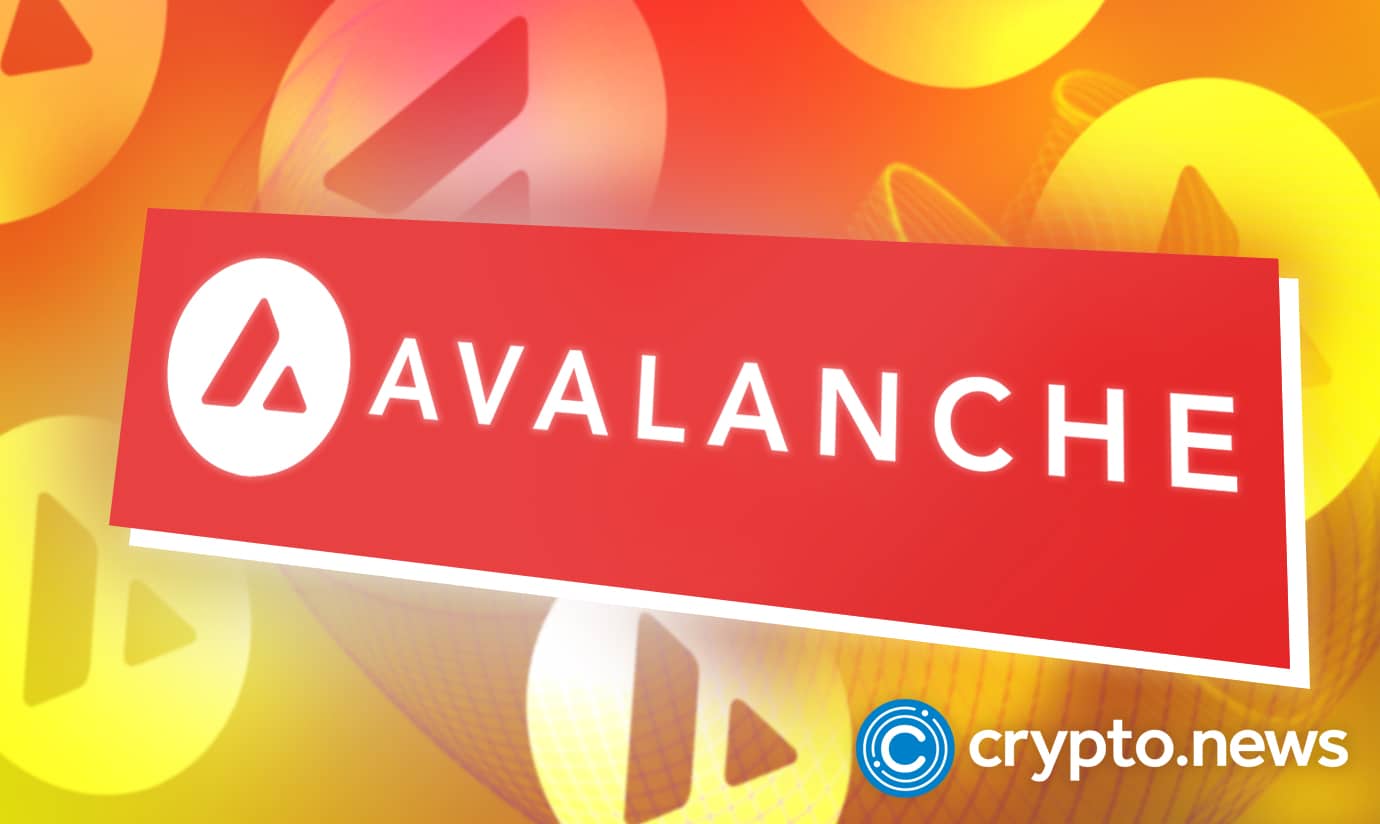 Avalance's AVAX token has been one of the standout performers during the 2021 bull market placing the layer-1 token on the map in the altcoin market. In this beginner's guide, you will learn what the Avalanche token is, where you can buy AVAX, and how to buy AVAX on one of the world's leading exchanges.
What Is Avalanche (AVAX)?
Avalanche is a smart contract-enabled blockchain that seeks to address blockchain technology's trilemma of decentralization, scalability, and security via its Proof of Stake (PoS) mechanism. It provides a platform for developers to operate custom blockchain networks and decentralized applications (DApps).
The blockchain was launched by Ava Labs and founded by Emin Gün Sirer, Kevin Sekniqi, and Maofan "Ted" Yin. In addition, it's considered one of Ethereum's key rivals, aiming to dethrone the Ethereum as the most popular blockchain for smart contracts. The blockchain plans to achieve this by having a higher transaction output of about 65,000 transactions per second without jeopardizing scalability.
Avalanche features a unique architecture that consists of three separate blockchains known as C-Chain, P-Chain, and X-Chain. Each chain is unique as they individually work to have all nodes authenticate all transactions. Moreover, it utilizes different consensus mechanisms rooted in their use cases. After the launch of its mainnnet in 2020, Avalanche has been working on creating its own ecosystem of DApps and decentralized finance (DeFi) protocols and on polishing up its interoperability between its ecosystem and the Ethereum blockchain.
Avalanche has been able to raise $272 million via an initial coin offering (ICO) that was held in July 2020 and a private token sale that was held in June 2021. Avalanche has its own native token that trades with the ticker AVAX and is used to carry out transactions on its platform.
Where to Buy AVAX: 5 Top Avalanche Exchanges
The AVAX token is supported by a large number of digital asset exchanges. Let's take a look at five leading exchanges you can use to buy Avalanche's token.
Binance
Binance prides itself on being the world's leading blockchain ecosystem and cryptocurrency infrastructure provider. The exchange was launched in 2017 and enables users to buy various AVAX trading pairs such as AVAX/USDT, AVAX/BUSD, AVAX/TRY, AVAX/BTC, AVAX/ETH, and more.
Coinbase
Coinbase is another popular exchange you can use to purchase AVAX. Coinbase Exchange is operated by Coinbase Global, a publicly traded company. Established in 2012, the exchange is one of the most liquid crypto spot exchanges in the world. Some of the AVAX trading pairs that users can buy on the exchange include AVAX/USD, AVAX/USDT, AVAX/EUR, and AVAX/BTC.
KuCoin
Launched in 2017, KuCoin is a global cryptocurrency exchange that provides users with the ability to buy, sell and trade digital currencies. Besides the basic trading options, KuCoin also offers crypto lending, futures trading, margin trading, spot trading, among others. For AVAX spot trading, users can trade various pairs like AVAX/USDT, AVAX/USDC, and AVAX/BTC.
FTX
FTX is a popular crypto derivatives exchange that was built by traders, for traders. Besides derivatives trading, FTX users can also buy and sell various digital currencies and tokens. On FTX, users are able to trade different AVAX pairs such as AVAX/USD, AVAX/USDT, and AVAX/BTC.
Kraken
Founded in 2011, Kraken describes itself as a crypto exchange for everyone. It also considers itself one of the largest and oldest Bitcoin exchanges globally. The exchange has various features including futures trading, margin trading, liquidity, and staking, among others. Some AVAX trading pairs that users can trade on Kraken include AVAX/USD and AVAX/EUR.
How to Buy AVAX on Binance: A Step-by-Step Guide
Now that we know what Avalanche is and the various trading pair options available on various exchanges, let's take a look at a step-by-step guide on how to buy AVAX on Binance.
Step 1: Create Your Free Binance Account
To start, go to Binance.com and click on 'Register' and fill in the below details to create your Binance account. You can choose to register using your email or phone number. Next, complete the verification process to continue.
Step 2: Choose How to Buy AVAX on Binance
Once you have verified your account, click on the 'Buy Crypto' tab on the dashboard and choose how to buy your AVAX tokens. The exchange allows you to buy tokens via bank deposit or bank transfer, cash balance, credit or debit card, and peer-to-peer (P2P) trading.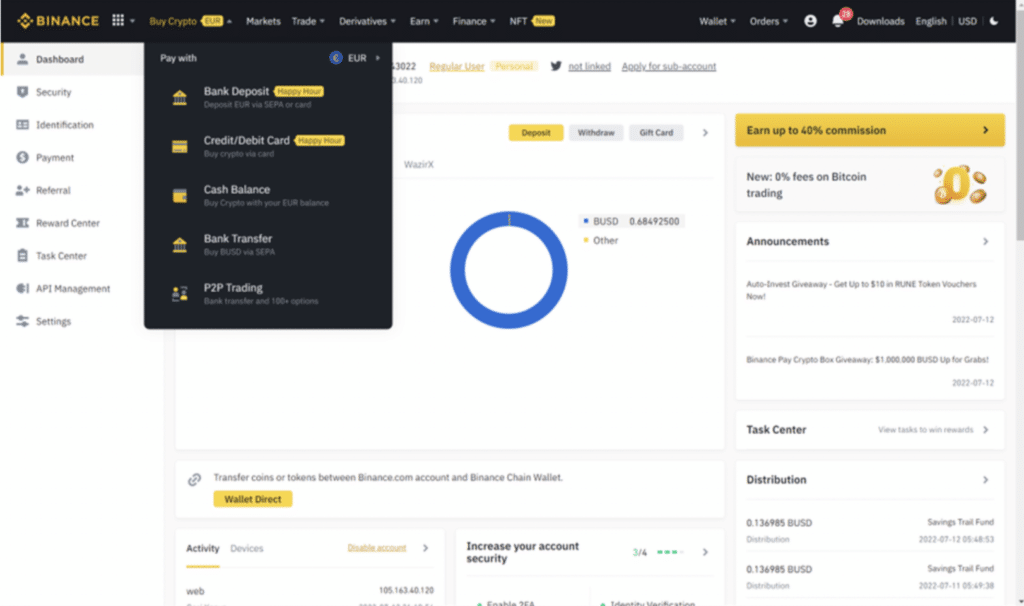 For the Debit/Credit Card buying option, proceed to select the currency you want to buy the AVAX in by keying in the amount. Binance will show you how much AVAX you will receive.
Next, click on 'Continue' and then 'Add new card' to fill in your card details. Continue to enter your billing address details then click on 'Pay Now.'
Finally, check that the details you've entered are accurate and proceed to confirm the transaction. It's important to note that you will have only 60 seconds to confirm the transaction before Binance recalculates the buying price.
Now that you've bought your AVAX tokens, you can choose to hold them in your Binance account or transfer them to your crypto wallet. The latter is always advisable as it gives you complete control over your funds.
FAQs
Why Did Avalanche Become So Popular? 
Avalanche became popular because it's currently one of the fastest layer-1 blockchains in the industry and it has received backing from some of the largest players in the crypto market. Besides the high transaction throughput, it also offers low gas fees compared to many leading smart contract-enabled chains.
Is AVAX a Risky Investment?
Yes.
Avalanche is a relatively new layer-1 blockchain that is yet to establish itself as a leading network for decentralized applications (DApps). Moreover, the AVAX token has shown high levels of volatility, including a steep price drop in 2022, highlighting the riskiness of the token.
What is the Cheapest Way to Buy AVAX?
The cheapest way to buy Avalance's token will depend on your physical location and the payment options available to you.
Buying peer-to-peer from a trusted individual who wants to sell their Avalance (AVAX) token in exchange for stablecoins or fiat currency is probably the cheapest way. However, since this option is not always available, a low-fee exchange like Kraken or Binance is probably the next best option. Keep an eye on withdrawal fees though as they are subject to change depending on market conditions.