What Is a POAP (Proof of Attendance Protocol)?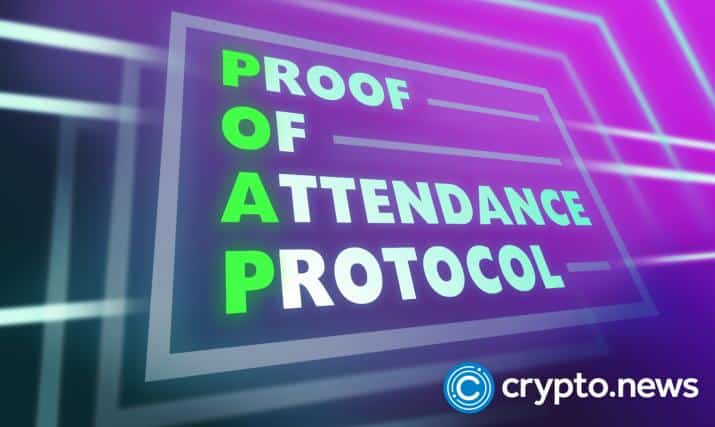 POAPs, also known as Proof of Attendance Protocols (pronounced poh-ap), are a remarkable example of how blockchain technology has transformed various sectors, including NFTs and Decentralized Finance (DeFi), by creating more transparency. POAPs are protocols that utilize blockchain technology to create digital badges, certificates, and collectibles that serve as digital souvenirs of different life experiences. These digital souvenirs provide a secure and tamper-proof way of proving attendance at events, meetups, conferences, and other gatherings, making them a powerful tool for event organizers and attendees alike.
POAPs Overview
POAPs are increasingly rising in popularity in the NFT and Web3 space, especially the metaverse. Leading brands, notably Adidas, have incorporated POAPs in their sales strategy to tap the expansive crypto space.
POAPs were first created at the ETHDenver Convention in 2019 to confirm participation and reward hackers who attended and participated in the hackathon event. Originally, POAPs were minted and distributed on the Ethereum blockchain. However, owing to slow speeds coupled with high transaction costs on the Ethereum blockchain, POAP migrated to the Gnosis chain (Formerly xDai), -a faster and cheaper Ethereum sidechain, in October 2020.
POAPs, or Proof of Attendance Protocols, are ERC-721 tokens minted via smart contracts as non-fungible tokens (NFTs) on the Ethereum blockchain to record the attendance of an event either virtually or in person. The event can be a concert, game, ceremony, training, or a private function.
POAPs can also be used as proof of your achievement, such as your achievement in an online or offline community. For instance, you can be issued a POAP to commemorate an in-game event. POAPs bridge the gap between the physical and the crypto worlds and are often referred to as "an ecosystem for the preservation of memories," as they can create a reliable record of all your activities in both the physical and crypto worlds. You can accrue a collection of POAPs to document your physical life experiences and your activities in your crypto space.
How Does POAPs Work
POAPs function more or less like NFTs offered when you attend an event. Not all attendees may notice you or even keep a record of your attendance when you go to a meeting or attend an event. Most attendees will keep a record of a signed t-shirt or a ticket stub as souvenirs or evidence of attendance.
With POAPs, when you achieve a particular milestone or attend an event in which POAP badges are offered, you'll receive a badge that is an NFT minted via the official POAP platform. The badge has a unique serial number and details about the event, including its date and the time you arrived. The POAP badge is immutable, meaning it cannot be forged or altered. Also, they can be collected via the POAP app as a digital portrayal of the holders' physical experiences stored in the crypto world.
Since POAPs are NFTs minted using the ERC-71 standard, they can be traded on various NFT marketplaces such as Opensea. For a POAP to function, it must satisfy three conditions:
It must be minted via the official POAP smart contract
It should contain an image associated with the specific event
It should store metadata linked to a specific date or period for up to a year
POAPs Working in Real Life
POAP workability in real life starts with attendees creating or joining events via the POAP app available on Android and iOS smartphones phones. While the events are free to create on the POAP app, event organizers have the option of charging for tickets.
When attendants arrive at the event, they simply access the POAP application and scan a QR code or use their phone's location services to check in to the event. Once checked in, the POAP generates an attendance record and a timestamp, securely stored on the Ethereum blockchain in the official POAP smart contract.
POAPs users are categorized into three groups:
Event Organizers- Event creators can use POAP to monetize their events by charging a particular fee or rewarding attendees. They can use the app to set the admission requirements, which will be enforced by the smart contract automatically. The entrance fee can be paid using either POA20 tokens, Ether, or any other ERC20 token via MetaMask.
Event Promoters- Event promoters can leverage POAP to establish whether the target market is attending their events. They can also use the app to reward specific event attendees who meet particular requirements. For instance, attendees who check in using the POA20 tokens or create a POAP record of the event can be rewarded.
Event Consumers- For event attendees, POAP offers a better way of payment using POA20 tokens.
POAPs Use Cases
POAP was initially created to prove event attendance to an event. However, the technology has evolved to additional use cases, including:
To prove attendance at events
As a security clearance in private groups
As a means of accessing private groups via invitation
Collectables to indicate your love for something
Digital souvenirs
Gifts or rewards for achieving a particular accomplishment.
Invites to private meetings, vote on protocols, and join private chat rooms.
Benefits of POAPs
Proof of Attendance Protocol (POAP) offers owners and event parties several benefits. Some of these benefits include:
Offers an immutable data storage system that third parties cannot manipulate. It allows for transparency in the event industry as the total number of attendees and sold tickets can be tracked.
It enables event organizers to track attendees seamlessly and establish whether the targeted market was able to attend the event. This information can be used for different purposes in the future, including marketing and promotion.
It allows event or conference attendants to seamlessly prove their attendance without having any form of records or documentation. For instance, persons who attended historical events or cultural milestones can clearly verify their attendance.
Enhanced privacy-POAP allows users to collect and digitize their life moments without giving up their privacy to third-party institutions such as Google and Meta.
Since they are NFTs that can be traded in marketplaces, POAP badges have monetary benefits. A POAP badge from a historical event or super-exclusive experience can be sold to earn money. For instance, a POAP called 999 Club: Genesis was listed for $22,500 on the OpenSea NFT marketplace.
Holders of POAPs from a particular event may receive rewards in the form of airdropped NFTs or coins. For instance, SushiSwap airdropped POAPs to their AMA attendees and users who voted for its governance proposals. Decentraland also offered POAPs to attendees of a virtual event inside metaverse.
Closing Words
Proof of Attendance Protocol (POAP) is a decentralized protocol created initially to validate the proof of attendance for an event. Since its creation in 2019, POAPs have evolved to have additional use cases, functioning as proof of achievements and as collectibles with monetary values. The use of POAPs in crypto has increased over the past few years as people have started exploiting their immense potential. Event promoters and organizers can leverage POAPs to offer a better experience to their attendees and make their events more transparent and appealing. With leading brands such as Garyvee and Adidas launching the POAP collections, the future of POAPs is indeed bright.
FAQs
What does POAP mean?
A Proof of Attendance protocol allows smart contracts to provide proof that a specific number of individuals attended an event at a certain date & time. This would be important for large events such as conferences, where each attendee should confirm attendance with the help of hardware like electronic badges.
What is a POAP NFT?
A Proof of Attendance protocol NFT describes how blockchain technology works when applied to records. This is part of the process of creating smart contracts. The protocol defines how data should be stored using cryptography, distributed across multiple participants, and immutable. These protocols are needed to validate transactions, prevent double spending, and ensure the safety of both parties involved.