Top 15 Cryptocurrency YouTubers you Should Consider Watching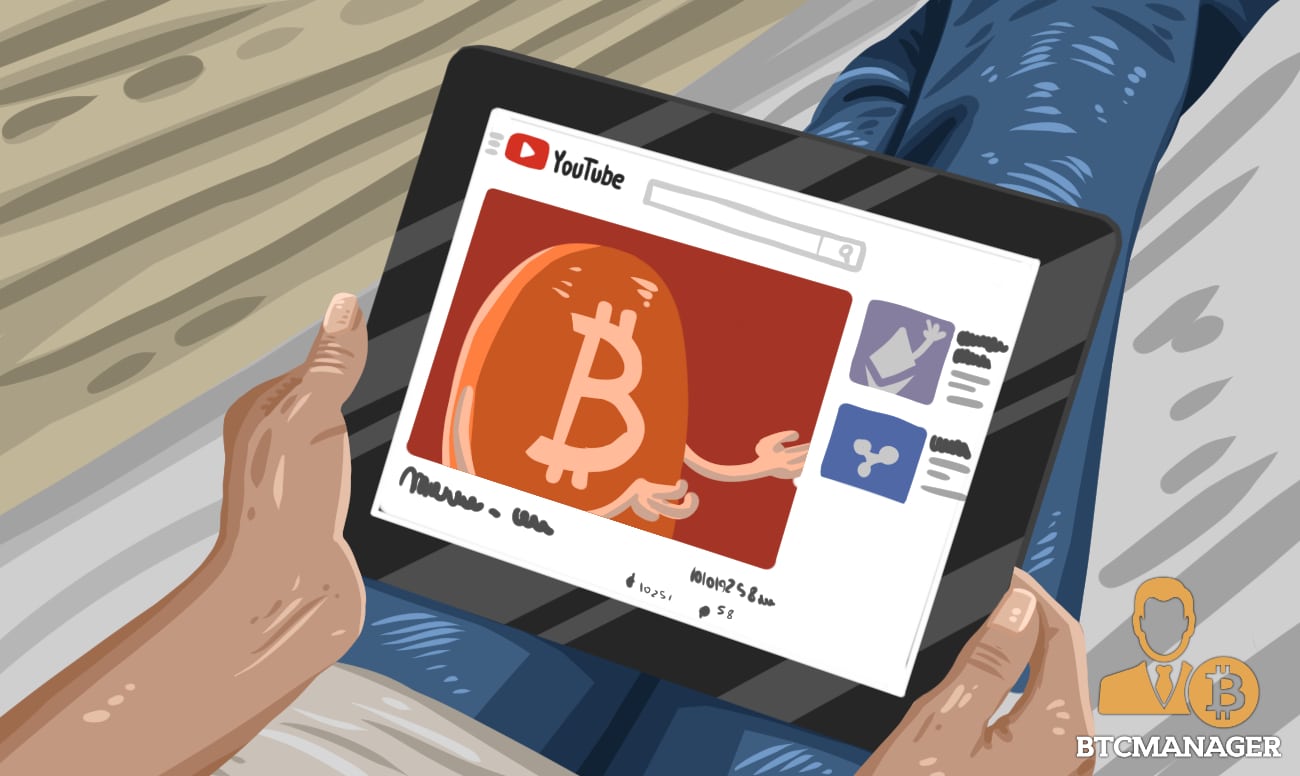 YouTube is more than just a source of entertainment. The video streaming platform has evolved into an important vehicle through which people across the globe acquire new information. It is especially popular as a learning tool because people prefer to learn from their peers or those they feel they can relate to in some way. The cryptocurrency sector is no different.
There are a number of YouTube channels dedicated to blockchain and cryptocurrency-related topics. This article will introduce you to the top fifteen cryptocurrency and blockchain YouTubers you should consider watching.
Altcoin Buzz is one of the few channels run by a team. Initially created by its founder "Jeff" in 2016, a team composed of nine people now run the channel. The videos are focused on updates about the cryptocurrency market, and the Singapore-based channel has over 200,000 subscribers.
The channel posts daily news bulletin videos featuring the most noteworthy happenings in the digital currency market in the last 24 hours. Because of this, the channel is popular among crypto investors and day traders who want to stay up to date with the markets.
Altcoin Buzz will sometimes include information on industry politics as well as other related topics outside the digital currency market.
Michael Gu created the Box Mining channel in 2017. The channel focuses on a range of topics related to the cryptocurrency market, and his videos tend to include more technical information on digital currencies.
As a result, the channel is popular with those who are looking to understand the technical specifications of different digital currencies, updates, and how these relate to the price activity of these tokens.
Box Mining boasts over 192,000 subscribers and Gu puts a lot of effort into the videos as his explanations usually include helpful graphs, images, charts, as well as any other relevant things. There are new videos published almost daily.
Carter Thomas runs the Coin Mastery channel and focuses on investing in the digital currency market. He posts videos in an easy-to-understand format at a fairly predictable rate, which is usually every couple of days.
The content features advice on how to navigate the cryptocurrency market as an investor which includes investment advice and his picks for tokens that may outperform. He also helps his viewers create investment strategies for themselves.
Through the channel, Thomas helps viewers figure out how to read the market and as a result, he has developed more than 122,000 subscribers. Additionally, the channel will sometimes feature information on events that affect the market as a whole.
Rob Paone created the Crypto Bobby channel in 2017. While this is relatively recent, Paone has amassed quite the following in just over a year. The Crypto Bobby channel already has over 140,000 subscribers.
Paone is appealing because of his laid-back yet honest approach to discussing the cryptocurrency market. The content creator has a background in technology and as a result, knows how to break down complex topics into easily digestible and comprehensible formats for his viewers.
The channel focuses on the leading digital tokens, smaller altcoins as well as reviews of upcoming ICOs. Paone publishes videos daily and sometimes hosts interviews as well. He uses tools such as graphs and charts to educate his viewers.
The CryptoBud channel is a unique look into the digital currency market. The channels creator, "Ivan," uses a wide array of scientific methods to study the market. He then provides these insights to his viewers.
One of Ivan's most distinguishing methods is the use of a data analysis system. Using a computer-powered network, he inputs certain data points and is then able to extrapolate the charts that he uses in the attempt to predict market movements correctly. Additionally, Cryptobud utilizes other trading methodologies as well as psychological tools to navigate the digital currency market.
The U.S.-based channel was started in 2015 and has over 77,000 subscribers. In addition to market analysis, the channel also features interviews with high-profile individuals within the sector as well as the creator's opinion on the latest happenings in the cryptocurrency industry. The content is suitable even for beginners.
This U.K.-based cryptocurrency channel is very popular. Launched in 2014, Crypto Daily has amassed over 111,000 subscribers. The channel is so well-liked that some channels posing as Crypto Daily have been sprouting up all across YouTube.
What makes Crypto Daily so well received is the channel's use of humor, sarcasm, and wit. The channel was created and is run by its host, "Cameron," who creates his videos with a format similar to the most popular posts on the video streaming platform.
Using catchy headlines, funny video covers, and generally adding an element of fun to the digital currency space, Cameron has built a trusting and engaging community around him. The channel's content varies wildly, but this builds on the element of fun for which it is known.
The videos include charts, graphs, and other graphics as well as interviews with respected persons in the digital currency sector. Crypto Daily will also publish his thoughts on current news as well as ICO reviews. The videos are posted on a very regular basis, as the name suggests.
DataDash provides a comprehensive look into the digital currency industry. Nicholas Merten created the channel in 2017 and delves into a wide array of topics utilizing many different formats within the channel.
He posts daily updates, live streams, interviews, commentaries on the news as well as his top picks. The channel is well thought out with the various topics separated into different playlists. The videos also have above average production quality and are easy to follow and understand.
If you are looking to learn how to use the trading tools in digital currency exchanges, DataDash has a set of videos dedicated to breaking these tools down in an easy-to-understand format. Merten utilizes different tools and graphics in his videos to foster quick understanding.
DataDash publishes new videos five times a week. Merten's informative and easy-to-follow content has grown his subscribers to over 312,000 subscribers in just over a year.
Created by Peter Saddington, a popular content creator, Decentralized TV is a channel that features videos that provides commentary on the current news and other relevant happenings in the industry.
The channel also stands out because it attempts to explain how the sector relates to the global culture. The videos on the channel are hosted by different people who are part of the Decentralized TV network.
The channel has 76,000 subscribers who are likely attracted to the entertaining, flashy yet impactful take on the cryptocurrency sector showcased in the videos.
The well known Ian Balina created this channel. Balina is a public figure within the cryptocurrency industry, serving as advisors to a number of projects. Additionally, he provides investments tips and strategies to those new to the digital currency market.
On his self-titled channel, Balina provides content centered around investing in ICOs. Balina has devised an approach he refers to "Token Metrics." Within the channel, Balina teaches viewers how the strategy works and how it can be utilized to create profit.
The subscribers on Balina's channel are upwards of 122,000. In addition to learning about Token Metrics, viewers can expect interviews as well as live streams of relevant events that Balina is attending. He also sometimes reviews projects and uploads presentations he has made in conferences.
Welsh content creator Louis Thomas is a YouTuber who posts videos centered around cryptocurrencies. He focuses on market trends, investment picks, as well as providing commentary on current news.
Some of his videos have millions of views, and the channel has 95,000 subscribers. In addition to investment-related topics, Thomas publishes social and political content which are somewhat related to the sector. The videos are well produced, and the material is easy to understand.
If you are looking for a down to earth and easy going approach to mining and market analysis, then Son of a Tech is the place for you. The channel is run by a 31-year-old father who also likes gaming.
The channel focuses on the intricacies of mining digital currencies. You can expect to learn how to navigate this world using the information on the channel as he reviews CPUs, graphics cards, and explains which are better for mining which tokens.
He also showcases optimal designs for mining rigs and other related infrastructure. Son of a Tech has over 35,000 subscribers.
Suppoman offers an entertaining take on cryptocurrency blogging. The U.K.-based content creator takes on the persona of a superhero. This is his main gimmick, and it provides a humorous spin on what is usually serious and engaging content.
Also known as Savage Cash, Suppoman provides information and advice on a wide array of token-related topics. He focuses on investing in the cryptocurrency market to create wealth by maximizing profits. The content is designed to be easy to understand and fun.
The Suppoman channel has 147,000 subscribers and has been active since 2011 and in that time has grown a trusting community around the blogger. This is evident in the engagement his posts receive.
New Zealand-based content creator Crypto Lark publishes new videos daily. His videos are best suited for beginners as they are designed to be easy to understand. They typically involve reviews, news commentary, as well as the occasional interview.
If you are looking for a comprehensive yet straightforward source of information for the basics in cryptocurrencies, then you may benefit from this channel. The channel has over 70,000 subscribers.
The creator of this channel has a background in traditional investing and brings this knowledge to the cryptocurrency market. Fortunately, the videos break down reasonably complex topics in an easy-to-understand manner.
If you are looking to understand how traditional investing compares to the digital currency market as well as how to invest and turn a profit, the Modern Investor will do you good.
Additionally, the short format of his videos is a plus in comparison to other content creators whose videos are quite long. The channel has 99,000 subscribers.
World Crypto Network (WCN) channel provides content focused on developments in blockchain technology as well as the digital currency market. This channel offers high-level discussions about happenings in the industry.
If you are looking to understand the technical, ethical, legal, and political issues affecting the sector, World Crypto Network is an excellent place to start. Videos vary such as the weekly show called the "The Bitcoin Group" or the One-on-One segment, hosted by Andy Hoffman which involves interviews with various crypto experts.
You can also find some tutorials and other crypto-related information. The channel is light on investment tips, however. It boasts 60,000 subscribers.
Whatever you are most interested in within the cryptocurrency community, you will find a YouTube channel that suits your needs as an investor or as someone who merely wants to learn more about cryptocurrencies and the blockchain.