What is Lisk (LSK) and is it a Good Investment?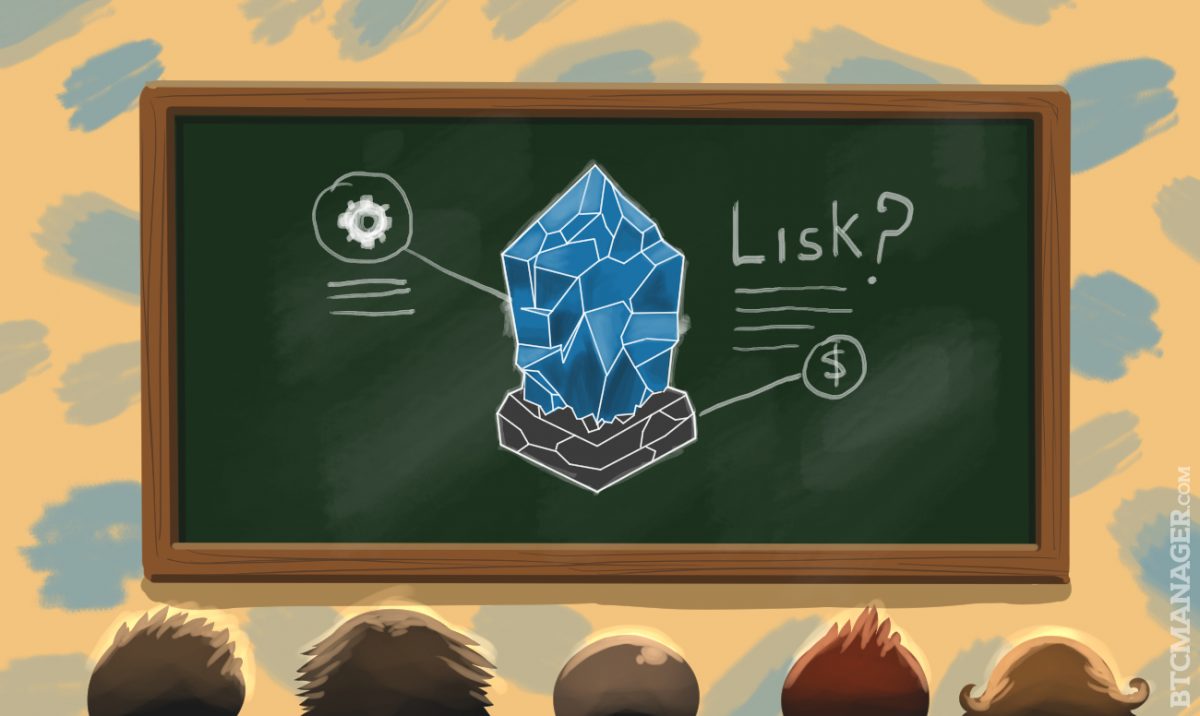 Due to the open-source nature of Bitcoin and blockchain technologies, new cryptocurrencies enter the market on a regular basis offering different features than its pioneering predecessor bitcoin. One of these new cryptocurrencies is Lisk with the ticker LSK.
Skip ahead to the meat. Is Lisk (LSK) a good investment?
What is Lisk?
Lisk is a decentralized network with its own blockchain that has been launched to enable developers to build a wide range of apps on the Lisk network by developing custom side chains.
In that sense, it has similarities to the Ethereum network. However, the Lisk blockchain has not been built with the intention to create smart contracts, but instead to develop different apps and functionalities using the Lisk App SDK framework.
With the Lisk App SDK, developers are able to develop the backend of your application but also the front end. In other words, they can build functionalities for their app and the user interface using the Lisk App SDK. This enables developers to create blockchain applications in a conveniently downloadable package.
The front end (user interface) of applications can also be accessed in a decentralized way, a unique feature within the blockchain industry at present. Also, it is an open source software allowing a clear overview of what other developers are doing and thereby improving new apps and functionalities built on the Lisk network.
Lisk is also a cryptocurrency and has the ticker LSK. Similarly, though Ethereum's ether is not a cryptocurrency that is supposed to be used as a digital currency. Instead, it is the token that fuels the Lisk network and developers require them to build on the Lisk network. Lisk had its ICO (initial coin offering) earlier this year, where 100,000,000 LSK were created and distributed among early supporters, the Lisk core team, partners, advisors and ICO participants raising $5.7 million, the fourth highest crowdfund for a cryptocurrency in history.
Claiming to be the world's first modular cryptocurrency, meaning that various applications will be run on top of the Lisk core and all dApps run their own 'sidechains'. In this way, the Lisk team hopes to keep the 'mainchain' agile and Lisk itself will remain efficient.
Whereas, a problem with Bitcoin is that test or fake transactions can fill up the blocks and slow the network down 'sidechains' offers a way to process high volume transactions without slowing down the main blockchain. Consequently, the speed of the Lisk network should continue to grow faster over time.
Where can you purchase Lisk?
At the time of writing this article, the value of LSK-BTC on the Poloniex exchange stands at 0.00039, near all-time lows. From a contrarian perspective, this makes Lisk an attractive buy as the relatively low price at this moment in time suggests there is less resistance to the market moving to the upside rather than the downside.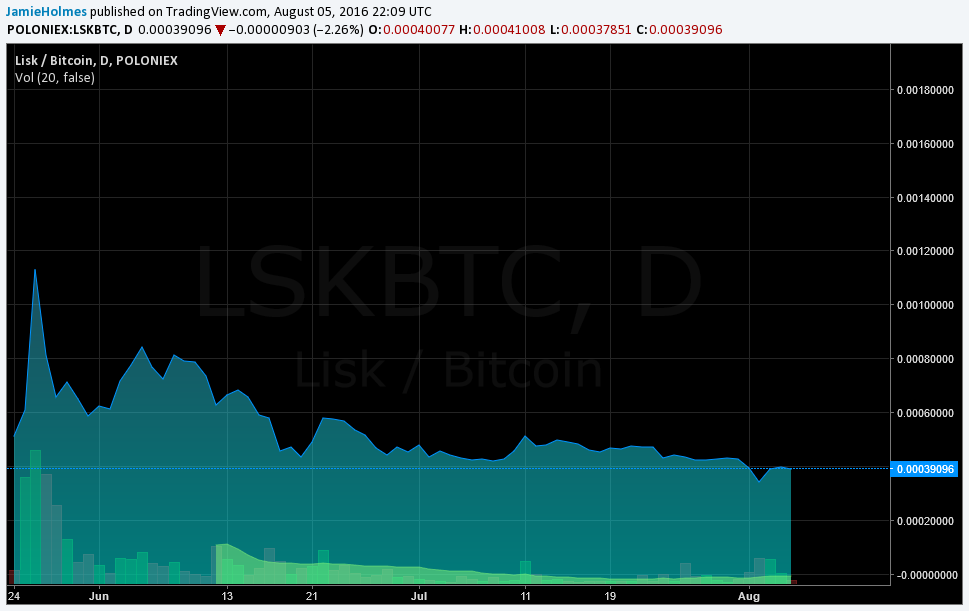 Since LSK hit the exchanges on May 24th the price saw an initial jump against BTC and then steadily declined since mid-June. Recently, LSK received more investor demand and it's price surged against BTC. This is shown above with the uptick in volumes at the beginning of August. Currently, you can purchase LSK on a range of cryptocurrency exchanges including Poloniex, YoBit, Bloombit, Bit and Bitrex using bitcoin, ether and other cryptocurrencies.
Is Lisk (LSK) a good investment?
The future price performance of LSK depends solely on the success of the Lisk network and the adoption of its technology by developers, programmers, and start-ups. Lisk is not a digital currency that can be used to buy and sell goods and services. Hence, unlike bitcoin, no merchants will likely ever adopt the cryptocurrency as a means of payment. Therefore, the key drivers will be technology adoption and investor interest, with the two tending to go hand in hand in the cryptocurrency market as ether (ETH) has shown.
If you are not averse to risky speculative investments and are familiar with the cryptocurrency markets, putting a small amount of money into LSK could potentially turn out to be a very lucrative investment. Given that Lisk uses JavaScript as a programming language, which is popular among tech giants such as Microsoft and Google, the likelihood of its developer base increasing and adopting Lisk as a network to build applications on is quite high.
Furthermore, Lisk has entered into a partnership with Microsoft Azure, which means that developers worldwide can develop, test, and deploy Lisk blockchain applications using Microsoft's Azure cloud computing platform and infrastructure. However, there is a risk that more superior blockchains that offer similar functionalities will emerge then the price of LSK will likely drop sharply.
I would say LSK is a riskier investment than Ethereum's ether as the demand for the development of smart contracts, especially from the financial industry, is huge. Also, a background in programming in necessary to fully understand the Lisk system and may be a barrier preventing some investors from getting on board.
Moreover, while Lisk performs well in terms of developer participation, it is lacking in liquidity, with low trading volumes on exchanges, and needs to build a larger community around itself to generate more discussion on social media relative to more successful cryptocurrencies like bitcoin or ether.
Nevertheless, the potential reward for investing now is also large; the main advantage over Ethereum is that all Lisk applications run on their own blockchains, i.e. the 'sidechains', which could provide an advantage in scaling to a mainstream audience.
LSK as an investment will only perform well in the long run if the Lisk network becomes a leading blockchain technology for start-ups to build new apps over the next year or so, which up until now looking very promising.