Margin Trading With PrimeXBT: Platform Overview And Review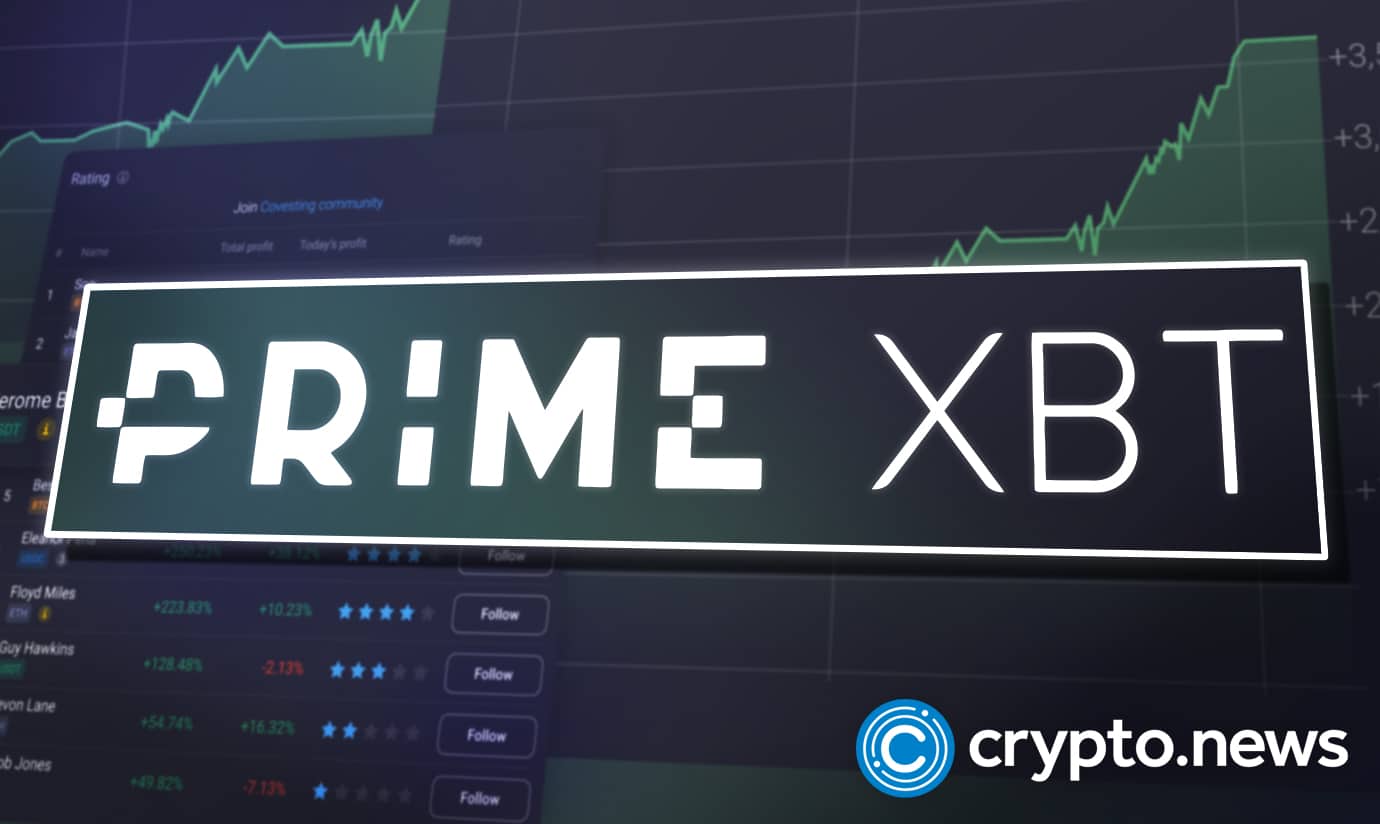 PrimeXBT is one of the fastest-growing margin trading platforms around. It is renowned across the crypto industry as a top-tier player and the preferred platform for traders who are looking for exposure to traditional assets like gold, oil, stock indices, and more under one roof.
Because the award-winning platform is regularly updated with new features, improvements, and new trading instruments, we wanted to provide a detailed overview of what to expect from start to trade and how to take advantage of everything the all-in-one solution has to offer. We conclude with a brief review and the final verdict on a recommendation.
Here is everything you must know about the platform.
Account Registration, Deposits, And Withdrawals
Getting registered is a breeze, requiring only an email address and country to get started. After confirming the email is valid, users can log in and make their first deposit. At this point, users can also set up two-factor authentication and add any personal wallets to a whitelist for withdrawals.
There are no minimums on deposits. BTC and ETH are accepted, as well as both ERC-20 and BEP-20 versions of USDT, USDC, and COV. Cryptocurrencies can also be purchased from an internal module from a third-party partner. There is also an exchange tool built into each wallet so users can swap from one currency to another.
The secure cryptocurrency wallet system is where both deposits and withdrawals are made. Withdrawals require a small fee to cover blockchain-associated costs. However, PrimeXBT recently lowered fees to be even more competitive. Withdrawals are made only once per day, and while this does require patience, it has been proven effective in preventing hacks or lost funds – the proprietary cold storage solution used by PrimeXBT is virtually hack-proof.
Reliable Trading Engine, Long And Short Positions, Leverage
This ensures that the trading engine is reliable and always on more than 99.9% of the time. The only time PrimeXBT goes down is during scheduled maintenance that is posted well in advance and done during off-hours to reduce any disruption to users.
The trading platform is built on lightning-fast infrastructure, so orders are executed in a flash and at the price a trader is aiming for. There is never any risk of slippage, and the mix of long and short positions – even simultaneously – gives traders the ultimate control over their positions and portfolio. Leverage also lets users trade with less capital on the line, condensing their risk and maximizing potential reward.
Traders can take positions on more than 100 different trading instruments, including Bitcoin, gold, oil, the S&P 500, and forex currencies. A massive update with dozens of top altcoins was recently added. The list now includes coins from sectors like GameFi, DeFi, Metaverse, meme coins, and more. These trending cryptocurrencies trade on the very same platform as traditional assets like commodities, metals, and stock indices – and all from a single margin trading account.
Covesting Copy Trading Module, Strategy Managers, And Followers
The same account can also be used to open up an account within the Covesting copy trading module. This almost magical solution turns a margin account into either a strategy manager or follower account instead. Strategy managers trade just like a regular margin trading account, except their performance is tracked within a transparent global leaderboard, and other users called followers can copy the strategy manager's trades.
Strategy managers must keep their ROI high and take measures to protect capital to rise the ranks and attract as many followers as possible. Followers copy the trades of strategy managers they have chosen from the list based on performance. A five-star system helps to put a spotlight on incredibly savvy or safe strategy managers.
Top strategy managers have made as much as 90,000% ROI while making a fortune for their followers in the process. Strategy managers also make extra money by getting a cut of their follower's winnings, encouraging them even more to build their followings and their rank via ROI.
MyCOV, Token Memberships, Extra Account Utilities
Because the Covesting copy trading module is featured so prominently on PrimeXBT, it only makes sense for the platform to have integrated the COV utility token – the native crypto token to the Covesting ecosystem. To access its many features, users must activate a COV token membership. COV tokens recently became available to use as collateral in margin trading accounts.
COV token memberships include Advanced, Premium, and Elite, with each unlocking an increasing level of account utilities and enhancements. Strategy managers, for example, can unlock a trading fee discount, while followers can increase the number of strategies they follow. Memberships can be activated in the MyCOV section of the platform.
The MyCOV section also includes information about the COV token itself, including supply information, price, the total number of tokens burned, and information on the contract itself. COV token memberships can be activated or deactivated at any time.
Yield Accounts, Passive Investing, And DeFi
COV token memberships are also the key to activating as much as a 2x boost on variable APY rates on idle crypto assets through staking using Covesting yield accounts. Yield accounts earn as much as 14% back in crypto rewards, offering some of the highest in the industry.
Yield accounts make DeFi easy for the first time by letting users stake idle crypto assets right from within the PrimeXBT dashboard. The tool connects to top DeFi protocols like Balancer, Curve, Yearn Finance, and many others. More DeFi protocols and CeFi platforms are on the way.
These rates fluctuate based on current market conditions such as demand, volatility, and more. Between the Covesting copy trading community and yield accounts, there are some solid options available for passive crypto investors.
PrimeXBT Trading Academy, Contests, And Technical Analysis Tools
More active traders, or those that want to become more involved in the trading community, can learn a lot from checking out the PrimeXBT Trading Academy. This educational website features tons of videos, tutorials, guides, and more. Expert trader Dirk Hartig teaches the next generation of traders the ropes.
Users can then take this expertise and put it to the test in the Contests section. Not only is there a chance to win prizes of as much as 100,000 USDT, but it offers a stress-free simulated market environment where users can trade to compete in competitions using no-risk virtual funds. Users can take advantage of this tool to backtest trading strategies or practice what they've learned in the trading academy.
PrimeXBT wants their traders to perform well, which is why they include these educational and competitive tools. It is also why they provide built-in technical analysis tools, so traders never need to leave the platform to get a proper read on the market. Traders can draw trend lines, toggle indicators on or off, and much more.
Customer Service, Tax Reporting, And Mobile App
Other platform features include a Help Center, Blog, and 24/7 customer support via live chat. There is a dedicated account manager on at all times for fully personalized service. A referral program is also available, offering outstanding commissions for bringing in new traders. And with all we've covered, promoting an easy-to-use link will speak for itself.
A reporting section is available for accounting and tax reporting purposes. There is also detailed trade history for users who want to review their past performance. Various promo codes can be activated, such as deposit boosts or trading fee discounts.
To cap it all off, there is a free mobile application for Android and iOS devices that offer access to all of these features from anywhere in the world while on the go.
PrimeXBT, A Review, And Our Final Verdict
Now for the review itself. After covering off on so many different notable features, products, and services, is it any surprise that we recommend PrimeXBT hands down as one of the top trading platforms we've come across? The attention to detail and customer experience is second to none. And there is no other list with quite as extensive a list of trading instruments.
The advanced trading tools are designed to satisfy the needs of professionals while being simple enough to understand and use for complete novices. The brand is also committed to turning beginners into legends, with its many products geared toward helping traders step up their games.
Both highly active traders and passive investors are well represented here, with plenty of options for both types. The signup process, no minimums on deposits, and more also make giving the platform a chance even easier. With a glowing reputation and growing user base, PrimeXBT is a platform you absolutely have to try.