Metacade and Cardano price prediction for 2023 to 2025: What are the drivers?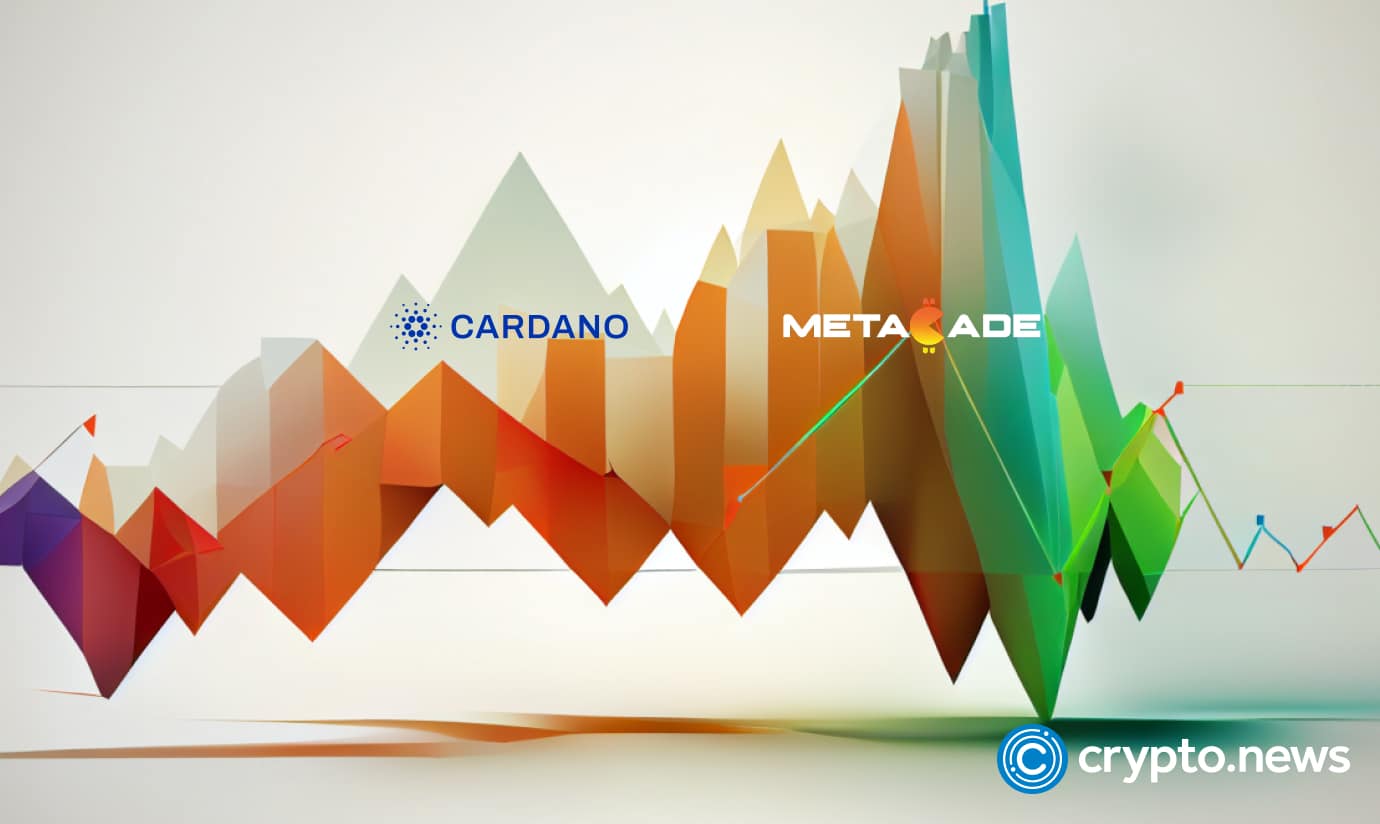 Cardano may be one of crypto's most valuable projects by market capitalization, but its slow approach to development and low adoption could hinder its growth. Given this, can Metacade be the alternative? Find out in this Cardano (ADA) price prediction for 2023 to 2025 the drivers behind the smart contracting platform's price and efforts by Metacade (MCADE) to carve market share in GameFi. 
Cardano – Is it the future of crypto, or is it overvalued? 
Cardano is a layer-1 blockchain and currently the fifth most valuable cryptocurrency, excluding stablecoins. Some have termed Cardano the "future of crypto" thanks to its academic approach to development that keeps the network secure and compliant with regulators' laws.
However, critics point to Cardano's careful approach as a negative, highlighting that it always seems late to the party. The network only introduced smart contracts in late 2021, for instance, while Ethereum had been using them since 2015.
Moreover, it's seen limited adoption in the dApp, DeFi, and NFT spaces compared to other similar projects. According to DeFiLlama, there's just over $100m in total value locked (TVL) on the Cardano network, a figure that's relatively lower than Ethereum's $33b or BNB Smart Chain's $6.3b. Meanwhile, DappRadar lists 30 Cardano dApps, while projects like Fantom and Tezos feature dozens more.
Cardano price prediction
Since Cardano has such a high market cap, some analysts have questioned whether ADA is overvalued and are beginning to lower their Cardano price predictions. Currently, average Cardano price predictions stand around $0.84 by the end of 2023, just over double today's price of $0.37.
For 2024, many Cardano price predictions lie around the $1.47 to $1.60 region, still well below its all-time high of $3.10. Finally, those believing that Cardano is the "future of crypto" may be sorely disappointed by 2025, with the majority of Cardano price predictions topping out at $2.38. While this would represent a 543% increase on its current price, many believe that Metacade could provide returns well beyond this figure by the end of this year.
Metacade raised $6.2m during the presale round
Metacade is a play-to-earn (P2E) community hub storming ahead in its ongoing presale. With GameFi forecast to dominate the gaming sector in 2023, growing at 10x the speed of traditional gaming, investors are accumulating MCADE tokens at a discount. Collectively, Metacade has already raised over $6.2m in 11 weeks of the presale.
Investors are buying MCADE tokens aware of how vital community spaces are to gamers, and GameFi will be no different. On the platform, there'll be everything players need to get started exploring the world of P2E, like sub-communities for individual titles, reviews to help them find the games worth playing, and spaces for learning how to boost their P2E income.
However, Metacade is different and is innovating. They have a reward system that pays players for their role in growing the platform. Each time someone shares a review, some winning alpha, or interacts with the community in other ways, they'll earn MCADE. This feature has the potential to attract some of the very best GameFi knowledge and make Metacade the ultimate resource for P2E gaming.
There's also the Metagrant program, launching later this year. Metagrants are grants given to game developers to help their fledgling projects take flight. MCADE holders vote on ideas from a pool of competing proposals, with the winner receiving financing from the Metacade treasury and the community's support. The final game is then added to Metacade's virtual arcade.
The Metagrant scheme could be a catalyst for Metacade's growth. The feature allows the community to directly impact the development and success of the latest P2E games and could attract some of Web3's top talent to the platform. This level of community ownership and engagement is unparalleled in the GameFi space, explaining why MCADE price predictions have been bullish lately.
Metacade price prediction
By the end of 2023, many investors and market experts have set targets for MCADE to reach $0.20, up from the final presale price of $0.02. If GameFi takes off as predicted, Metacade could benefit from 2024 to 2025.
Some put estimates for MCADE to reach $0.60 in 2024, with a few calling for $0.80 by the end of 2024. By 2025, many put their Metacade price predictions at a minimum of $1, some even going as high as $1.25.
Can Metacade dominate GameFi?
While some still hold on to the belief that Cardano will be the future of crypto, its slow approach could mean that other projects like Ethereum and BNB Smart Chain take the lead in the race for mainstream adoption. If Cardano continues struggling to grow its ecosystem, then ADA could fail.
Metacade faces little competition, and its presale success can be a testament to how investors value the project's potential. The platform's reward system and Metagrant program set it apart from other GameFi projects. Its community-centric vision aligns with the growing trend of decentralization in the gaming industry.
You can buy Cardano (ADA) at eToro here.
You can participate in the Metacade presale here.
Disclosure: This content is provided by a third party. crypto.news does not endorse any product mentioned on this page. Users must do their own research before taking any actions related to the company.