Moonshot Coins in July 2018: VeChain, Zilliqa, Kucoin Shares, and Wanchain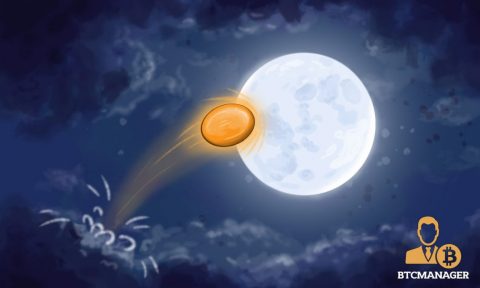 While Bitcoin and altcoins are currently floating in a sea of red, this has become too common in the past six months. However, corrections are expected as this market has always been volatile and more and more countries and industries are beginning to adopt, use, and evolve by using blockchain technology.
No one said trading cryptocurrencies was for the faint-hearted. Anxiety and depression are both common among stock traders; do not let the crypto market get to you so quickly as it is much more anxiety provoking.
With such extreme volatility comes the opportunity to attain huge gains. This week has four cryptocurrencies worth putting on the watch list that may have enormous opportunities for growth this Q3, including; Wanchain (WAN), Venchain (VEN), KuCoin Shares (KCS), and Zilliqa (ZIL).
WANCHAIN (WAN)
Wanchain is a network that can connect and exchange value between different blockchain ledgers in a distributed manner. What makes the Wanchain distributed ledger special is that it records both cross-chain and intra-chain transactions. The best part about Wanchain is that any blockchain network can integrate with Wanchain technology to establish better connections between ledgers and have lower inter-ledger asset transfer costs than traditional methods.  
Wanchain recently celebrated their main-net launch at the evening event at their most recent conference last week. On tour with some of their partnerships, they explained how different companies would be using the Wanchain blockchain.
The AllSpark platform will allow content creators, distributors, and consumers to participate in a new type of economy with fair content trading only. This leaves the actual value of the content up to the free market to determine. Portal Network is a blockchain company that has the goal of establishing the perfect cross-blockchain solution by deploying many Domain Name Service (DNS) smart contracts.
TokenLoan is a platform where people wishing to borrow funds will have the ability to borrow digital assets from lenders, while lenders will have the opportunity to receive interests on their digital loans. Litex is a decentralized cryptocurrency payment platform built on LTXN network. With high transaction speeds and low payments fees, there is a lot in store for the future of Litex.
Bitrue is a cryptocurrency exchange that plans to provide the most reliable digital assets management service to this date. Bitrue began with a vision of providing both beginner and expert traders a highly secure and efficient place to manage their digital assets.  NEM is a peer-to-peer (P2P) blockchain that improves the basic functionality of cryptocurrencies. It delivers a platform for the management of any digital asset. With many partnerships already building on the Wanchain network, it is likely that the company will continue to grow.
VeChain (VEN)
VeChain not only has a large cap but has also seen significant market adoption in the supply chain management industry. VEN is a platform built on a blockchain that is designed to enhance supply chain management. VEN accomplishes this goal by utilizing tamper-proof distributed ledger technology (DLT).
The end goal being that retailers and consumers have the ability to without question determine the authenticity of specific products. Issues with luxury goods, pharmaceuticals, and foods being counterfeit have become a severe problem. VeChain plans to provide the solution to that problem through its application of blockchain tech.
VEN just went through a rebranding process this year into VeChain Thor and with the rebranding came new wallets. On July 9, 2018, a new VeChain Thor Mobile wallet was released. Usually, a wallet is not a reason for traders to raise an eyebrow, but the way VEN went out of their way to publicize this change may mean there is something lurking that we do not get to know about yet.
VEN may very well have a wallet that does more than impress in Q3. The market reaction on July 9 will be very telling if the portfolio is noteworthy and whether VEN will have a profitable Q3.
KuCoin Shares (KCS)
While many exchanges are creating their token. There are aspects to the KCS token that truly gives it value. The characteristic creating the current increase in price is that KCS is currently having a competition called Vote to List. As it sounds, there will be a vote, and the winner will be a new coin listed on the exchange. If you wish to participate and vote in this competition for a coin you wish to see on KuCoin, you must be registered on Kucoin by July 12. Then, KuCoin will send you an email with a link to vote once the competition has begun on July 12, 2018, at 18.00 UTC+8.
What makes KCS so beneficial to KuCoin users is that, if you hold KCS in your account, KuCoin is going to reward you with incentive bonuses. These rewards add up to 50 percent of the total trading fees charged by the platform.
KuCoin has Invitation Bonuses. You are able and encourage to invite other people to register with KuCoin with your invitation code, and if you have successfully invited others to trade on KuCoin platform, you can share the invited person's trading service fee as a bonus. How this works is that you will get 20 percent of the fees of directly invited users, while directly invited users will get 12 percent of the fees from the indirectly invited users, and indirectly invited users will get a total eight percent of the fees of indirectly invited users.
By holding a certain amount of KCS in your KuCoin account when placing transacting, it can lower the transaction fees. KuCoin takes a snapshot of your KCS holdings every day at 00:00 UTC + 8. The new discount rate should be available one hour after the snapshot and remains available until the next snapshot.
When holding 1,000 KCS, you are entitled to a one percent discount of trading fees, keep in mind that maximum possible discount is 30 percent. Meaning that if you are holding 10,000 KCS you will get a ten percent discount and if you are holding 70,000 KCS your maximum discount rate will be still 30 percent.
Holding a certain amount of KCS on your KuCoin account entitles users to access special services like one-on-one investment consultations, customer service Fast-Pass, and much more.
KuCoin Shares reached an all-time high January 12th, 2018 when it was trading at $20.61. Currently, it is trading at $3. With so many great incentives to holding the coin, and reoccurring Vote to List competitions that continuously temporarily increase the coin's value, KCS is definitely a coin to watch throughout Q3.
Zilliqa (ZIL)
The quality and determination of a team behind a project is what truly makes a project a success or a failure. This is a factor that Zilliqa does not have to worry about as they have a stacked team of developers and advisors.
Scalability continues to be a prevalent problem across the blockchain industry. Zilliqa is now offering a head-on solution to this scalability problem. The Zilliqa platform is currently running on its test-net, however, it is scheduled to launch its main-net in Q3.  Zilliqa demonstrated 2,400+ TPS on their test-net while only using 3,600 nodes. While this is an impressive feat, test-net environments cannot imitate real-world conditions. With such an impressive test-net, it will be interesting to see the launch of the main-net over the next few months.
How is ZIL standing out from the rest of the cryptocurrencies? Developing smart contracts on the sharding-based Zilliqa platform was no easy task; the ZIL development team has created a new programming language entirely (Scilla).
ZIL has a technological advantage over its competitors that has already attracted projects. Zilliqa has a serious chance at becoming one of the leading blockchain platforms as more and more quality projects start to partner up with ZIL.
Being up-to-date with what projects are out there and what is happening in the near future (Roadmap) is critical to help traders make good investing decisions. It is important to not only keep an eye on these coins listed above, but to constantly keep up the project roadmaps. Understanding where a coin has been, where it is currently, and where it is going is the only way a trader can invest wisely. These coins all have major applications to society with many exciting things happening soon. The four cryptocurrencies that have may have opportunities for growth this Q3 include; Wanchain (WAN), Venchain (VEN), KuCoin Shares (KCS), and Zilliqa (ZIL), and don't forget them as everyone should keep an eye on these coins as they may even be possible moons.
Kucoin registrations can be done here.