MyEtherWallet Announces Integration with DeFi Protocol Aave (LEND) and Ren (REN)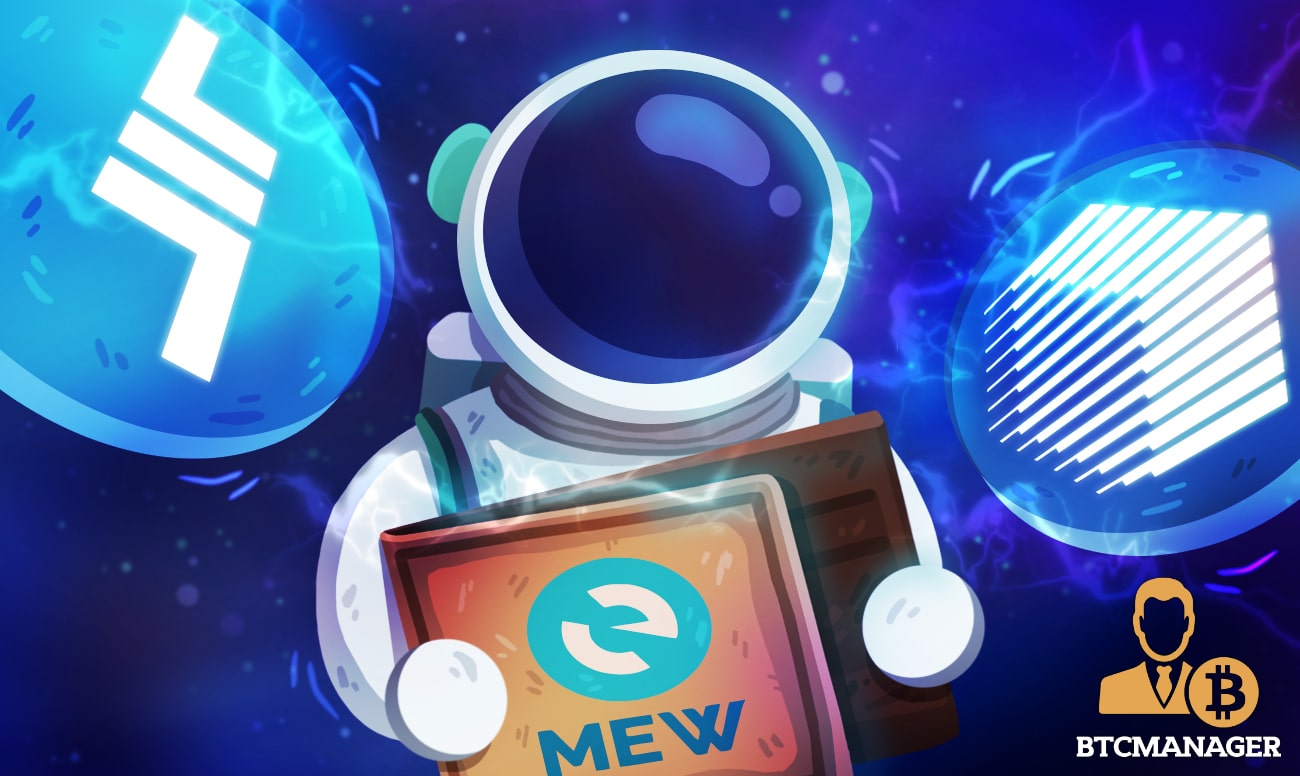 Open-source cryptocurrency wallet MyEtherWallet (MEW) integrates leading DeFi lending platform Aave (LEND) and blockchain interoperability protocol Ren (REN) into its ecosystem via MEWConnect.
Laying the Blocks for Decentralized Economy via MEWconnect
DeFi is all the rage today, and it shows no sign of slowing down anytime soon, perhaps for all the right reasons.
The idea of DeFi — short for decentralized finance – stems from user's need for full custody over their assets without the involvement of any financial intermediary. DeFi serves this need, and much more, as it makes users their own banks by allowing them uninterrupted access to their funds and DeFi instruments from anywhere in the world without any geographical or time-bound restrictions.
That being said, to fulfill the promises mentioned above without some flexibility would be close to impossible as there can be myriad hurdles that could factor in, such as a country's government blocking access to a particular web page or inability to purchase and ship a hardware wallet to an individual's place of residence, among others.
MEW provides this much-required degree of flexibility through its numerous integrations with different types of wallets, including 10 hardware wallets, 3 mobile connection protocols, 3 browser wallets, and 3 software methods.
MEW's connection protocol, dubbed MEWconnect, is a testimony to the wallet's commitment toward fostering a future decentralized economy as it allows developers to make their dApps available to hundreds of thousands of MEW users.
In a relatively short period, MEWconnect has cemented itself as a force to reckon with that enables individuals to discover the endless exciting opportunities that the decentralized web has to offer.
Welcoming Aave and Ren to the MEW Ecosystem
As the next logical step in its quest toward building a decentralized financial ecosystem, MEW has now integrated DeFi lending platform Aave (LEND) and blockchain interoperability protocol Ren (REN) into its ecosystem.
Commenting on the development, Kosala Hemachandra, MEW Founder and CEO, notes:
"MEWconnect helps us continue to be a nexus point for Ethereum and support the community's goals of a broad and widely accessible decentralized ecosystem. We're excited to have Aave and Ren integrated as well as other Dapps to follow, letting users experience the enhanced capabilities MEW has to offer."
As many of MEW users might already know (thanks to MEW's dApp page), Aave is one of the most popular and trusted DeFi dApps while simultaneously being one of the largest lending protocols.
Aave has rapidly risen through the ranks, firmly establishing itself as a leading DeFi lending protocol as it continues to add support for new digital assets. Aave's integration into MEW's ecosystem means a mutually-beneficial relationship between the two entities.
While Aave will benefit from exposure to the hundreds of thousands of MEW users, MEW wallet app users will benefit from the latest updates coming from Aave.
Marc Zeller, Aave's Integrations Lead noted:
"MEWconnect is the brand new synergy bridge between MEW and Aave communities, allowing safe and seamless access to Aave services for MEW users."
Similarly, MEW has also integrated Ren (REN), a proven blockchain interoperability protocol committed to the development of the DeFi space.
Ren's integration into the MEW ecosystem is particularly significant as it would enable MEW users to use their non-Ethereum assets such as Bitcoin, Bitcoin Cash, and Zcash in Ethereum DeFi dApps.
Ren differs from other blockchain interoperability solutions such as WBTC in that it is fully decentralized and permissionless and offers a much higher transaction speed. Interested individuals can learn more about Ren here.
Michael Burgess, COO of Ren, says:
"Incorporating MEW Connect into the Ren ecosystem expands our reach, and provides MEW Connect users access to interoperability for DeFi. So naturally, it's a win-win, and we couldn't be more excited for this and future collaborations."
A Call to Become a Part of the MEW Ecosystem
MEW is aware of the need for flexible products to manage digital assets as DeFi, and open-source financial instruments gain more traction.
Staying true to its aim of providing the best possible experience to its users, MET strives to become more flexible and adaptable according to the dynamic needs of its community.
For instance, if a user wishes to open a vault with a hardware wallet, they can simply use MakerDAO in MEW.
If a user wants to check out the latest crypto assets on Aave, they can connect the MEW wallet app to Aave's interface through MEWconnect.
In the same vein, users can choose MEW's dApp page or ENS domains to register an ENS domain for their MetaMask wallet.
As might be evident from the aforementioned examples, the possibilities are endless and ever-growing with MEW.
MEW wallet not only allows users to swap tokens and ETH right from their phones but also enables them to experiment with dApps without any hassle via its dApp page or the MEWconnect protocol integration.
Curious dApp developers are encouraged to consider adding MEW connect protocol to their access methods and, in turn, become a part of the MEW ecosystem.
MEW provides a secure, intuitive, and entirely decentralized platform for developers to showcase their dApps to its hundreds of thousands of users. The developer dApps will be visible in the MEW wallet app's directory, where MEW users can easily find it. With an easy and straightforward integration process, any developer can showcase their promising dApps to MEW's broad audience. Further, in case of any issues faced by developers, they can always contact MEW's support team.
Exclusive Chat with MyEtherWallet CEO, Kosala Hemchandra
To know more about the integration with Aave, Ren, and the MEW ecosystem in general, BTCManager spoke to Kosala Hemachandra, CEO, MEW.
BTCM: Tell us more about MEWconnect. What are its advantages over its competition (if any) that can help developers keen on building dApps?
Hemachandra: MEWconnect brings MEW's hundreds of thousands of users to the dApp. Integrating the protocol also gives the dApp a place in MEW wallet app's interface, so it improves dApp discovery for the developers. Also, the MEWconnect API is very quick and easy to integrate, and our team is ready to help developers with any questions. The most interesting unique feature of MEWconnect is the way we handle the connections between users and the browser. Unlike other connection protocols we don't use relay servers, MEWconnect is P2P and uses WEBRTC to establish the link.
BTCM: How does the Aave integration benefit the MEW ecosystem?
Hemachandra: We are dedicated to bringing the best of what Ethereum has to offer to our users, and DeFi is highly relevant right now. Aave's integration of MEWconnect allows MEW wallet app users to have access to the latest updates in Aave via the seamless connection through the MEWconnect protocol. These two integrations are just the first step in creating a network of connectivity that will give our users security and convenience when exploring dApps on the web, and will give dApp developers quick access to a large user base.
BTCM: What prompted you to integrate Ren instead of other similar blockchain interoperability protocols?
Hemachandra: Compared to other protocols, Ren is fully decentralized, which is important for MEW's dedication to keeping all our tools decentralized and respecting users' privacy, and also makes the protocol much faster due to the noncustodial, fluid nature of the value exchange.
BTCM: What are MEW's future plans for the DeFi space? Can MEW users expect something exciting in the near-term?
Hemachandra: As in the past, MEW is dedicated to bringing the latest and greatest features of Ethereum to our loyal user base. Adding more DeFi related functionality definitely goes in that basket. We have some exciting partnerships lined up and currently, our whole dev team is working on the next iteration of MEW web (version 6) which is DeFi focused from the ground up.
BTCM: What do you see as the current bottlenecks hindering the mainstream adoption of cryptocurrencies? How does MEW plan to tackle these hurdles?
Hemachandra: One issue that always comes up with crypto, and now DeFi, is usability – but that doesn't only mean a friendly user interface. It also means security and awareness of risks. MEWconnect protocol helps our users feel comfortable and keeps them safe when using other dApps (instead of using their keys directly all over the internet, which would make their wallets very vulnerable to phishing).
The presentation of dApps in the MEW wallet app interface makes them aware of the possibilities out there and encourages them to try new dApps. Also, our interfaces (both for MEW wallet app and MEW web)  feature safety measures that help keep the user from overspending accidentally, getting a bad trade, or using DeFi in a way that puts them at risk of liquidation.
Finally, we have lots of educational resources available in our support center, on our blog, and even in the interface itself, to help guide users and make the experience painless.
Interested developers can check out the MEWconnect page and their GitHub for more details.