New Zealand: Crypto Exchange Cryptopia Doubles its 1 Million User Base in Less Than a Year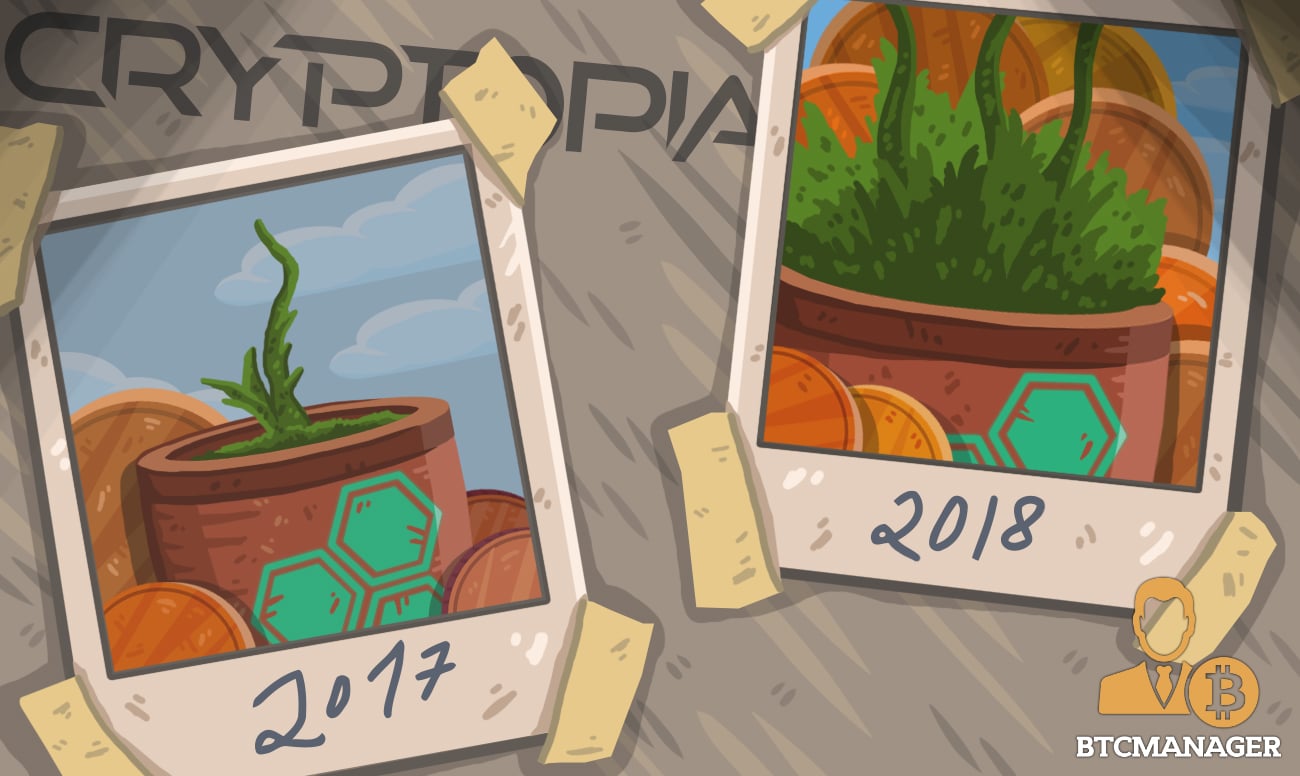 Cryptopia, the host of the world's largest range of cryptocurrencies, has increased its worldwide user base by 116 percent since December 2017, and is now counting more than 2 million users, the company announced in a press release on October 4, 2018. 
Cryptopia Accelerates International Growth by More Than 100 Percent
Despite gloom predictions about the future of the market, the cryptocurrency fever doesn't seem to face. A testament to the crypto boom is Australia, which has been leading the way for mainstream crypto adoption for quite some time now.
New Zealand-based Cryptopia, the host of the world's largest range of cryptocurrencies, is one of the companies reaping benefits of the crypto craze.
In the press release, the company announced that it has increased its worldwide user base by 116 percent since December 2017. The company, founded in 2014 by Rob Dawson and Adam Clark, said that it now has more than 2 million active users.
The incredible increase in the number of its users, however, fades in comparison with the increase in the company's headcount. According to the company's website, Cryptopia grew its team extensively and now has over 90 employees. The number is a 389 percent increase in headcount in just nine months.
Cryptopia has also welcomed a new sales and marketing director, Raj Wadhera. Wadhera, former CMO for Microsoft New Zealand, is another example of a hugely experienced exec making the jump to a big cryptocurrency exchange. Prior to joining Microsoft, Wadhera was Head of Business for Vodafone New-Zealand before moving to the UK as Vodafone's Head of Convergence.
"The crypto market is booming," Wadhera told Business Insider Australia, "and I'm excited to join one of its most dynamic players."
Unparalleled Business Growth
Cryptopia's CEO, Alan Booth, told Business Insider that Wadhera joined the company at a pivotal time, as it is experiencing accelerated business growth.
The growth can't be attributed to the growing market, as reported that the crypto market in total sunk below $200 billion in September 2018 – its lowest level since November 2017.
What could explain Cryptopia's unparalleled growth is the overwhelmingly positive attitude both Australian citizens and its government have towards cryptocurrencies. According to a news.com.au report from September 7, Australia has seen a threefold increase in the number of its citizens who own cryptocurrency. Citing a survey of 2,000 people by Finder-backed brokerage firm HiveEx, news.com.au reported that around 13.5 percent of them owned crypto in August, compared to just five percent when the same study was conducted in January.
The study, which was also cited in Cryptopia's press release, showed that almost 80 percent of its respondents would regularly use cryptocurrencies for their day-to-day purchase if they were as easy to use as Australian dollars.