Nigeria's Central Bank Restricts Use of Credit Cards Abroad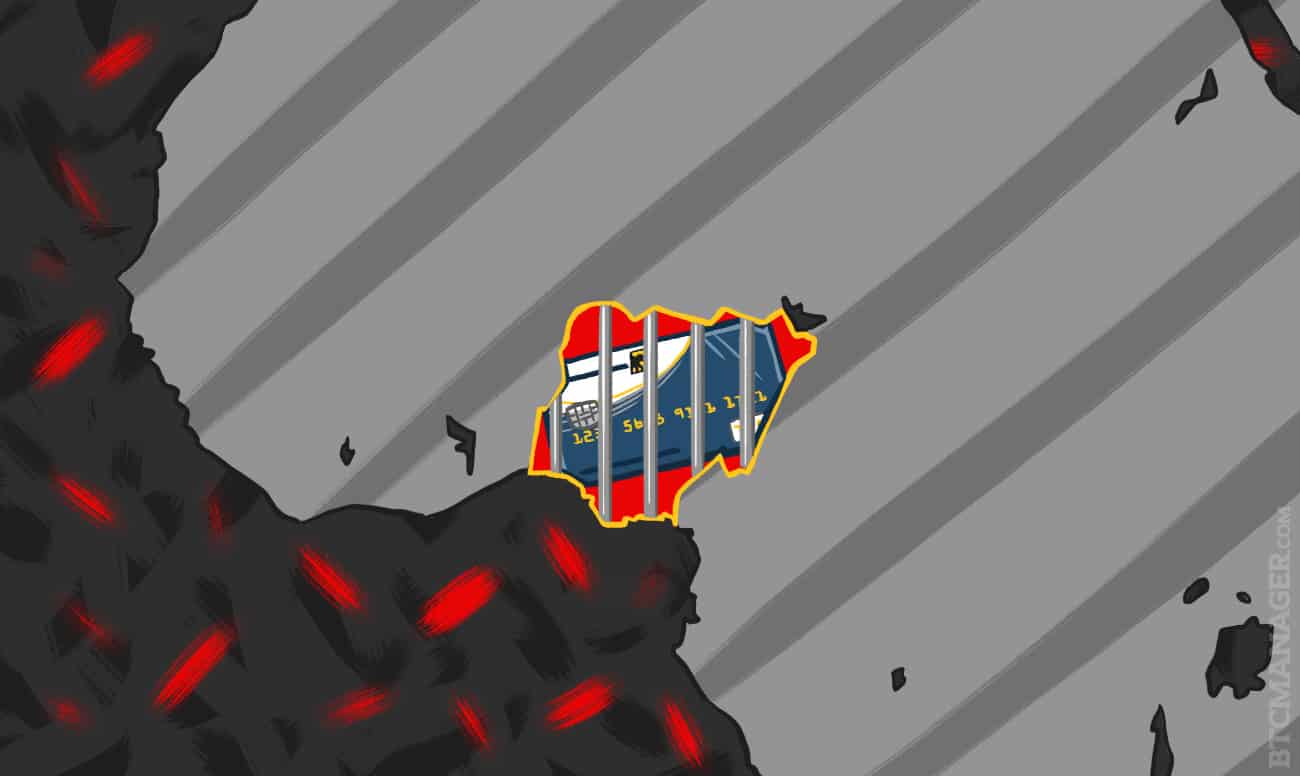 The Central Bank of Nigeria has temporarily suspended certain operations of commercial banks in the country and has disallowed the use of Nigerian credit cards abroad, due to the limited foreign exchange supply in the financial market.
Leading financial institutions and banks including Standard Chartered have already notified its customers regarding its abrupt termination of foreign credit card services. Some banks have restricted the daily limit of credit cards drastically.
The British Broadcasting Corporation obtained a letter distributed by the bank to its clients: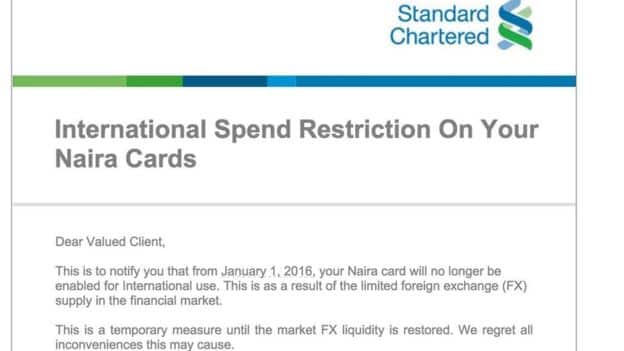 Since the beginning of 2015, the value of the Nigerian currency, the naira, plummeted due to the decline in the price of its main export, oil.
According to the OPEC oil cartel, nearly 90% of total overseas revenue in the country is made up of petroleum exports. Because of the declining oil price, the country's budget deficit is predicted to double to US$11 billion by 2016, pressuring the government and the office of president Muhammadu Burahi to seek overseas funding.
"This huge decline is having a painful effect on our economy. Consumption has declined at all levels. In both the private and public sectors, employers have struggled to meet their salary and other employee related obligations," said Buhari.
The restriction of overseas credit card uses and strict currency controls employed by the Nigerian government are a part of an urgent short-term plan to recover from its loss. The government has also switched its focus on cross-industry tax collection and have announced an investment plan to other prominent industries such as mining and agriculture to eliminate its dependency on oil.
Alternative Solutions
Over the past few months, Nigeria has seen the emergence of electronic payments and mobile financial applications which enable both regional and international remittances. However, due to the currency financial issues in the country, it has become increasingly difficult to use fiat-based digital platforms such as PayPal or Western Union to move out cash from Nigeria to other countries.
According to the BBC, the majority of credit card holders in the country are wealthy Nigerians who travel abroad regularly to use their credit cards for transactions. With the shortage of US dollars and other foreign currencies in the market, it is a possibility that Nigerians may explore alternative independent currencies to settle payments internationally.
Unfortunately, most fiat and reserve currencies circulating in the economy of Nigeria have low international exchange rates and are difficult to transfer due to international financial policies. Similar to Argentina, carrying US dollars or other major currencies could be taxed heavily by the border controls.
While bitcoin adoption rate and awareness are still fairly low in the Africa, bitcoin startups and enthusiasts in Nigeria predict that its residents may soon adopt bitcoin and use it to transfer and settle remittances securely.
Over the past few months, bitcoin services provider and exchanges such as BitX and BitPesa expanded to Nigeria, allowing residents to purchase, sell and transfer bitcoin with ease. BitPesa, a two-year old Kenyan bitcoin startup, for example, offers bitcoin-to-fiat remittance services to enable secure and affordable cross-country remittances in Africa.
In October, bitcoin exchange NairaEx announced the launch of its bitcoin exchange services in Nigeria, following the expansion of South African bitcoin exchange ICE3X to Nigeria in January, 2015.
It is difficult to speculate how Nigerians will deal with the current currency controls and strict financial policies. However, considering the rapidly growing bitcoin industry in the country, it is possible for the residents of Nigeria to switch from existing traditional financial systems to decentralized payment network like bitcoin.