Number of whales decreases despite the rise in activity
The number of bitcoin (BTC) whales was the lowest last weekend since August 2019. However, with the BTC price at $25,000, each whale held crypto close to $25 million.
BTC whales transactions hit $98.6 million
Santiment has found that addresses with 100-1000 BTC have stagnated, with the BTC price between $23,000 to $25,000. On the other hand, the number of BTC whales with 1000-10,000 BTC keeps going down.
Whale Alert notes a total of $98.6 million in BTC transfers. $46.3 million was from Gemini to an unknown wallet, $24.5 million to an anonymous wallet from Binance, and $24.8 million from an unknown wallet to Coinbase.
BTC is trading at $23,070, down 3% over 24 hours, with a market cap of $445.85b. The bearish momentum is quite evident in the BTC market, unable to break beyond the $24,267 resistance level. If buyers break this level, the bullish momentum will catch up, and the BTC price will rise again.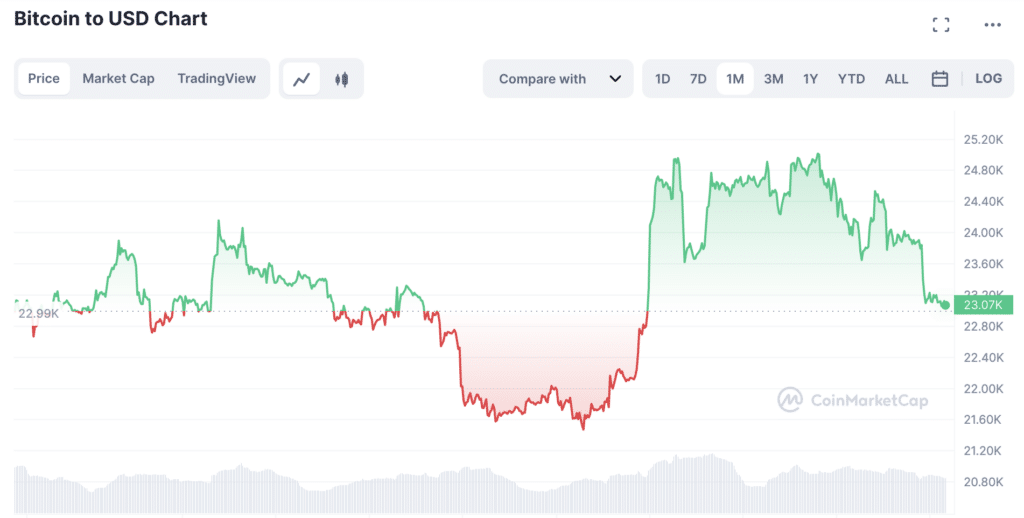 The RSI is adding to the bear hold notion, with a value of 36.18, and moving below the SMA line. Since it is below 50, more decline is unlikely; hence it favors bear momentum. At the time of writing, the moving average convergence divergence indicator shows the bearish momentum has remained the same, with the MACD line going below the signal line.
ETH whales have been active
ETH whales have been quite active. On Feb. 24, about $636.9 million worth of ethereum was transferred. According to Whale Alert, there were three transactions from unknown wallets to Coinbase in different transactions worth $42.1m, $40.8m, and $41.9m. The rest of the transactions were to anonymous wallets and from unknown wallets worth $206.9m and $305.2 million, respectively. 
Another Ethereum whale, inactive for three years, transferred ETH worth $8.3 million to another address
Considering ETH's current status, Ethereum's price lacks bullish momentum. ETH has been trying to cross the $1,677 resistance level but has failed since Jan. 20. However, it flipped the hurdle quickly but could not hold the level.
At the time of writing, ETH is trading at $1,601.02, 3% lower than yesterday, with a market cap of $195.92 billion.