NYAG Accuses Bitfinex and Tether of Mishandling Client Funds; Crypto Market Tanks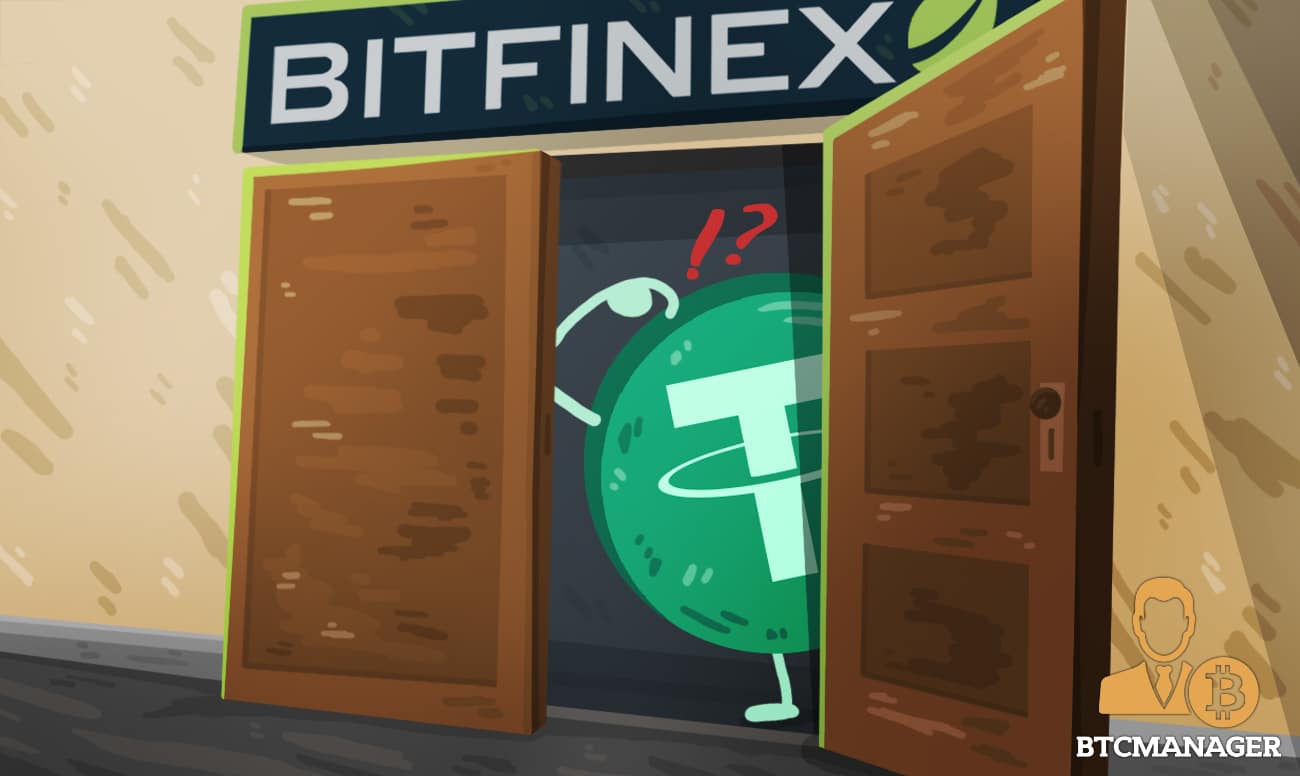 The New York Attorney General (NYAG) Office on April 25, 2019, published a document alleging cryptocurrency Bitfinex and its popular dollar-backed stable coin Tether (USDT) of colluding to cover $850 million loss in client and corporate funds.
Bitfinex and Tether Accused of Misappropriating Client Funds
The crypto industry has been rocked with yet another Tether controversy. Only this time, the issue seems to be much larger in magnitude.
According to an exhaustive document published by NYAG-representative Letitia James, crypto exchange Bitfinex and its affiliated "king of stablecoins" Tether have been accused of mishandling clients' funds to cover up business losses.
James announced that she had obtained a court order against iFinex Inc., the Hong Kong-based parent company of both Bitfinex and Tether to prohibit it from operating outside the boundaries of New York law and defrauding the city's crypto investors.
Per the statement by the NYAG, Bitfinex transferred close to $850 million of client and corporate funds to its payment processor firm called Crypto Capital Corp. Of this amount, it is alleged that the exchange used some funds from Tether's reserve to make up the shortfall. Moreover, the Attorney General also accused the exchange of not reporting the loss and the movement of Tether's funds to customers.
To date, Bitfinex has exhausted nearly $700 million worth of Tether reserves to pay for the losses, James said.
These allegations have rekindled doubts over Tether's claim that each of its USDT tokens is backed by $1 worth of assets. It is this promise that essentially makes USDT a stablecoin which can be used to trade an array of cryptocurrencies listed on exchanges across the world. Notably, about 80 percent of all bitcoin trading is done in USDT, per data from research site CryptoCompare.
The cryptocurrency market tanked soon after the news of NYAG allegations on Bitfinex and Tether came out. The crypto industry, according to CoinMarketCap, wiped out close to $10 billion within an hour. Further, cascading effects of the development also shook the "stable" feature of USDT as it slid 1.4 percent creating a three-month low of $0.979.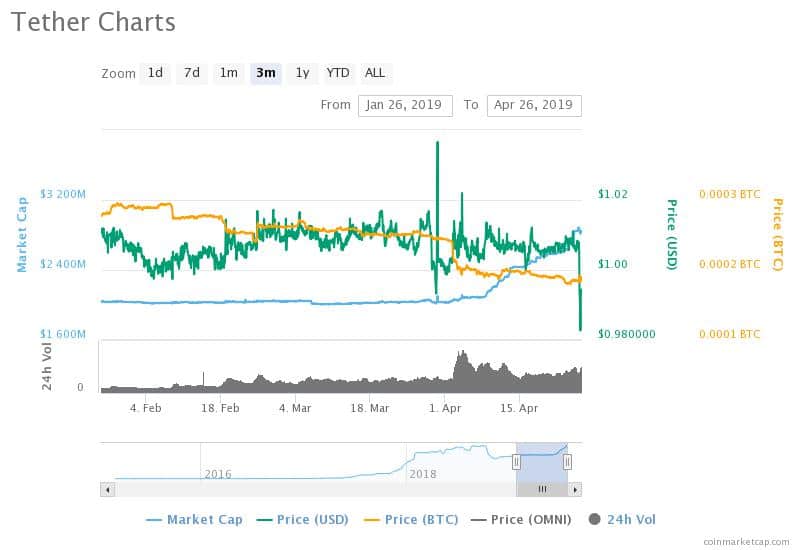 (Source: CoinMarketCap)
It's worth mentioning that the NYAG's investigation into cryptocurrency exchange platforms began in September 2018 and is still ongoing.
As reported by BTCManager, on September 19, 2018, NYAG Barbara Underwood published a report stating that the majority of the cryptocurrency exchanges in the city were operating without the necessary licenses and regulatory approvals. Underwood accused the exchanges of partaking in market manipulation to inflate and deflate crypto markets at their whim.
The Internet Reacts
Unlike the supporters of Bitcoin Cash SV – one of the more vocal camps in the cryptospace – Tether doesn't really have a group of followers dedicated to defending it. Now, with as big a bombardment as this, the offense against Tether is as unopposed as can be imagined.
Thought leaders of the crypto and blockchain industry took to Twitter to express their views.
Caitlin Long, a Wall Street veteran who has played a crucial role in passing a number of pro-crypto bills in the state of Wyoming said that it's high time that exchanged cleaned up their act. She, however, also accused the NYAG of having double-standards.
2/ First, the double-standard. Why didn't the NY AG throw the Martin Act at Merrill Lynch for doing something actually quite similar from 2009-12? Seriously, why the double standard??? Quoting the SEC's press release here: https://t.co/FJqG7K30nw

— Caitlin Long 🔑⚡️🟠 (@CaitlinLong_) April 26, 2019
Similarly, Erik Voorhees, CEO of crypto exchange ShapeShift opined that if the allegations against Bitfinex are true, it would then be no different than traditional banks that heavily indulge in the practice of fractional reserve banking.
If true, wouldn't that make Bitfinex like every bank in New York? (ie running fractional reserve) https://t.co/S9ybvR3ER0

— Erik Voorhees (@ErikVoorhees) April 26, 2019
Bitfinex Hits Back
In response to the allegations put against them, Bitfinex and Tether have said that the NYAG's court filings were written in bad faith.
A blog post by Bitfinex reads in part:
"The New York Attorney General's court filings were written in bad faith and are riddled with false assertions, including as to a purported $850 million 'loss' at Crypto Capital. On the contrary, we have been informed that these Crypto Capital amounts are not lost but have been, in fact, seized and safeguarded. We are and have been actively working to exercise our rights and remedies and get those funds released. Sadly, the New York Attorney General's office seems to be intent on undermining those efforts to the detriment of our customers."
According to the blog post, both Bitfinex and Tether have always been fully cooperative with the NYAG's investigations. The exchange states that there should be no question marks about its financial health.
Most notably, the exchange also declared that it will "vigorously challenge" the allegations put against it by the NYAG Office.