Oases Launches Mainnet to Offer Collectors Feeless NFT Minting & More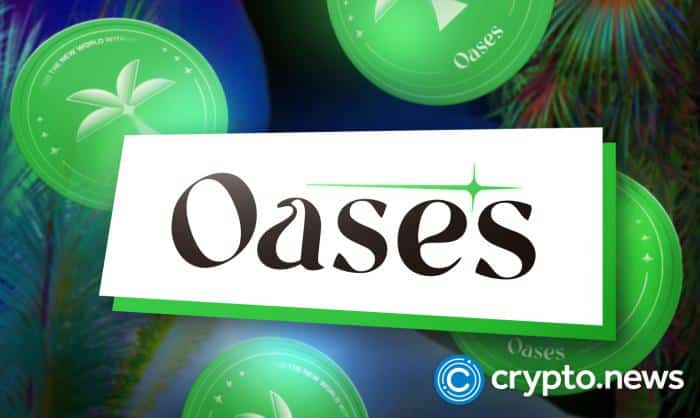 Oases has announced the successful launch of its mainnet on Aug 24, 2022. The Ethereum-based non-custodial non-fungible tokens (NFTs) marketplace is designed to facilitate decentralized, and cost-efficient minting of digital collectibles between creators, investors, and brands. 
Oases Mainnet Now Live
Oases, a fully decentralized non-custodial NFT marketplace powered by Ethereum, has rolled out its highly anticipated mainnet after several months of testing via its testnet. The highly innovative and user-friendly NFT marketplace commemorated its beta launch earlier in Jun 2022 and opened its testnet to early birds, in a bid to get real feedback from the public.
Despite the ravaging bear markets, hundreds of thousands of users participated in Oases' beta testing campaign and claimed the juicy rewards on offer at the time. The platform's user-friendliness, smooth NFTs minting, and listing experience, are among some of the most common feedback given by its testers.
Since the days of Dapper Labs' CryptoKitties, non-fungible tokens have continued to attract the attention of celebrities, top brands, and regular individuals, thanks to their uniqueness. Though NFT trading volume may have decreased significantly during this crypto winter, established digital collectibles marketplaces such as OpenSea, Rarible and others have managed to remain afloat.
Oases aim to bring a paradigm shift to the global NFT space, as it sees itself as a cutting-edge metaverse and new Oases of blockchain-native digital collectibles and communities. As one of the very first non-custodial, on-chain NFT marketplaces built on Ethereum, Oases facilitates the frictionless minting, trading, and transfer of NFTs between traders, investors, creators, and brands.
Unlike some NFT marketplaces, Oases does not charge members of its community minting fees under the basic mode. In commemoration of the Oases mainnet launch, the platform is also rolling out a one-month 80% service fee discount and gas fee reimbursement event. 
After the event ends, the platform only charges a standard 2.5 percent service fee on successful sales.
Innovative Features
While creators and NFT collectors on most digital collectibles today face hurdles relating to centralization, censorship, delayed royalty payments, and limited innovative features, amongst others, Oases solves these problems with its user-friendly, platform powered by smart contracts.
Oases v1.1 come with an Advanced Trading Mode that makes it possible for creators to list their NFTs directly on the Ethereum blockchain, while also allowing collectors to purchase these NFTs by calling a smart contract, reflecting the true spirit of Web3.
That's not all, Oases also comes with a guaranteed Instant Royalty Payment feature. That offers users up to 50 percent cut from secondary market sales of NFTs. The royalty is paid instantly to creators via on-chain transfers once a deal is done.
Additionally, the Oases decentralized NFT marketplace offers users unprecedented and unparalleled benefits including Batch Order Cancellation, which allows users to cancel their listings in batches instead of individually, as well as a one-of-a-kind initial NFT offering (INO) launchpad dubbed Seedpad. The platform also features a creator verification system. 
The Oases Seedpad is designed to make it easier for both large and small projects, as well as regular individuals to mint their NFT collection. Simply put, Seedpad is an NFT crowdfunding solution that allows the public to invest in promising NFT projects before they 'hit the moon.'
Via the Seedpad feature, NFT creators sell 'tickets' to interested collectors of their works, and a decentralized draw is conducted to determine the winners of the NFTs. This system is a win-win scenario for all, as participants whose tickets do not come out as winning tickets will also receive royalties on future secondary sales of the NFTs.
What's more, Oases is set to roll out its deposit-to-earn feature, which will allow those who deposit their NFTs to Oases to earn passive income.