Oasis.app Integrates 1inch Aggregator for Cost-Efficient Token Swaps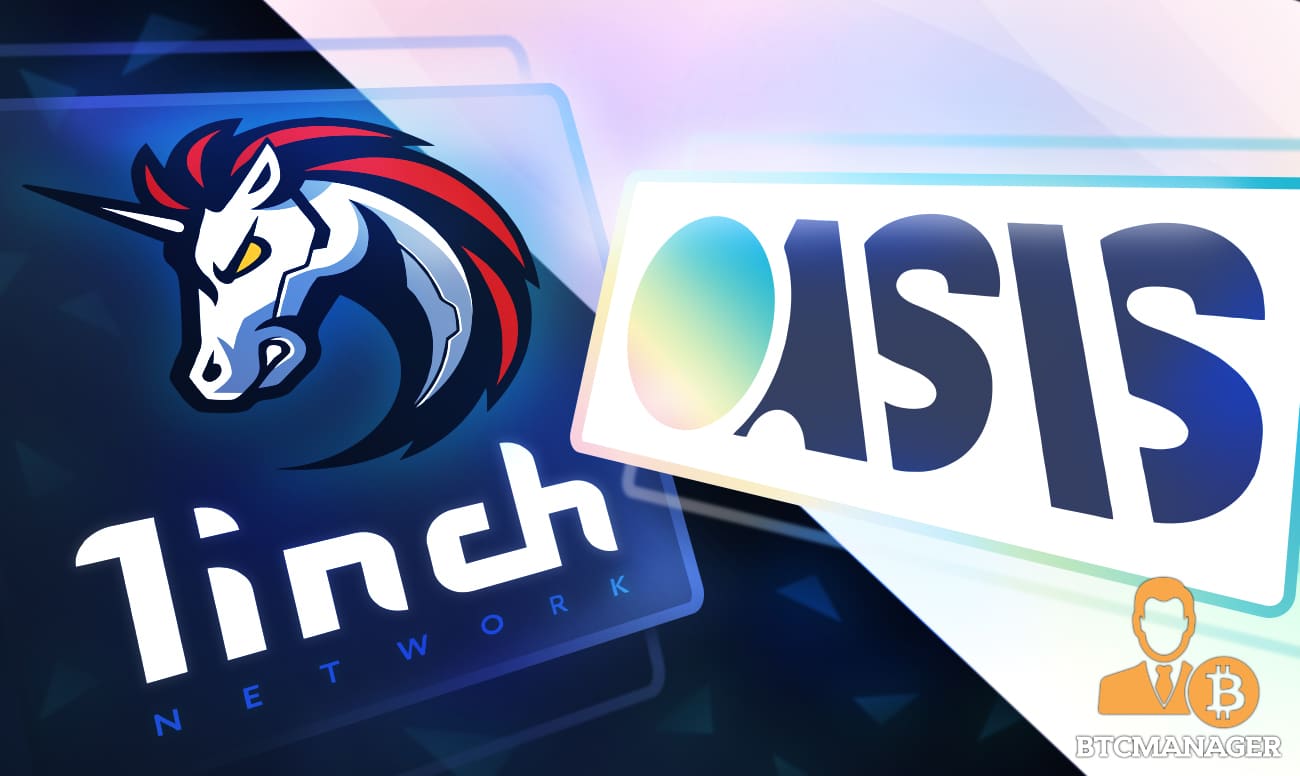 Oasis.app has announced the integration of 1inch Network decentralized finance aggregator protocol into its platform. Oasis.app users will now enjoy cost-efficient token swaps and more secure liquidity provision, according to a press release on September 15, 2021.
1inch (1INCH) Now Live on Oasis.app
In a bid to offer its users deeper liquidity and the best possible token swap rates on the DeFi markets, the Oasis.app platform has integrated the 1Inch Network into its platform.
Per a press release shared with BTCManager, the integration of the Oasis.app with 1inch aims to permanently solve the issue of high gas costs being experienced by users of Oasis Trade. 
Founded in May 2019, the 1inch decentralized exchange aggregator scans a vast array of liquidity pools on Ethereum, Binance Smart Chain, Polygon, and Optimistic Ethereum networks in real-time, to find the best possible token swap rates for its users. In other words, 1inch saves liquidity providers the stress of manually visiting the numerous DEXs currently in existence to get the best value for their money. 
Unlimited Options 
Through the highly secure Oasis.app, users can borrow DAI in a cheaper and safer way than on other DeFi platforms and the addition of 1inch to the picture has further strengthened Oasis, which aims to be the most trusted ecosystem in decentralized finance. 
The team says the primary objective of the Oasis.app is to provide the masses with a secure, trusted entry point to invest in DeFi. 
With the integration of 1inch, Oasis users can now combine the former with the Oasis Multiply feature, to multiply their liquidity provision positions.
For the uninitiated, Oasis Multiply is powered by the Maker Protocol and it makes it possible for anyone to borrow DAI stablecoin to create Multiple Positions similar to margin positions, with the only key difference being that it eliminates the need for users to borrow funds from a counterparty.
In addition to DAI, Oasis Multiply is also compatible with other Maker-supported digital assets including ether (ETH) and wrapped bitcoin (wBTC).
Since its launch, Oasis.app has made it a priority to work with only highly reputable names in the blockchain technology industry.
Commenting on the collaboration with 1inch Network, Chris Bradbury, Oasis.app CEO said:
"As a team, it is really exciting to announce 1inch as our protocol integration on Oasis.app beyond the Maker Protocol. Working with 1inch provides our users with the best use cases that allow them to borrow and utilize DAI in the most secure way possible."